A wedding consists of many decisions including wedding rings. The celebration of wedding ceremony only lasts for some hours; but the rings are a token of their love or bonding that the couple share. For every wedding, a wedding ring is a must. Which is why 2018 has seen the advent of trendy and unusual wedding ring ideas.A ring is said to be a symbol of infinity. There a reason behind this. A ring is always in a form of a circle and has no beginning or end. Similarly, eternal love must also be endless.
Everyone wants to prove that their unique wedding ringsare one of a kind. So why not move to an unusual kind of ring instead of the same old gold and diamond studded designs? Your wedding ring must be unique; so that even after a long time, your relatives and friends would talk about it. Here are some kind of unique styles:
Black diamond wedding ring: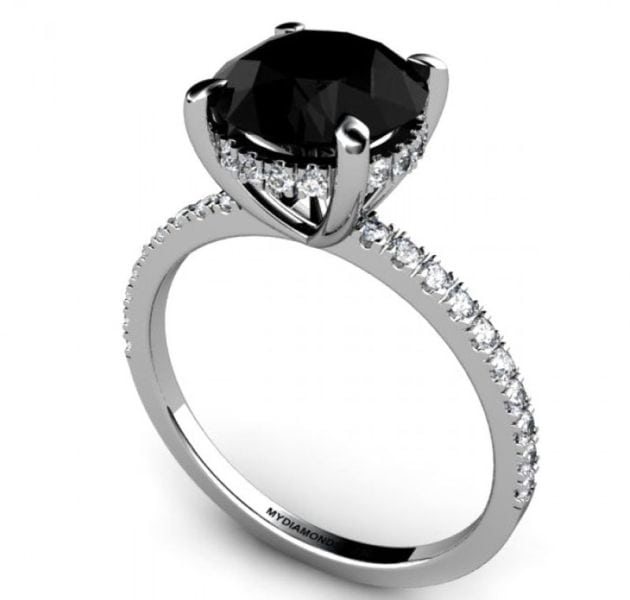 Image Source : mydiamonds.com.au
Nowadays black unique wedding rings are becoming a cool idea for a wedding. A black diamond ring sits wellon a bride with a pretty wedding dress and a unique wedding. These include solitaire rings, wedding engagement rings, heart rings, three stone rings, and diamond and gemstone rings. They are made with AA and AAA quality stones. Black diamonds come in many types,especially in opaque color. It plays an exclusive part in imparting a fascinating look to the bride.
Gold wishbone: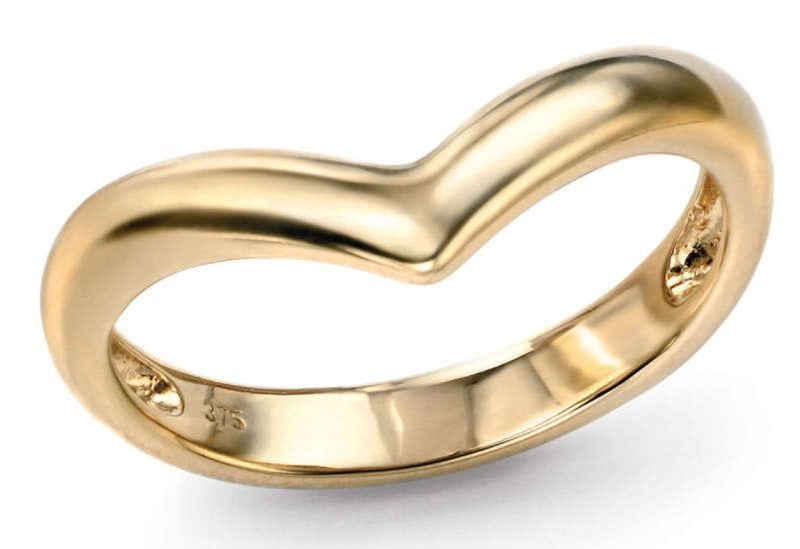 Image Source : newburysonline.com
This ring takes away the cake when speaking of unusual wedding ring ideas.  The Gold wishbone is a kind of 'V' shaped wedding ring. Usually, it sports very pretty diamond work on it. The vintage brides would prefer it because of its delicate shape. It is available in platinum as well as gold.
Its shape is one of the cool wedding rings 2018 has seen becoming a trend. It is designed in such a way that it sits neatly within the shape of the wishbone. It has a gentle crease which gives its extra distinction. It was designed in Cava JewelleryDesign. The elegant and classy design of these rings helps the bride to steal even more thunder on her wedding day.
Matching wedding rings: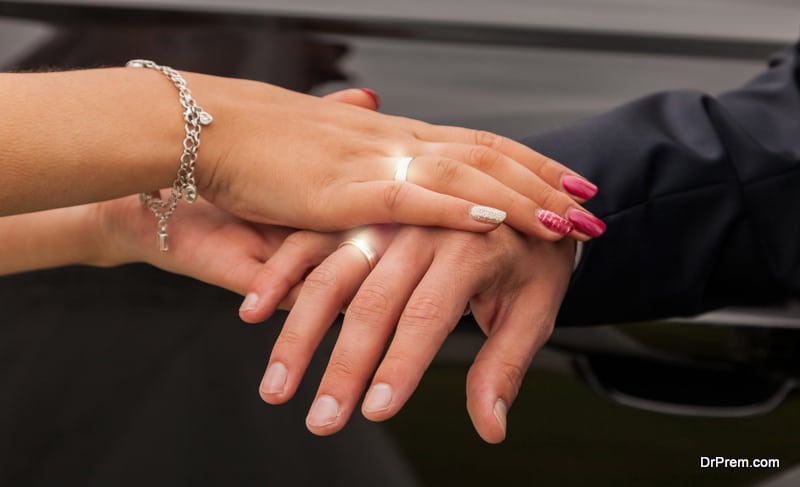 It may sound cliché, but it isa mind-blowing idea to match the bride's and groom's rings. Matching wedding rings speak a lot about the couple and their compatibility in general. These unique wedding rings also help the appearance of the wedded couple stand out on the big day.
They are available in many styles including 18ct rose gold, 18ct yellow gold, 18ct white gold, palladium,and platinum. This idea of matching rings, which is one of the most promising unusual wedding ring ideas, was introduced by Aurus. While wearing matching rings, it is better to refrain from diamond studded rings, since it may not go well with the groom's attire.
Sparkly centered rings – one of the best unusual wedding ring ideas by Aurus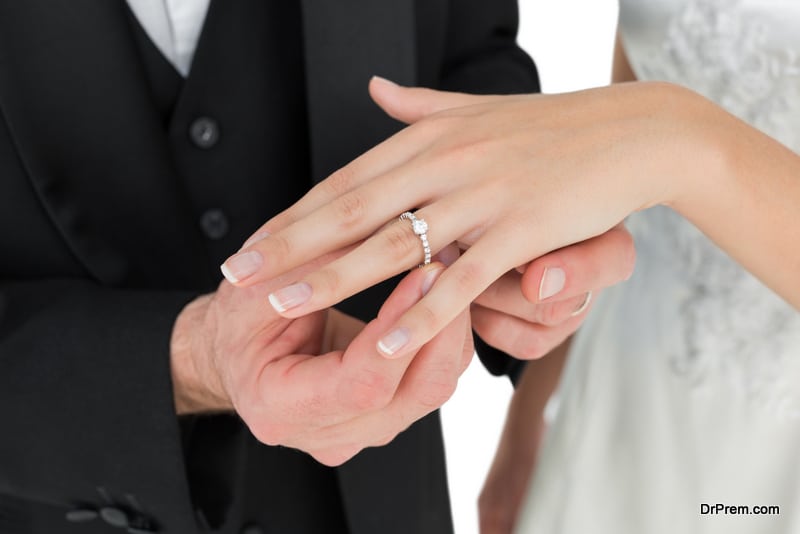 This is one of the best unusual wedding ring ideas also designed by Aurus. It consists of sparkle cut ring and it does not contain any diamond. It is a kind of two-tone wedding ring of 3mm. One tone is at the center, whereas the second one is the sparkling cut.
The sparkly rings are one of the cool wedding rings 2018has seen come into fashion and it has a polished finish too. It comes in 18k gold, 9k gold, and palladium 950. It comes in different colors with different combinations. It may be yellow edges-white center or white edges-yellow center, white edges-rose center or in particular colors like yellow, white, or rose only.
Eternity rings: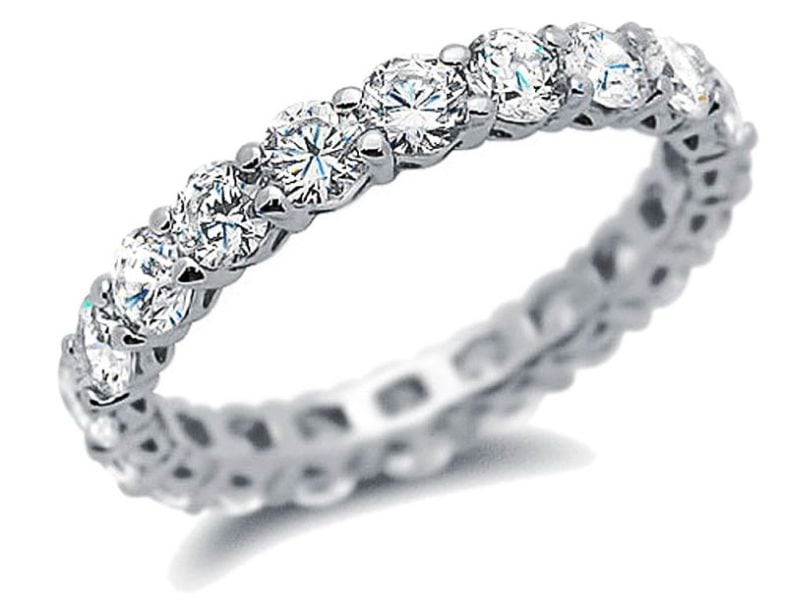 Image Source : doubleaccent.com
Not only diamonds, but also pearl rings are trending. This eternity ring made with a combo of diamonds and white pearls imparts a beautiful delicate look to the bride. The materials used in it are 18k solid gold, conflict-free diamonds, natural freshwater, and 2mm white pearls.
The width of this ring is 2.7mm, which happens to be just the right choice as far asunique wedding bands 2018has in trend. It is available in yellow, white, or rose color and made of 18k gold. In case of white gold, it may have a kind of yellowish or greyish hue because the natural color of white gold is retained, which gives it a natural look.
Summing it up:
When considering unusual wedding ring ideas, you must always know about your choice -whether you need a platinum, silver, and diamond or gemstone ring. After knowing this, you must be sure regarding the kind of ring, its shapes,andits features. Always take your time to select the ring – take 2 or 3 months to select the right ring. There are a variety of rings available for us. Try not to stick to traditional designs.
Try to choose a unique style among all unique wedding bands 2018has seen come into style, based on your personality. Always keep in mind the daily routine of the person for whom you are choosing. For example, if you choosing it for a lady who is too much in house chores, try to choose a simple metal ring with no gemstones or less of diamonds, so that it does not trap dirt in it. And no matter what, always check the quality of the ring before zeroing down on any type.