Whether to opt for a dress off the rack or go in for a dressmaker can be a very difficult choice to make. Different opinions from friends and relatives and with so many choices it can surely drive you insane. Here are some pointers to ease the problem:
Buying off the rack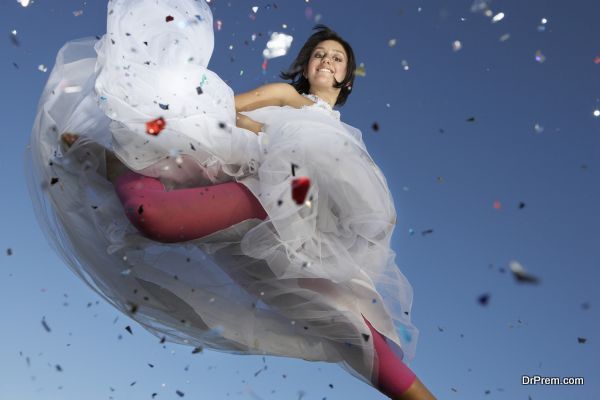 If you have decided to buy a dress off the rack here are the pros and cons for the same.
Advantages
If your wedding is just around the corner and you do not have your wedding dress in place, it is best that you buy off the rack. The biggest advantage of buying off the rack is that you can get a readymade wedding dress the same day. So you do not have to worry if you will get your wedding gown in time.
You have a good chance of getting discounts on your gowns when you buy them off the rack. A small defect in the fabric or a little fitting issue and you could bargain and get a good deal. So this works out fine for your pocket.
Some designer stores have "retired" samples. These are patterns which somehow did not click. You can go through these as well. Maybe you will come across a unique designer gown which appeals to you and get it at a good price.
Disadvantages
You will need to spend money in altering these gowns this adds to the cost
Also remember that these gowns might have been tried out by others. So you might have to get them cleaned. So you need to spend on the laundry and ironing.
Most of the times if there are some damages to the gown then it will be you who will have to get it rectified.
Some tips:
Remember not to buy something that is just too huge for your size. You may have loved the pattern but that does not mean you buy an oversize dress which will need just too many alterations.
Don't wait until the last minute. Make sure that you buy your dress in time so that you have enough time to make the alterations.
Hire a dressmaker: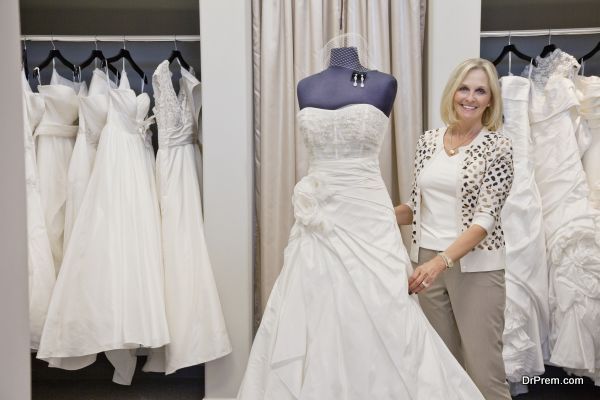 Here are the advantages and disadvantages of hiring a dressmaker:
Advantages
The designer will create a gown which has a unique design which you will be flaunting for the first time
You get a wedding dress that is stitched especially for you. When you buy off the rack you might actually land up with something which needs way too many alterations. But here you get a dress that fits you well.
You do not get a dress which has been tried out by someone else.
Disadvantages
This can be a time-consuming process and you will need to meet up with your designer a number of times before you get your desired wedding gown.
Hiring a designer can be a very expensive affair and you have to be willing to shell out a huge amount for the getting a designer wedding dress.
Tips:
Before you select the designer to make sure that you check his or her previous work. You can request them to show you dresses that they have designed earlier for others.
Also, check out with references if the designer is reliable and if he or she delivers the dress on time and fulfils his or her commitment.
How to decide?
This is totally a personal choice. You need to weigh the pros and cons of both buying off the rack and opting for a designer and then decide depending on what suits you best. Take into account factors like budget, time etc and then make the right choice.
So if you are all set to walk down the aisle, start working on your wedding gown in advance. Nomatter what you choose looking fabulous is all that matters.