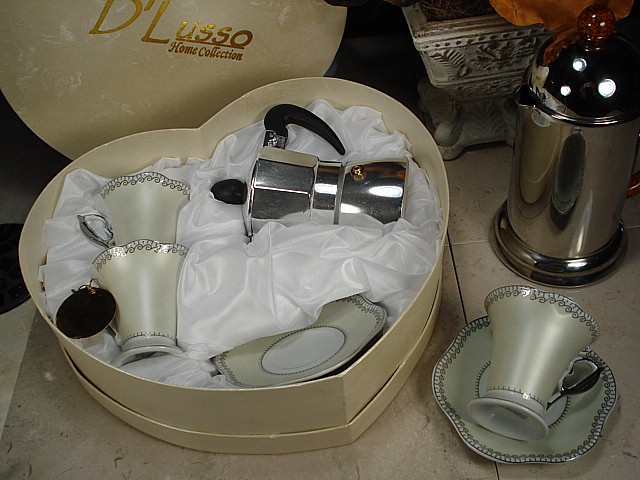 Is your wedding round the corners and you are perplexed about the perfect wedding favors that will bear authentic Italian flavor? We here bring some of the most beautiful and unique Italian wedding favors to end your confusion. Take a look at the top Italian Wedding Favors that have been handpicked and compiled for you from all over the world. You will definitely find your hot pick among these.
Silver Swirl Espresso Cups with Coffee Pot in Heart Box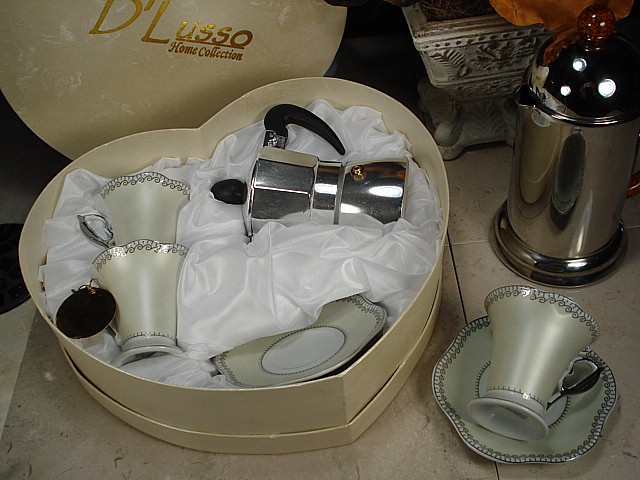 Treat your esteemed guests with these dainty coffee set from D'Lusso Home Collection. The heart shaped packaging of this coffee set adds a spark to the romantic ambiance of your wedding. The fine porcelain cup and saucer sets contained in this heart shaped box are really elegant. They are characterized by a brushed matte look. The shiny handles of the cups and the intricate spiral design at the rim and the bottom add a touch of class to the same. The contoured saucers with designed rims are equally stunning. The aluminum coffee pot with its capacity to hold two cups makes the set complete. Your wedding guests will definitely treasure this favor as a memoir of an unforgettable event.
Price: $6.35
Murano glass cake server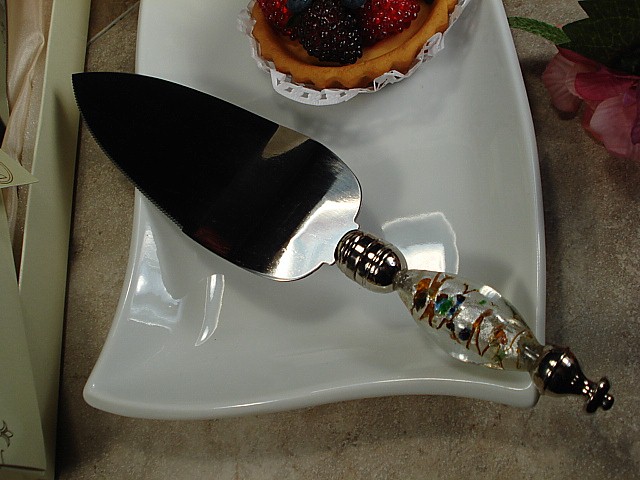 Your idea of gifting this classic chrome plated Murano glass cake server will get profuse appreciation. The conventional shape and contour of a cake server has been given an artistic twist by virtue of the glass blown features. Hence, the juxtaposition of the asymmetric parameter of this cake server and the speck less shiny white look creates a fusion of classic and the modern. The packaging is equally noteworthy. Hence, this 9" x 2" cake server comes packed inside a printed ivory box and wrapped in satin ribbons. It also bears a tag "Thank You" which is sensitive enough to melt the hearts of your weddings invitees.
Price: $4.35
Argento Oval Angel Icon with Gold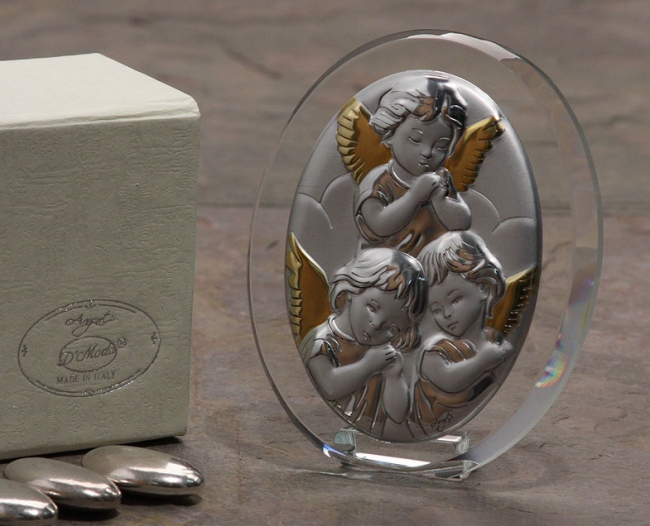 Nothing can be more apt to commemorate the auspicious occasion of your wedding than this three angel iconic memento. This wonderful 3 dimensional icon will bring divine blessings in your D-day and good wishes of your wedding invitees too. The crystal clear spherical structure and the three embossed angels in shiny silver and matte gold combination add artistic essence to this unique wedding favor.
Price: $7.19
Sunflower Fairy Vase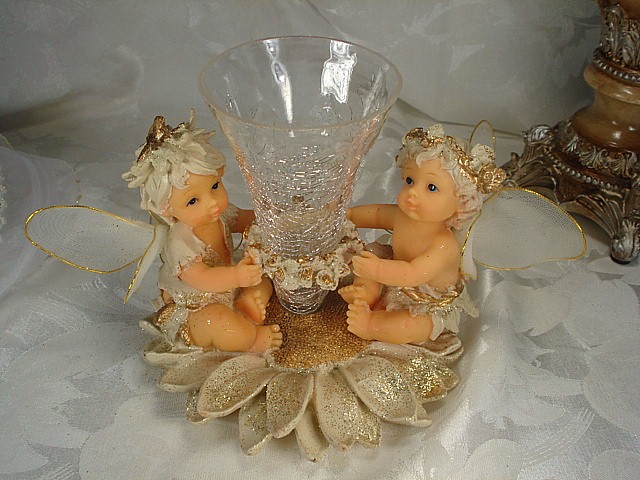 A bunch of fresh flowers inside a beautiful vase will definitely change the ambiance of a room. But this vase is a step forward in that direction. It creates a magical spell wherever it is set. The vase presents two angels seated on a flower and holding a textured and transparent clear glass vase. The delicacy with which this astounding show piece has been created is really praiseworthy.
Price: $6.25
A Slice of Love Pizza Cutter in Miniature Pizza Box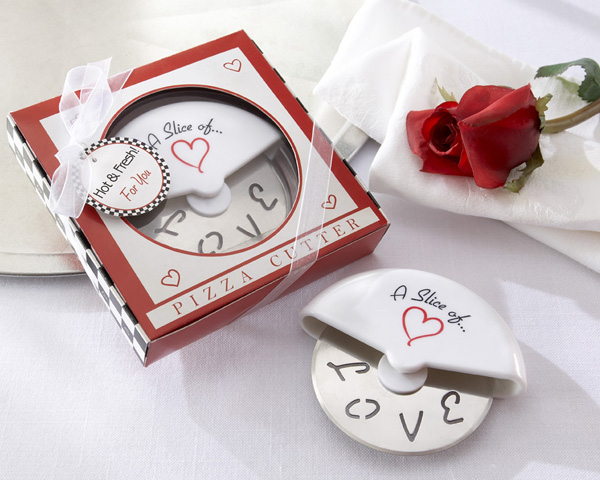 This unique concept of giving your wedding invitees a slice of love will be really novel. Look at the pizza cutter and you will understand what we want to convey. A white plastic semi sphere mounted on one side of the 3 ¾ "stainless steel pizza cutter says, "A slice of…". LOVE is embossed on the shining blades of the instrument itself. The colorful packaging with a see through top cover makes this favor even more attractive.
Price: $3.30
Murano Art Deco Collection Wine Opener and Wine Favor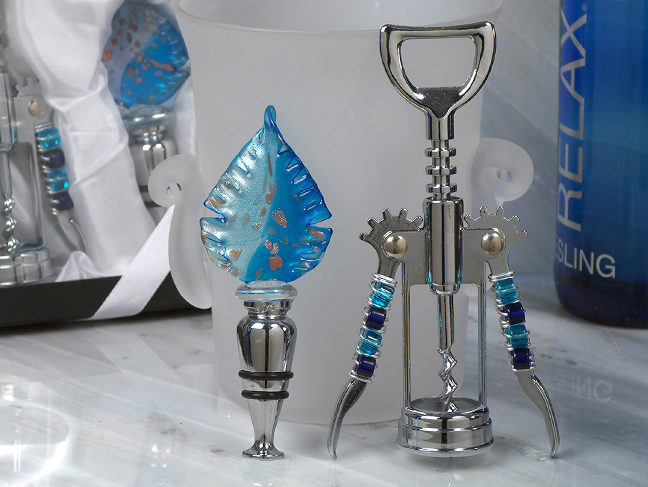 Spread the spell of romance and passion further by gifting of this elegant wine opener and wine favor. This Italian handcrafted set bears exquisite Murano glass structures. So, while the 6" wine stopper bears an emerald blue leaf, the 4.5' wine openers feature blue colored glass beads. The solid chrome base looks after the durability as well as the aesthetic aspect of this favor.
Price: $5.25
Ceramic trivet in PVC box Villa Toscana

This hot plate will be an excellent idea for those who wish to gift functional as well as beautiful favor to their wedding guests. This hot plate will be a functionally memorable way for your guests to recall your nuptial over and over again. A product of D'Lusso Home Collections, this trivet has a dimension of 6" x 6" and weighs only 0.8 lbs. Each of the trivets comes in a beautiful box tried with satin ribbons.
Price: $3.38
Olive You Olive Dish and Spreader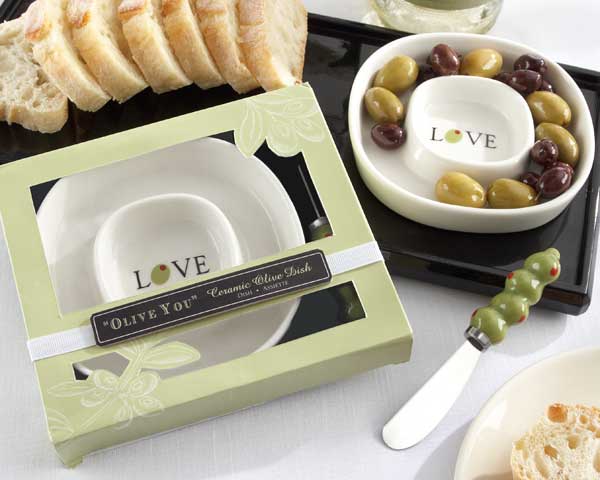 Olives bring good fortune to the newly wed couples. This time you can share your good fortune with your guests by giving away Olive You Olive Dish and Spreader. The gift kit contains ceramic dish and a stainless steel spreader. The "Love" decal in the middle of this ceramic crockery has an olive in place of "O". Thus, it literally attempts at spreading love in the air. The cluster of olives in place of conventional handle of the spreader is equally attractive.
Price: $5.90
Vintage Reserve Wine Bottle TeaLight Set of 4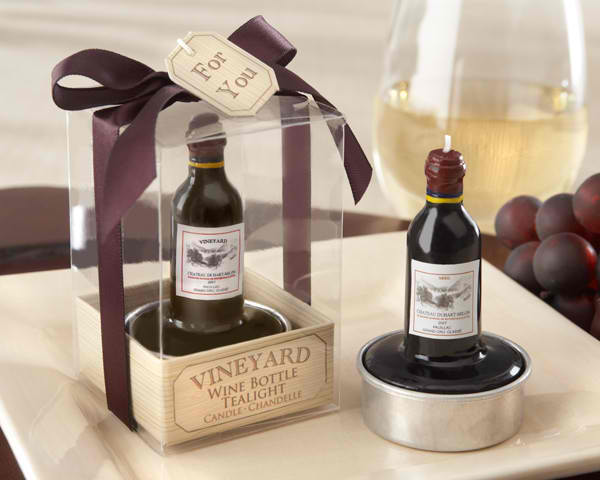 How can you celebrate your marriage to the fullest in absence of wine? So, wedding clan suggests you to take a look at Vintage Reserve Wine Bottle TeaLight Set by Kate Aspen. This set of sweet intoxication features innovative candle sets in the form of bottle of dark wine with burgundy colored cork and golden neck band. The white label with the vineyard panorama reminds of authentic red grape wine.
Price: $5.49
The Perfect Blend Kitchen Timer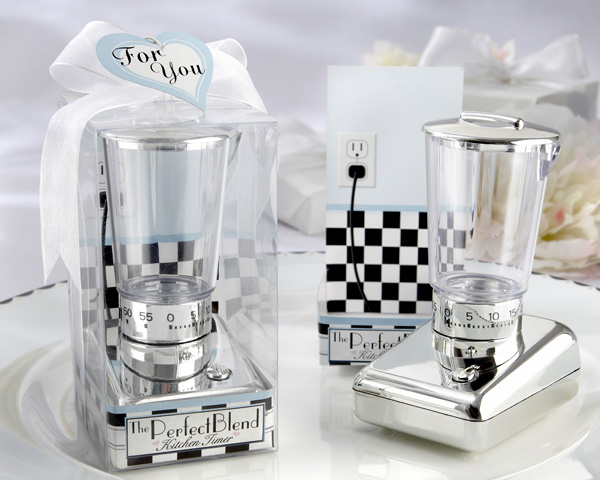 An intelligent kitchen timer that saves your guests from the perennial trauma of burnt pizza and curries will be really praiseworthy. This blender comes with a see through durable plastic body. It helps to gauge the position of foods being processed without the need of stopping the gadget every now and then. The on/of switch and the pop out top provided at the base of this highly efficient gadget takes further care of the functional features. The blender adjusts its time of operation automatically and displays it back in the space provided at the base. The shiny metallic base gives the blender durability. It is an electric operated product. But that will definitely not make a hole in the pocket of your honored guests.
Price: $3.30