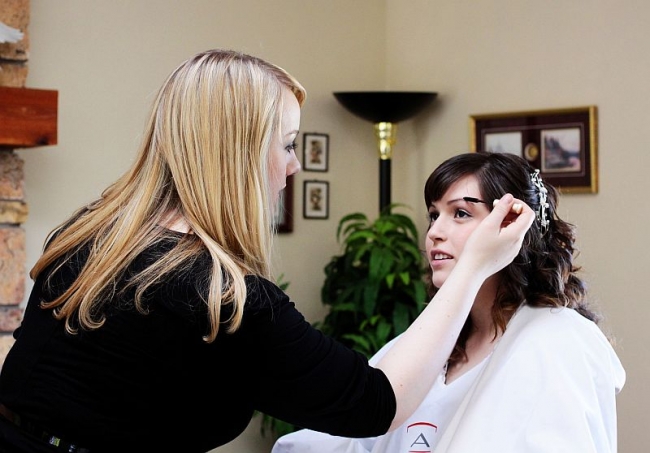 When you walk down the aisle with your heart beating faster and your fists clenched, doesn't a tiny part of you become aware of the many eyes on you? That's when you realize that you have to look your bridal best with perfection reflecting from all edges. With the complete wedding attire, a tiny bit of makeup is also required to give you that perfect look. Like everything, makeup should be just right so as to make you glow. Here are some amazingly easy and must have bridal makeup tips that you must follow so as to look like an angel for your wedding ceremony.
1. Beginning Steps
Before you begin the makeup, use a light moisturizer to smoothen your face. Now start with a concealer of a lighter shade and apply it in the areas below the eyes and nose. This will ease the skin of these parts and now, apply throughout the face blending it uniformly with an oil-free foundation beneath. Then wash your face gently with mild water. This is the first step to be prepared for such a memorable day and so you should pay proper attention here.
2. Right Foundation
The foundation you choose must be selected after careful consideration. This is because your entire makeup will rest on your foundation. Go for an oil-free foundation and of a color tone that will match your face exactly. The color tone should be just a little lighter than your original color tone. Matte is the right foundation for Indian skin and gives a natural look. Apply a little translucent powder to get the complete matte effect. You will see complete different charm on your face and only after applying the foundation, you would be able to realize the actual difference.
3. Eyes and Eyebrows
Eye makeup is very essential and you must take proper care about it. For eye shadow, use a brown color tone and go for a white tone to lift it. A thin white eyeliner on the eyelid will definitely highlight your eyes. Complete the process by adding a black eyeliner along with little black eye shadow under the eyes. Use a mascara for highlighting the eyelashes. This will highlight your face. For the eyebrows, use only a brown eyebrow pencil.
4. Special Collection
The wedding collection is obviously the best available in the market. For every kind of wedding, you have loads of products to choose from. Wedding special collections have all those things, which you need make yourself look like an angel. Go for waterproof makeup if it's a monsoon wedding. Nowadays waterproof makeup is the trends so do use it for your wedding.
5. Lipstick Shades
The lip color you select should be bright. Don't go brown or dark tones as it does not come out well in photos. Depending on the color of your wedding attire, choose a lip shade that will gel with it well. However, if you usually wear dark color lipsticks, apply that as a base and then add a lighter shade to lift it. Lighter shades are symbol of celebration. In the end, carry a lipstick with you so that you can touch up as and when required.
6. Watch Out for All Details
Do the makeup under natural light. Avoid too bright light or less light because in both cases, you'll end up spoiling your makeup. Use a high stool so that you are at best height with the mirror and choose the best makeup. Choosing the best makeup is very crucial part and here you need to be enough smart. So, what out for the effective and best beauty products.
7. Vibrant Eye Shadows
Pick up colors that go with your skin tone and match your face. A right eye shadow color should be selected so that it blends in with rest of the makeup. Use a light color for the entire area with a darker shade for the outline of the eye crease. Blue, white and lilac colors are ideal for eye shadow colors. If you are using wedding collection packs, then you don't need to buy them separately but if not, then go for some branded ones.
8. Have a Uniform Makeup
Apply bronze powder on your chest and neck so that your skin tone becomes even. Your skin will become more voluminous and a natural look will be available so that your face doesn't look like it matches with your body. Use a white shade as a highlighter for your brow bone if you have a lighter skin. For deep complexions, choose vanilla shade.
9. Check Out Your Cheeks
Your makeup is incomplete without blush on your cheeks. The blush comes out when you smile and gets instant facelift. Go for a rosier hue as that works mostly. If a sudden blemish or pimple crops up, do not get tensed. Keep your hands away from the face and apply makeup for concealing. it would be better if you stay away from suing strong makeup over your cheeks.
10. Final Touch Ups
Before you walk down the aisle, make sure you apply the final touches to look your glowing best. This is last task, but not the least and so you should provide enough time for the precise matter. Don't forget that it's the most important day of your life and happy memories of the day is going to last forever so try to make it as much big a you can.