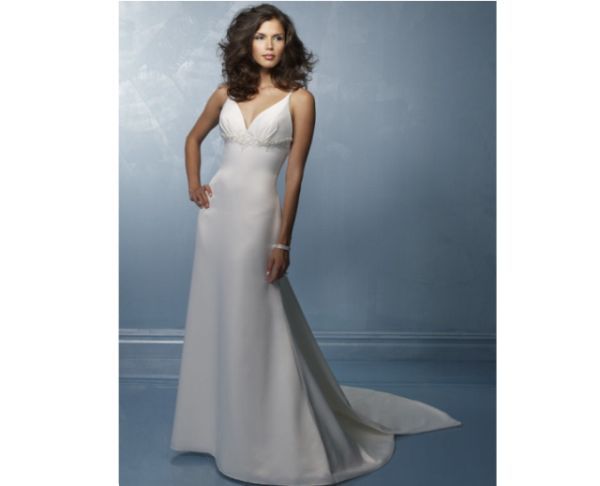 One of the most important days in a women's life is her wedding day. It takes months of planning to fate that memorable day. Special attention is demanded by the bridal dress and choosing the right brand and designs within the budget range is quiet a task. Individuality plays an important role in the selection of the dress. Some brides are looking for racy new designs, while others would choose the classic innocence. From short and sensual to long trail sensuous gowns, brides have assorted tastes and preferences. If you are looking for trendy bridal gowns, read the following.
1. Designer Wedding Gowns with Petal Inspirations
Price: $99.99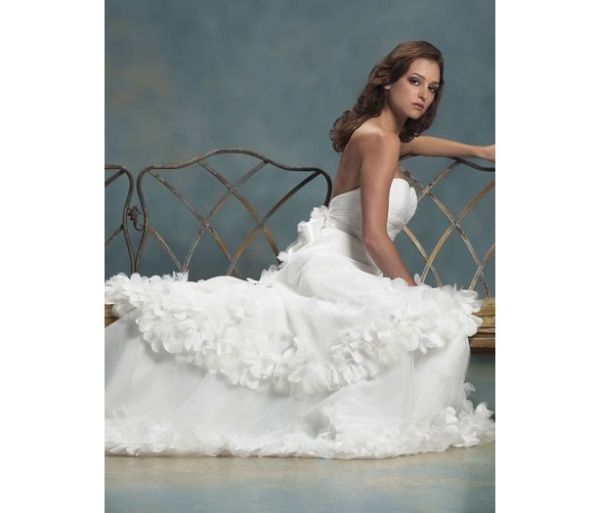 A white layered wedding gown lined with petal patterns in a circular flow is so feminine looking it seems to perfectly suit the sensitivities of the occasion. With a white silk satin sash wrapped around the waist and the flowing leaves all around, this dress is both elegant and fun to wear. Inspired by the lightness and merriness of the spring time, a fresh and delighted feeling accompanies this dress all the way.
USP
Affordable elegance for your big day is what you will get from this dress. The design incorporates a sweetheart neckline with a slinky natural waistline. Taffeta or tulle is used as the basic fabric for the dress which makes it extremely light weight, with just 2.8 kilograms. The A- line silhouette and the tiny bow tie embellished give it a sensual sweetness.
Pros
The light weight and affordability of this dress are the main highlights. The layers will not complicate your ease and comfort and you need not remain stiff for the extra poise you want to flaunt throughout the event.
2. Vineyard Style Jordan
Price: $1975.00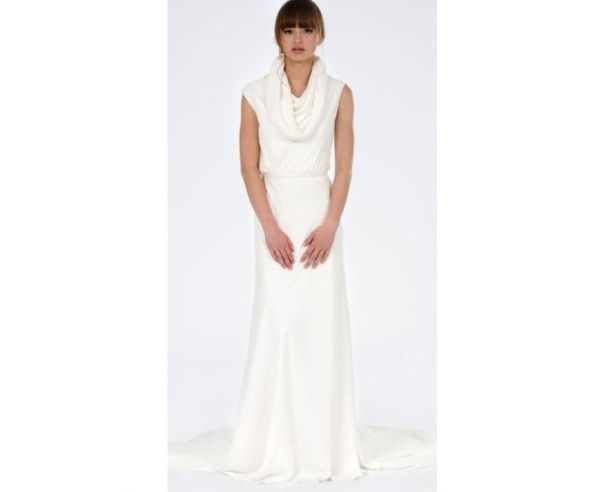 A wedding dress from the leader in bridesmaid's gown manufacturer will add to the aura of your wedding day. Jordon Fashion has been in the business for over 40 years now. They keep updating with the latest in fashion and style that is reliably delivered to give you the perfect day. Jordon has set up bridal salons across the country to bring the brides a fully independent one stop store. The Vineyard collection interprets the classic silhouettes with a contemporary style.
USP
The name of Jordon Fashion instantly makes you trust your own shopping choice. Generally, bridal wear has many layers and form fluffy flares, but the new Vineyard Style Jordon is a smooth creamy dress that flows down sensually. It has a cowl neckline and a blouson bodice which make id different.
Pros
It is a simple dress you will not struggle to get into or out of it. The creamy flow will help you remain comfortable for a long time. You can dance around and swing on your wedding floor without being conscious. The dresses will be custom fit for your measurement to give it the right fit.
3. Style DRS1107
Price: $875.00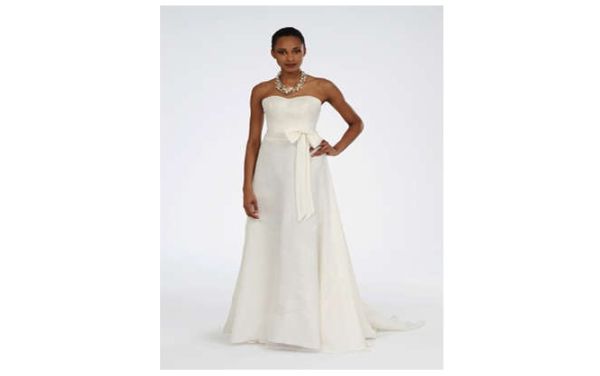 Designer Priscilla Kidder started her brides wear business back in 1945 and set up her first store in Newbury Street in Boston. President Johnson and Nixon invited her to design the wedding gowns for their daughters. Her designs have evolved to grow into 15 salons and boutiques across the country. There isn't a bride who would not find herself her dream dress given the diversity of the styles and patterns that are separately themed.
USP
A-line silhouette and sweetheart neckline, with a cascading flow down full length give the dress a classic and timeless beauty. A simple plain dress, it is adorned with a bow at the waist that gives it a youthful elegance.
Pros
Made of light silk organza, it will allow easy movement. The leg room is wide enough and you can dance like a princess and shine on.
4. STYLE DRS1106
Price: $975.00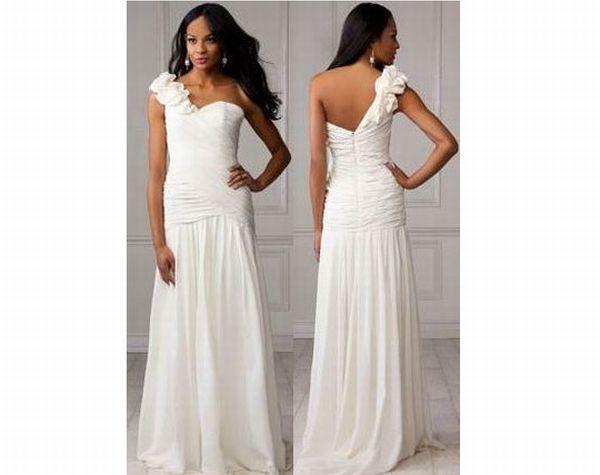 Priscilla of Boston has a mission to serve brides with the ideal luxury high on fashion, style, quality, comfort and services. They have a plethora of experience in designing bridal dresses for over 60 years now and they are still going on well. They now aim to become world's number one premium destination for bridal wear. Rooted in deep tradition, their futuristic outlook makes them a favorite among would be brides.
USP
The USP of bridal dresses lies more in the preferences of the brides. So if you are looking for a one shoulder chiffon dress with an A-line silhouette, Style DRS1106 will be your choice. The strap of the dress is very attractive; the detailed fabric manipulation on it seems to hold the dress in place.
Pros
The zipper back style makes it easy to get into the dress and you won't mind adoring yourself several times before the wedding night wearing this dress as you don't have to worry about the seams getting loose or the dress tearing.
5. Style DRS1105
Price: $875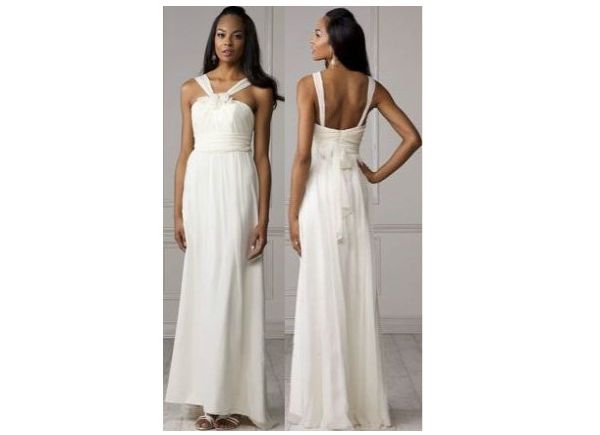 Plan your wedding dress with Priscilla of Boston, which has been a renowned brand for making beautiful bridal dresses for over 60 years now. They pride themselves as a premium brand that designs unmatched designs concentrating on every minute detail that carries weight and which would be essential in providing comfort, style and a good sense of belongingness.
USP
The deep back, halter dress is very sensual and at the same time very dignified. The ruched bodice of the dress has flower detail at the neckline and a beautifully dazzling sash which gives the dress a semi formal look.
Pros
Flaunt yourself at your wedding without overdoing your style. Be simple, smart, attractive and charming with this toned down gown that will drape you in innocence and modesty that shines distinctly from a distance.
6. Lace Bustier Dress
Price: $235.00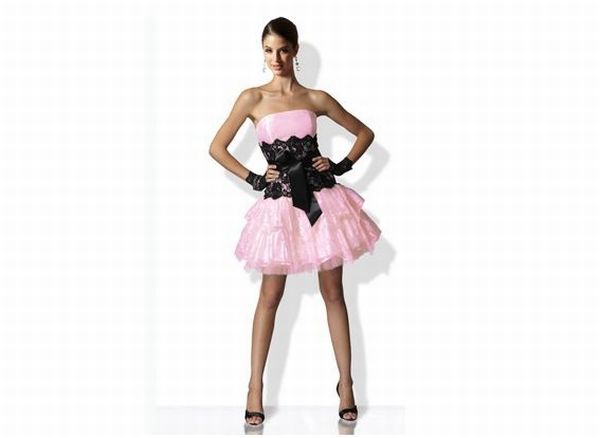 Lace Bustier Dress is one among Jessica McClintock's latest bridal collection. In 1969 Jessica Gagnon McClintock purchased the Gunne Sax clothing company and went ahead to convert it into a brand christened after her own name. Today years later also, it is well known and they specialize in many products ranging from clothing to accessories, sunglasses and recently they have ventured into home décor items.
USP
Parting away from the usual full length, classic bridal dresses, the Lace Bustier Dress is a short sexy dress defining the contemporary out going brides. It has a Ruched bodice and W/square neck with a mid-riff W/ribbon sash in black. The bow in the sash is distinctly cheerful and gives a youthful feel.
Pros
This dress is a multipurpose dress, not necessarily to be used as a bridal dress. You can wear layered ruffle skirt for a cocktail party or for your prom. 100% polyester has been used for the dress and the lining contains 97%poly and 3% spandex that give a long shelf life.
7. Destination wedding gown 6173
Price: $705.00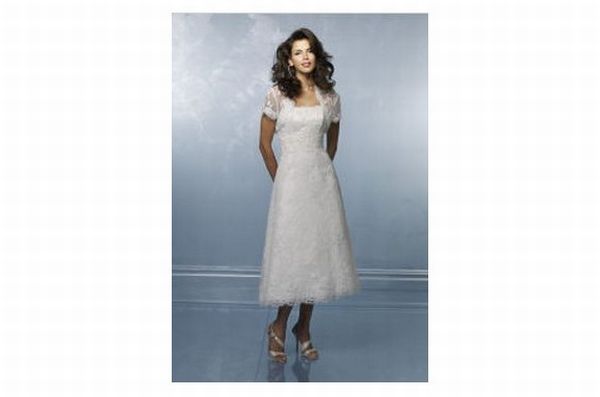 Being connoisseurs in bridal wear for over 50 years now, MoriLee brings you original designs rooted in tradition. The guiding motive of the company is to provide the most affordable dresses for brides without compromising on elements of beauty, grace, style and comfort. They understand that brides want to look gorgeous on their big day and not every bride can afford luxury. For a complete bride experience, they have ventured further to make jewelry, accessories, etc.
USP
A soft looking light dress with a lace overlay comes with an A-line silhouette and mid rising back and an empire waistline. The strapless dress is embellished with tulle lace jacket. It has a cocktail length and lace trimmings cover the entire dress length.
Pros
The main advantage of purchasing the dress from MoriLee is that it is a one stop store, where you can match everything with your dress including all accessories, sandals, jewelry and even lingerie. Affordable bridesmaids' dresses and flower girl dresses can also be purchased from MoriLee.
8. Bari Jay informal wedding dress
Price: $166.40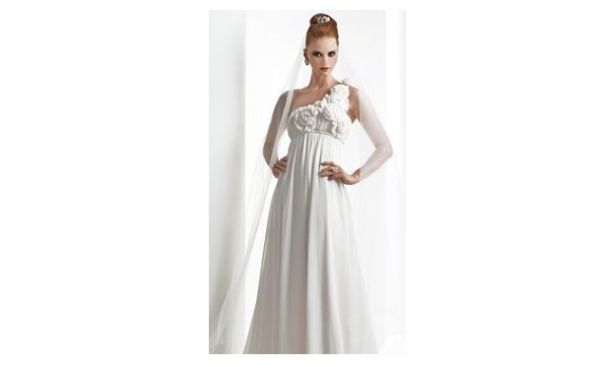 Fashion, value and elegance describe Bari Jay designs. Winner of numerous awards over the 30 years of its existence in Europe with its designs being showcased in TV shows like the Oprah, the View and also the Sally show. They adopt designs from Paris and Hollywood alike to give the design that will suit you best. They design bridal dresses keeping in mind their use for other occasions with the same suitability.
USP
This chiffon dress has a simple design with flower details as the main highlights. A one shoulder strap and an empire bodice, it has a stunning rosette with some light ruching. Not very formal in appeal, it has the element to keep your mood casual and not hauled up in formality of a new role that you are to play from the day of your wedding.
Pros
Wear it for your wedding and also wear it after your wedding for a cocktail party or for another friend's wedding. The freshness of the design is going to last a long time and will not run out on fashion or style. You can choose between two colors, white and ivory.
9. Alyce Designs Black Label Dress 5173
Price: $268.50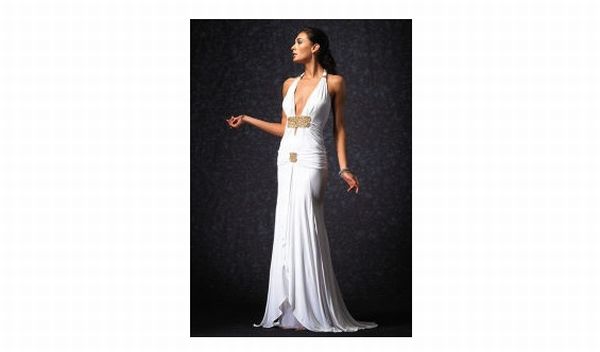 Alyce Hamm runs a family owned business for the past 30 years almost. Alyce was trained in Parisian Couture and has been known for her innovation, he has won many awards for his designs including the Manufacturer of the Year at the 20 DEBI awards Chicago. His designed gowns have been worn by many celebrities like in When Harry met Sally, Meg Ryan wore a dress and Denise Richards in Drop Dead Gorgeous and many more. Miss USA, Miss France and many other international diplomats too have worn these designer gowns.
USP
The black label collection brings you a diverse variety of designs to choose from. This particular gown is a jersey knit super sexy gown. It has a plunging neck line and a large beaded broach that creates a key hole. It has a low waist beaded accent with a slight flare. The white dress with a contrast golden broach makes the dress glitter well.
Pros
Wear the dress with the broach on for your wedding and take it off and flaunt the white elegance of the dress elsewhere too. The black label collection is not just about dresses but also about the complimenting items like jewelry, accessories, handbags, etc. So mix and match your complete bridal drape with all the add on's.
10. Destination wedding gown 6177
Price: $680.00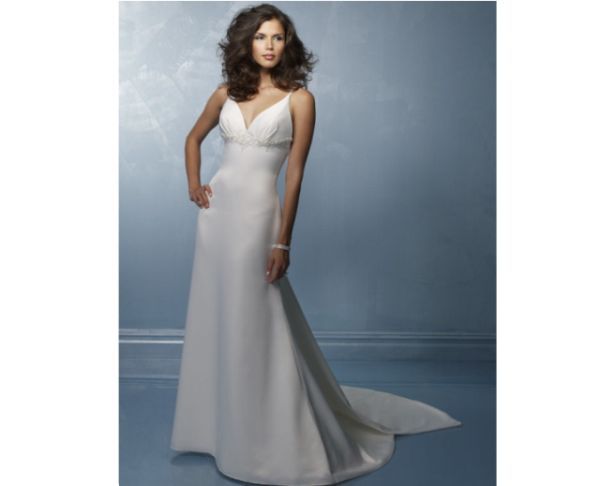 Madeline Gardner the designer who upholds the legacy of Mori Lee; she is known for her immaculate designs that are always high on style. Mori Lee designs are loved all over the world, from USA to Europe and many other territories. 50 years of the existence of the firm and 20 years since Gardner have been together, the company has witnessed huge growth, expanding to meet all kinds of bridal wear needs. Also, the brand has always wanted to bring economy to the bridal wear to make it affordable by all brides who aspire to look beautiful and stylish for their wedding without shelling too much money.
USP
The charmeuse Satin wedding dress comes with a plunged neckline that meets the contoured empire and gives the dress an enticing appeal. The gown has a soft cascading flow with a low strap back. The sweep train has long streamers on it and the strap is beaded.
Pros
The creamy texture of the gown and the satin fabric makes you look slimmer, hiding all bulges which would otherwise become prominent in a flared dress. Easy movement and extra comfort will take you through the wedding without much painstaking.