The minimalist wedding style is in vogue these days. Everything in these weddings are understated, with clean designs as well as neutral palettes. Despite the bare décor, minimalist weddings are elegant and stylish. The invites too have to match with the minimalist theme, which has to be glamorous befitting a wedding, yet simple. Check out some ideas for minimalist wedding cards to get inspired:
11 minimalist wedding cards
 Plants illustration

One of the very attractive design ideas for  minimalist wedding cards is the drawing, in black/white of greenery. This looks beautiful even without intricate florals, which are hand-painted with tons of complicated calligraphy. Minimalist theme demands as little elaboration as possible, so even the simplest line drawing will be special and part of the theme.
Watercolor design
If you're good at art, you can paint a simple floral design using watercolor. It would be simply stunning, and the paper could be hand-made paper. You could have a budding artist paint the card as well, which would be a truly unique wedding card, especially if the artist signs the cards as well. The rest of the card can be printed.
Geometric theme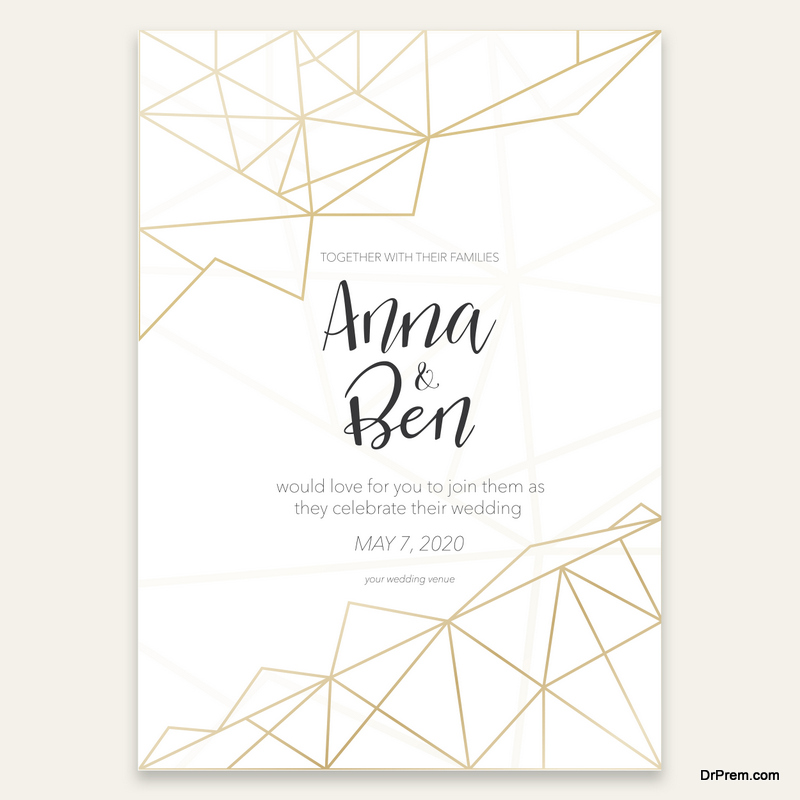 One of the themes in minimalism is geometric shapes. Many couples love the look of ultra-modern geometric shape theme for their minimalist wedding. So of course, the minimalist wedding cards have to reflect the same theme – if you have chosen  variations on a particular shape then the wedding cards should also be the same. Or else it could be a combination of shapes such as triangles, squares and rectangles, or an isohedron design. You could get it designed by a professional designer for better effect.
Green stationery and gold combination
Olive green stationery with the names of the couple written in gold italics is one of the perfect designs, which looks absolutely stunning without going over the top. Inside, you can insert a white or cream card mentioning all the details – date, venue and RSVP etc, in proper minimalist fashion, by printing only in black and white. Your guests will definitely be impressed by your amazing wedding card!
Classic style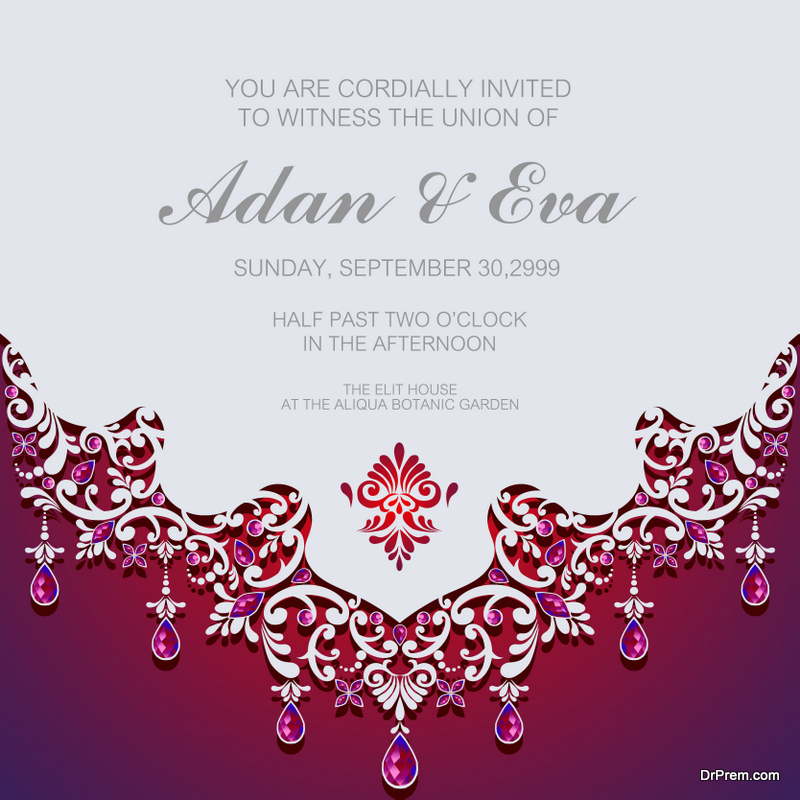 Keep it simple with neutral color palette and unostentatious calligraphy. This style is absolutely timeless and you just can't go wrong with it. Minimalist wedding cards design scheme seems a no-brainer, but you do have to put some thought in it – you have to come up with just the right font to get the message across. When the choice is right, you would definitely cherish this simple wedding invitations' design and so will the ones who receive it!
Rose gold
This color is trendy right now, and looks gorgeous too. It is a luxe look which balances the feminine aesthetic with the minimalist. The beautiful color will take your breath away and announce that your wedding is elegant and the guests will look forward to appreciating the beauty of the ceremonies and décor, just by receiving such a breathtaking invitation.
Neutral background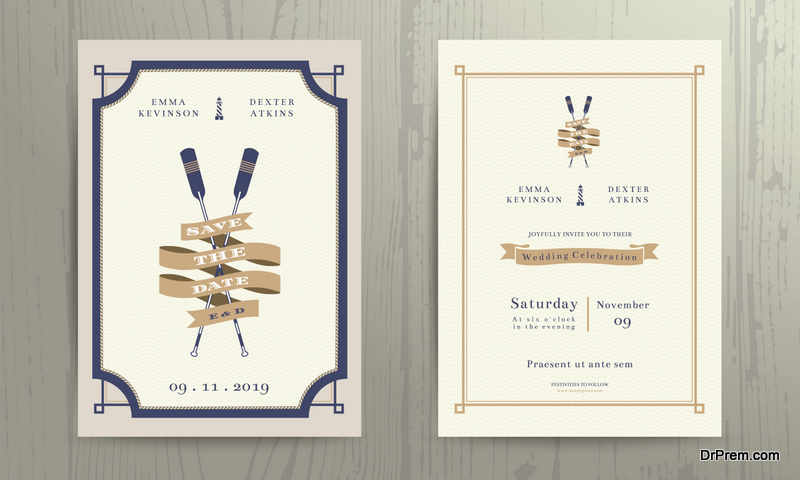 Again, typography plays a role in this type of card. It has to be unfussy, keeping minimalism in mind, but chic, on a background on the minimum of color, such as blush, which is barely there. It could be another color too, such as beige or cream or pale blue. For this you can use graphic design tools which bring out the simplest of designs and make them quite outstanding. The color of the lettering has to match with the background for the best effect.
Vellum invitation
Vellum is a translucent sheet of paper which is of an ethereal quality. It stands out among other paper types. The typography can be heavy or light, according to your personal taste, and it can have an unpretentious floral pattern to match with the décor flowers. The color palette can be neutral and earthy to be the perfect foil for the invitation.
Navy blue and silver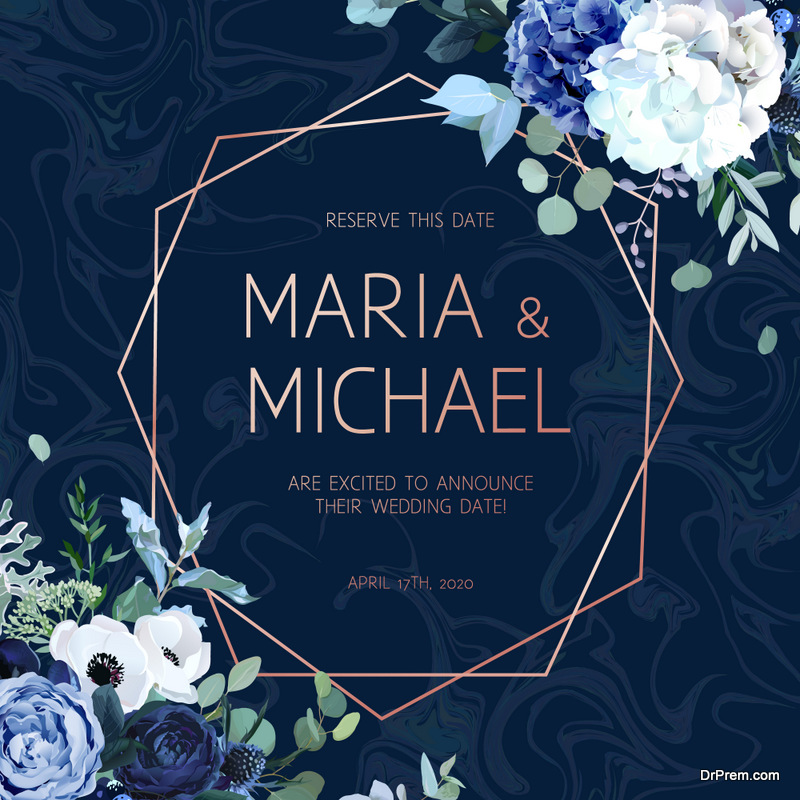 Deep, rich navy blue background and silver lettering with simple typography is one of the best design ideas for minimalist wedding cards. You just don't need any other embellishment or pattern or drawing to make the card look super chic without much effort.
Leaf design
Just a simple leaf design will be enough – a basic, unadorned sprig of leaf has been found to look quite amazing. The information can be printed in black and white beneath the leaf. This would be one of the simple wedding invitations which are perfect as minimalist wedding cards and inexpensive as well.
You can repeat the leaf design on the envelope and other stationery too, to give a sense of cohesiveness to the entire invitation suite.
Accessorize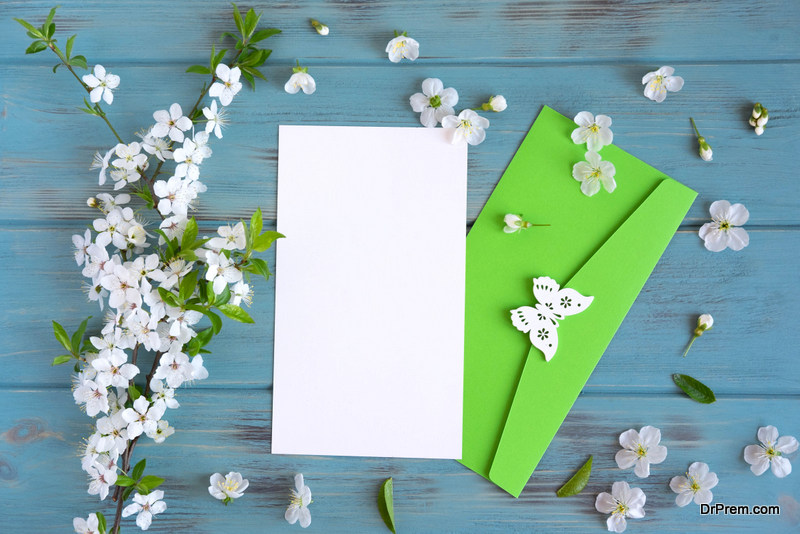 If the invitation is extremely basic, then adding a few accessories would add to the visual interest. Use patterned envelope liners, for example, to make the wedding cards stand out and become memorable.
Minimalistic wedding invitations focus more on neutral colors, minimal elements and play on typography. You can think carefully about these elements to create the perfect wedding card which reflects your lifestyle.