While many brides prefer to walk down the aisle in summers, there are others, who wish to have their big day in the cold months of the year. Your wedding is incomplete without a bling bridal outfit which makes you chic and beautiful. While there are endless options of wedding dresses in summer, the winter witnesses a limited stalk of beautiful bridal wears. But, these days winter wedding is gaining popularity and couturiers are coming out with cool and exquisite collection of winter wedding dresses. It's for those fashion savvy brides who want to be the belle of the ball at the altar. So, the pretty chicks, ready to tie the knot this winter, can look for 10 best winter wedding dresses that we handpicked for you. Choose the one which suits the best and makes you look regal.

1. Romantic white long sleeves winter satin wedding dress

This will be the perfect gown for those brides who are looking something majestic and eye soothing. The beautiful winter wedding gown comes with long sleeves coat trimmed with artificial fur to add gaudiness. Choosing a wedding gown can be a tough call. It's the same as choosing a good hubby. But you need not to give a second thought while selecting this piece because the A line silhouette is enough to tempt you get this. The gown is floor length and gives a flowy view. You can team it up with a glittery tiara and white purse. This dress can be made according to the fabric you look for. There are three fabrics from which you can choose from, they are satin, chiffon and taffeta.
USP
The fur coat along with this gown looks stylish and at the same time protects you from the chilling cold.
PROS
Available in wide range of colors.
Free made to measurement service for any size.
Custom made.
2. Strapless embroidery long sleeves satin lace winter wedding gowns

Having tailored in A line silhouette it makes you look curvaceous. The neckline is strapless and that fetches high rating on the hotness quotient. Any bride adorning this outfit is sure to look distinctly debonair. The embellished lace makes the dress look very charming. You get a long sleeved bolero along with this gown and no wonder you are sure to fall in love with the intriguing lace work done on it.
USP
The lacy bolero sleeves is just enough to entice you get this unique bridal outfit
PROS
Free made to measurement service
Custom made
Available in different colors
3. A line strapless embroidery bolero satin winter wedding dress

The gown being made of chiffon and organza fabric makes it lustrous. The strapless and A line silhouette is just the apt thing that the designer could have added to the dress. For extra sophistication the floor length is also extra. Embroidery work done on the dress is the center of attraction. Sporting this dress portrays your modesty and makes you the desirable queen bee.
USP
You get a bolero with the gown to protect you from chilling while you tie the knot.
PROS
Available in various colors.
You are sure to fall in love with the fabric.
4. A line sweetheart beaded bolero satin winter wedding gowns

This gown is completely made up of satin fabric which makes it ultra soft and slender. It has strapless A line silhouette which oozes elegance. The best thing is the added bolero to this dress which makes it even more scintillating. The beading work is not only done on the bodice but also on the bolero sleeves which makes it amazing.
USP
This gown comes with a beautiful bolero to give you the required warmth in your winter wedding.
PROS
Available from size 2 to size 28.
Free made to measurement service.
5. Gothic black sleeved taffeta winter wedding dress

If you are fed up of the usual, traditional white wedding gowns then here is a dressing retreat for you. This gothic black gown is appealing and makes you look chivalrous. This gown has high collar design which makes it different from other wedding outfits. Coming in A line silhouette and floor length there is not much to talk about this soul satiating bridal outfit. Moreover, the neckline is sweetheart and strapless.
USP
No prizes to guess, the black colored coat over this gown is actually gothic.
PROS
Free made to measurement service for any sizes.
Cost effective.
6. Couture two piece long sleeved v neck satin winter wedding dress

The long sleeved coat which is included with this beautiful gown is made of satin. This can definitely be called as the perfect winter wedding gown. The coat is V necked and fully sleeved. Your wedding will be one of a kind in this dress. You are surely going to be the apple of your hubby's eyes. This comes in various color and the brides who are fashion savvy would surely love the floor length size of the satin coat. The gown inside the coat is deep v necked and shows good amount of cleavage. So, be the eye turner on your wedding with this classy winter gown.
USP
It has a v neck gown and a long sleeved coat.
PROS
Free made to measurement service for any size.
Custom made.
7. A line high collar long sleeved satin organza winter wedding gown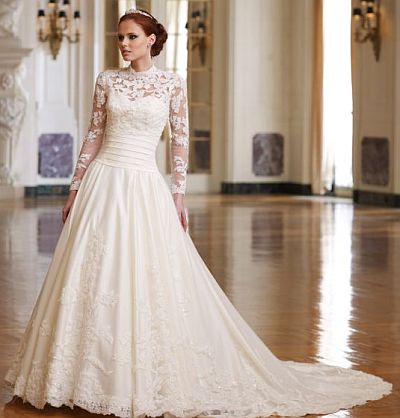 The high collar long sleeved satin organza winter wedding gown is eclectically designed keeping in mind the strapless sweetheart neckline and symmetrical pleated bodice. They have been juxtaposed by the hand placed delicate lace appliqués on the skirt and long sleeve lace jacket. The gown is floor length and the neckline is sweetheart shaped. The lace work done on the bust is eye stealing and adds glamour. You can team it with a glitzy tiara.
USP
The pleated bodice takes away all the points. The dress is no less than a fantasy.
PROS
The satin organza fabric used is irresistible.
Sweetheart shaped neckline gives you the chance to flaunt your décolleté .
Comes in various colors.
Free made to measurement service for any sizes.
8. A line sweetheart long sleeved lace taffeta winter wedding dress

This awe striking wedding gown makes you look divine. You are sure to feel like a fairy at your wedding. The best thing about this gown is that it comes with a long sleeved bolero to give you extra warmth. The taffeta fabric used in this dress makes it uber soft. It has A line silhouette which gives you the desired curvy shape. The beading work done on the bust looks stunning and you won't be able to keep your eyes away from it. The neckline is sweetheart shaped and adds zing to your looks. Moreover, the embellished lace flourishes on pleated neckline and waist.
USP
The sheer look of the gown is enough to mesmerize you. Be sure to be the show stealer while you walk chivalrously adorning this gown.
PROS
Available in champagne, ivory, white, silver and pink.
The long sleeved bolero adds icing on the cake.
Sweetheart shape neckline makes this high on sex appeal.
Free made to measurement service for any sizes.
9. Designer long sleeved taffeta net winter wedding gown

The taffeta and net work done on this dress gives a soft feel to your skin. This winter wedding dress has a long sleeved coat with six buttons in front. The dress when adorned gives a fluffy look. It looks absolutely stunning and brides to be would love to put on this dress on their big day. The gown is available in various colors and sizes. It has A line silhouette which is considered to be the apt type for weddings. You are sure to feel warm in this dress.
USP
Just that it's a winter wedding gown you can hop this dress for the sole reason it looks beautiful. No other gown would make you look the same as this one can.
PROS
Comes in various colors.
The design is stunning.
Free made to measurement service for any size .
Custom made.
10. Long sleeved off the shoulder satin winter wedding dress

You are certainly going to relive a fairytale while you adorn this maverick bridal outfit in winter. The off the shoulder gives a very seductive view and the skirt is unimaginably flowy and lavish. It's just the right thing for contemporary and vintage brides. If it's actually chilling on your wedding this gown is perfect to give to good amount of warmth. This bridal outfit looks like a ball gown and made of pure satin for your soft and subtle body.
USP 
The sheer look of the gown is enough to attract eyeballs and make the bride the show stealer on her wedding.
PROS
Free made to measurement service.
Available in ivory and white.
Tips on how to dress for a winter wedding
Once you have decided to tie the knot during the winter, you would have to seriously consider re-imagining your wardrobe according to the snowy season to make sure you don't end up seriously ill after the ceremony. However, a winter wedding doesn't mean having to choose between style and comfort and here are 5 easy ways in which you can stay cozy right through your snow themed wedding.
1. Fur trimmed necklines and cuffs
If you have opted for a winter bridal gown that covers up your arms, shoulders and neckline, you can get the glamorous back by opting for a fur trimming along the cuffs and neckline.
2. Bridal winter coat
A bridal winter coat could work tremendously well if you have opted for a sleeveless or strapless dress. Match your coat to your dress and coordinate detailing on both to allow it to serve as a part of the ensemble and not just outerwear.
3. White bridal boots
Just because you are getting married during the winter doesn't mean that you have to give up wearing a pair of super glamorous shoes with your bridal gown. In fact, a bridal boot in white can be way more elegant and glamorous than bridal summer shoes.
4. Bridal bolero
Kate Middleton famously paired her Sarah Burton bridal gown with a bridal bolero for the reception and you too can use a fur trimmed bridal bolero to stay toasty right through your wedding ceremony or the reception.
5. Bridal tights for your winter wedding dress
Even if your bridal gown has a massive skirt, the cold air can still creep up your legs and make a serious dent in your poise. Even if you don't want to wear a pair of thermal leggings with your feminine bridal gown, a pair of bridal tights can still help you remain comfortable through the day.
What to wear to a winter wedding?
Winter weddings are romantic but can be troublesome when it comes to choosing the right attire. These are some tips if you have a winter wedding invitation.
A black tie wedding
The wedding invitation will as a rule state if the wedding is black tie. If it is formal affair, then it makes dressing a bit easier. For black tie weddings, men are supposed to wear tuxedos and women wear full length gorgeous gowns.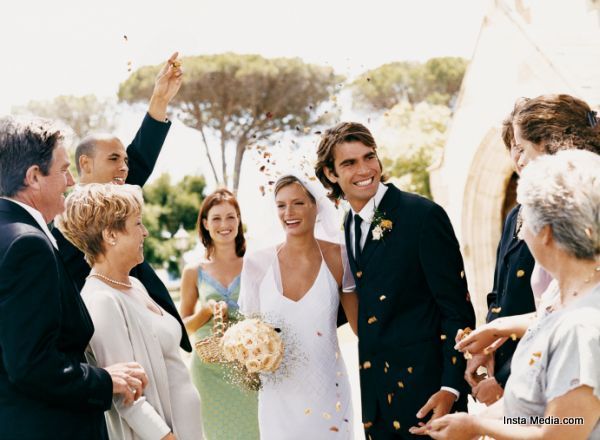 The wedding location
If it's a church wedding with a reception at the local country club or hotel ballroom, then you can expect formal yet conservative attire. Select a dress, knee-length to tea-length, nothing shorter than that. Anything shorter isn't appropriate and a long gown may be too dressy. For a church wedding, you can opt for a wrap. If you are wearing a strapless dress, then you can also wear a bolero jacket that will keep you warm and stylish.
If the wedding reception is being held at a modern place like a restaurant, wear whatever you would normally wear to dine there.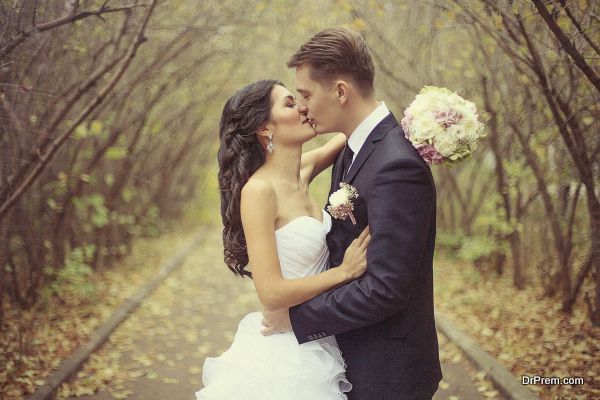 Choose the right colors
When selecting the color of your outfit, there are a few things to avoid. Don't wear white – it's not appropriate for anyone but the bride. If the wedding is in the daytime, do not wear black.
Avoid bright summery colors such as sunny yellow and orange. These colors look good only for spring weddings. Look for a dress in rich, wintery colors such as burgundy, deep plum and forest green. Red might not always be appropriate for a wedding guest, so go for more dark reds rather than bold fire engine red.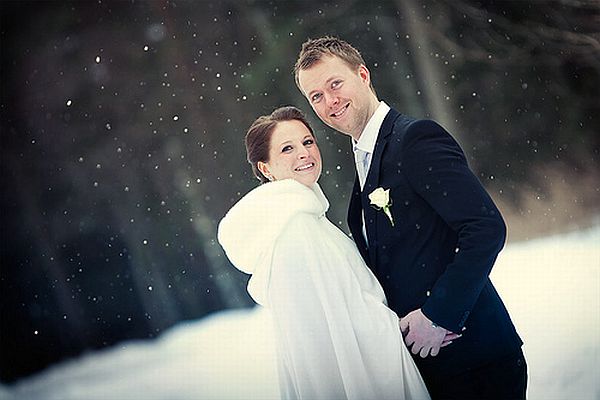 Dressing for an outdoor wedding
Many couples plan outdoor weddings, wintertime being no exception. Snow and ice can make a beautiful setting for a wedding. If you are invited to an outdoor wedding, always dress appropriately for the weather otherwise you be asking for trouble for yourself.
Don't wear a fluid skirt that can easily get caught by the wind. You will be embarrassing yourself. Go for a sheath style dress and don some faux fur to keep you warm and cozy. A cape or a wrap will look amazing that will not cover you dress as well. Also remember to forego heels. Choose wedges and other chunky heels, they will not sink into the snow when you walk or stand.
Also check out the sexiest wedding gowns of all time.
The Season's Sexiest Wedding Gowns
Kate Middleton may have inspired many brides to ditch the extra fluff for a more modest dress for their weddings but there are plenty of modern brides that want to shock and awe guests and their hubbies to be as they walk down the aisle. Here are the 5 sexiest wedding gowns for the season.
1. Edwardian style Wedding Gown by Hayley Paige
Inspired by vintage lingerie from the 1950's, the Edwardian-inspired wedding gown by Hayley Paige is bold to say the least. Featuring a 1950s-style bustier underneath silk bias cover finishing with sheer tulle overlay, the one-of-a-kind gown features alabaster stonework and hand-cut floral embellishment.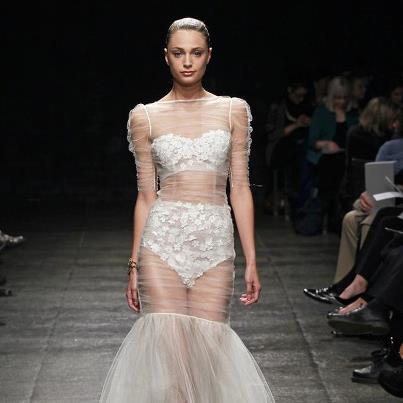 2. The Kayla Wedding Gown by Monique Lhuillier
Far from conservative, the Kayla Wedding Gown by Monique Lhuillier blends tradition and modesty. Featuring a very high front split, the lace trumpet wedding gown has a modified long sleeve with the illusion neck fashioned in Chantilly lace.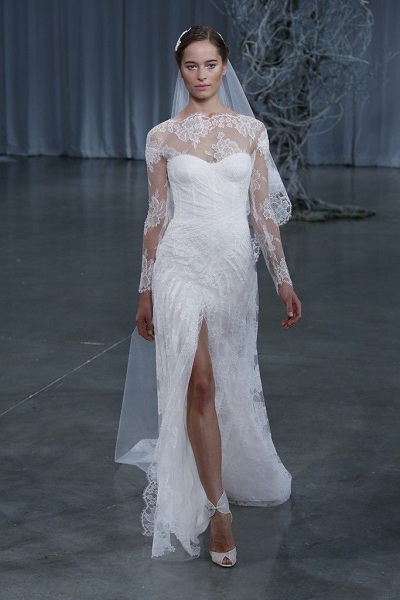 3. Halter neck Wedding Gown by Pnina Tornai
Known for her risqué designs, corseted bodices and plunging necklines, Pnina Tornai's Halter Neck Wedding Gown comes with a very low back, jeweled floral appliqué around the neck and a silk chiffon sheath in off-white that makes the dress stunning.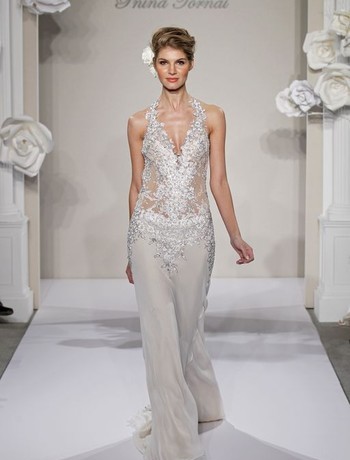 4. Perina Wedding Gown by Ines Di Santo
Ines Di Santo's Perina Wedding Dress would make you feel like a goddess. with laser-cut edges, the a sky-high slit on the skirt is bold and risqué while the floral beaded appliqué adorning the asymmetrical strap of the draped gown made in metallic chiffon adds a tender feminine touch.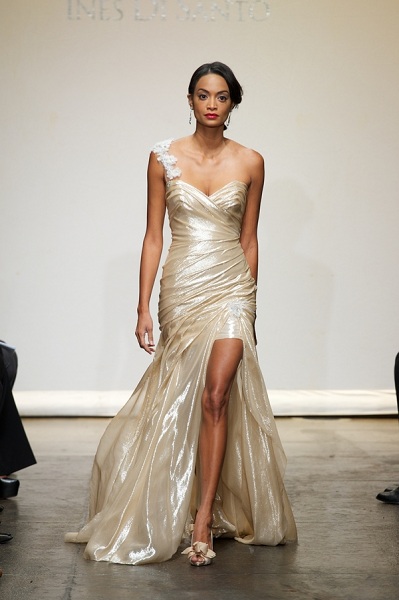 5. Angel Kisses Wedding Gown by Reem Acra
The Angel Kisses dress by Reem Acra leaves nothing to the imagination thanks to stretch illusion embroidered bodice while evoking the Art Deco era through its feathered and beaded skirt.