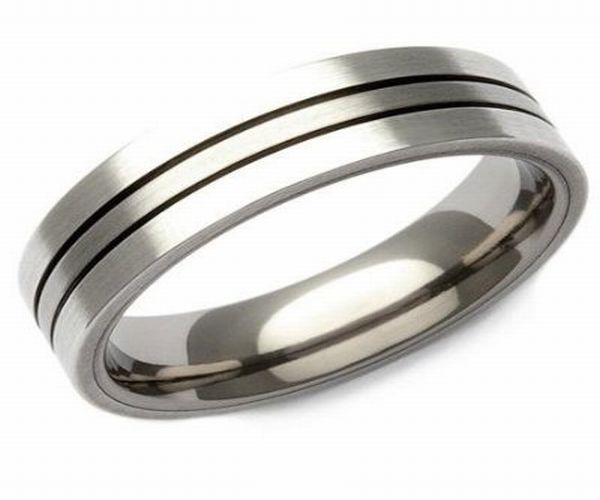 While a lot of thought goes into deciding a bride's wedding ring, the same doesn't hold true on picking a groom's wedding band. Despite the fact that a wedding ring is normally the first real piece of jewellery that a guy wears. This makes it all the more important to choose a piece that is not only comfortable but also goes with his style. Here, we have put together, 11 tips to help you get that perfect wedding band for him.
1. Made to last
Guys are usually not prim and proper like girls, hence they need a ring that is tough and lasts long. You can either opt for titanium , gold or platinum.
2. Should be Comfortable
Since guys normally don't sport any jewellery, it is best if his ring is less prominent and comfortable. Else, expect him to create a fuss or leave it home more often. Best are bands with round edges and the ones that are ergonomic.
3. Back to basics
The single band being very basic and simple is the safest choice for guys and is popular too. But don't go for the matte finish, as each and every scratch will shine bright on it. Go for the shiny finish. Few men may prefer single band with one diamond or few more.
4. The bigger the better?
The recent trend is bigger the better; men prefer wider bands. So do keep the size in mind while deciding the ring. The band should be in proportion to the size of his body.
5. Diamonds
Dazzling bands are becoming quite popular with men. Diamonds flush in bands like gypsy or channel designs are fashionable and becoming very popular. Apart from white diamonds, the latest trend is dark sapphire and black diamonds, as they are masculine and also suitable for daily wear.
6. Textured touch
In order to give simple bands some stylish flair, metal treatments are done on them. An increasingly sought out look is hammered metal look. It is also adorned by engraved patterns.
7. Trendy titanium
Titanium rings are top priority for groom's ring these days. The durability of the metal is an added benefit. This is the right choice for men who are not used to wearing any jewellery, especially in subdued matte finish.
8. Made to match
The sweet tradition of matching his-and-hers wedding rings is sought after by many couples. The bands are made from the same metal and finish and differ just in width.
9. What's his style?
Does he wear more formals or casuals? You need to keep in mind the dressing style of the groom, such as his dressing style.
10. Get him involved
Get him involved in the process of choosing his ring. Ask for his suggestions and buy a ring based on his choice. After all this is a piece that he will wear all his life.
11. Shape of the ring
There are several ring shapes available such as round, D-shaped, Flat, Court-shaped or Easy-fit . You can choose the one that best goes with his style.