If you are planning to make your wedding stand out as unique among all, start with following creative wedding colour themes and combinations. Draw out inspirations from bigger details like season and venue and then go for your mood. Are you thinking of choosing a colour theme for a wedding with some vibrant and bright hues? Or, something intimate and lavish? Think about a colour combo and inform your wedding designers about the same. He or she will lay down all the designers elements like flowers, dresses, etc. accordingly. Try out some of the following unexpected wedding colour combos 2018 to bring a light to your life:
Creative wedding colour themes and combinations:
Yellow + Poppy + Magenta: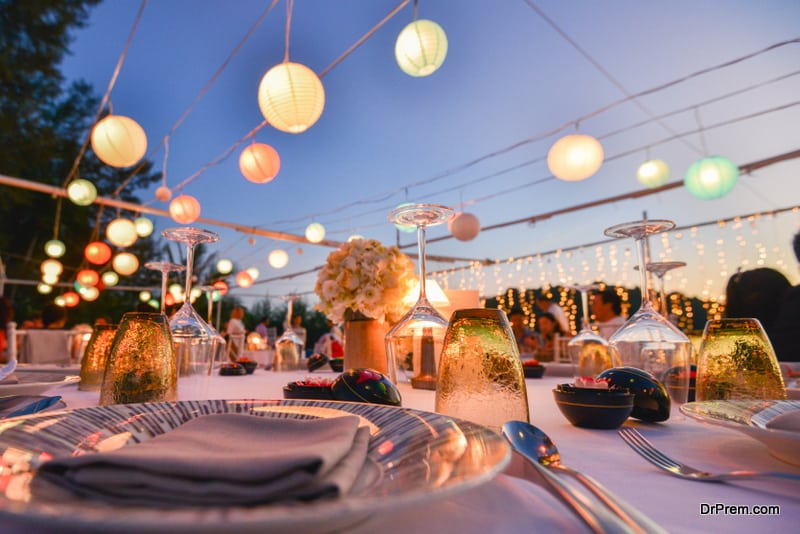 Amongst the various creative wedding colour themes and combinations, this combo is best for an alfresco summer wedding.  While using such vibrant colours, opt neutral colours for rest of the things at your wedding reception, such as plain tablecloths, or sans tablecloth with a natural show through of wood. For finales, turn out the wedding cake with a showy display of lush bright blooms.
Gold + Cream + Emerald:
A unique wedding colour theme; it is suitable in case of a Boho- glam wedding. Be your space an inspiration for decor aesthetic. If the venue is industrial, the table outfit should a chic cream blanket having sequined runners. Green garlands with white flowers should be arranged in ballroom to give it a romantic and elegant feel.
Orange + Burgundy + Purple:
This tricolour combination goes well vineyard themes. Vineyards pose an old charm in them. If decorated with moody and deep details, these vineyards appear out to be more intimate and romantic. Stems should be placed in bud vases individually and floral arrangements should be hanged overhead to complement this vintage look
Yellow + orange + Tangerine: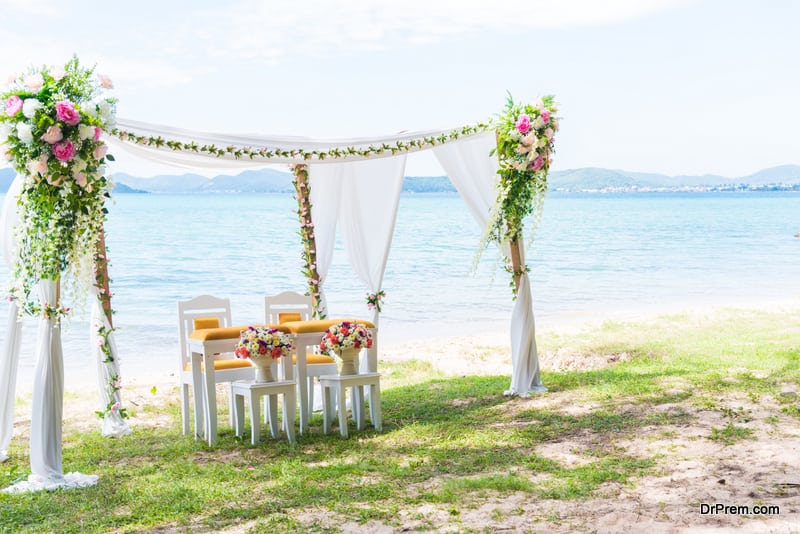 If you are going for summer wedding, out of several creative wedding colour themes and combinations, this trio will suit you the best. Let the flowers talk with this tri coloured palette with an incorporation of simple tables, accent mirrors and white backdrops, so that your guests are overwhelmed by the combination.
White + Pale Green + Black:
Those who prefer wedding in formal spring should try this. Make the wedding colours stark with a mixture of ecru white or cream hues and pull out some green inspiration from the natural green and dusky succulent shades.
Blue + Yellow + Navy:
This wedding colour combo is ideal for country summer themes. Personalised details like unique accessories, monograms and custom designs for invitation make this combo down to the Earth and release out sophisticated vibes.
Beige + Yellow + Cinnamon: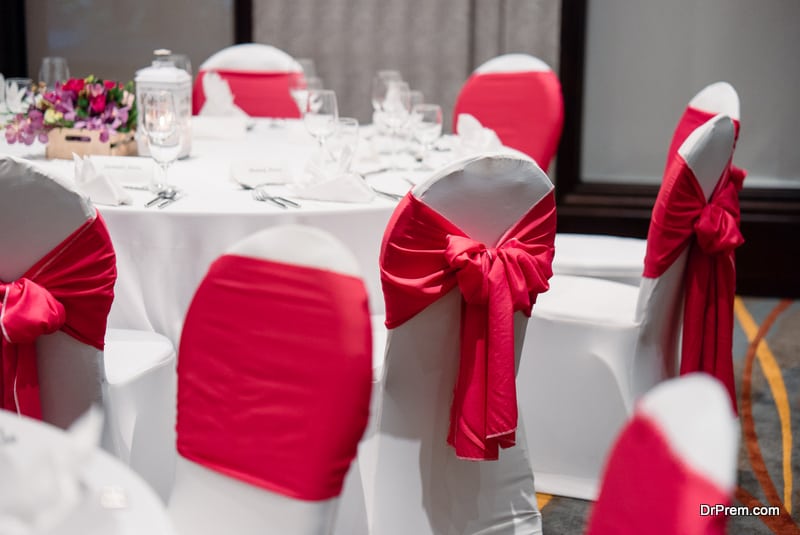 For autumn and elegant wedding themes, opt for this creative unique colour combination. The Spanish regal vibes coming out with these colours should be accentuated by some traditional elements like glassware with gold rimming, place cards, tiered and tall cake along with a complete and classic sitting place.
Cornflower Blue + Powder Blue + Chartreuse:
The one wondering for spring garden type wedding should definitely opt for this. The height is the foremost thing that matters. Courtyard- esque plants placed expertly, tall drapery and whimsical chandeliers elevate this colour combination to a royal and high scale.
Sage + Peach + Merlot:
Choosing a colour theme for a wedding is rally a challenging task. For rustic summer weddings, this theme will prove out to be the best. The theme brings everything down to the earth and makes it look like a shabby chic. Try putting natural wood as much as possible in the wedding decor and balance the surroundings with a few dramatic elements such as luxe lounge or chandeliers.
Green + Peach + Gold: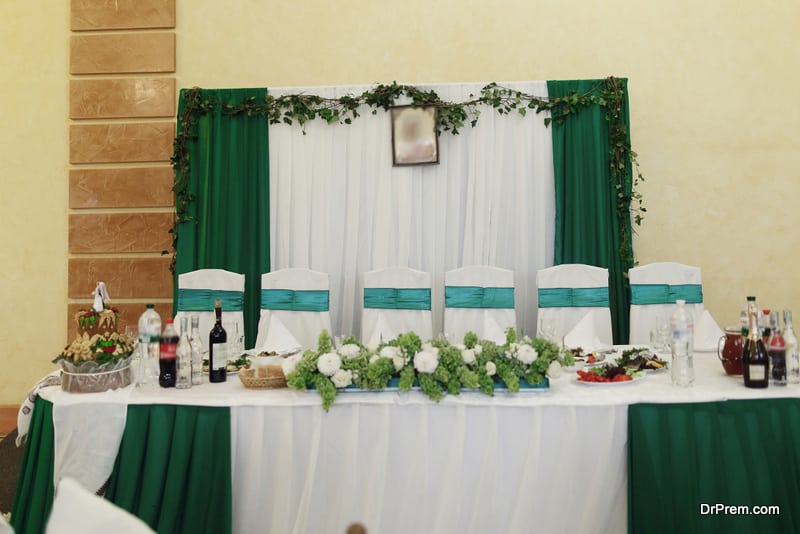 Out of the various wedding colour combos 2018, this wedding combination is best to use in summer weddings held outdoors. Let the natural greenery surround the gold, peach and green palette. The best thing to do is to go out in an open venue or with clear tents so that the place is private and enclosed but still connected with outdoor nature.
Gold + Eggplant + Navy:
This is good in case of art deco wedding themes. The venue should be transformed into an esque- Gatsby space with bubbly champagne and live music. Some of the different metallic hues such as brassy copper should be mixed to bring out a retro charm. If affordable, finish the wedding night with epical things like low- key display of fireworks or glitter droppings.
White + Celadon + Poppy:
If you want a beach or destination wedding theme, this colour combination will fulfil your needs to the best. Though it does not have a typical waterside colour palette for the wedding, but looks perfect for open- air venues. White and Caledon are soft and neutral colours that could be paired well with the sand in the surroundings. While the poppy colour complements completely with the colour of the ocean.
Ivory + Gold + Sage: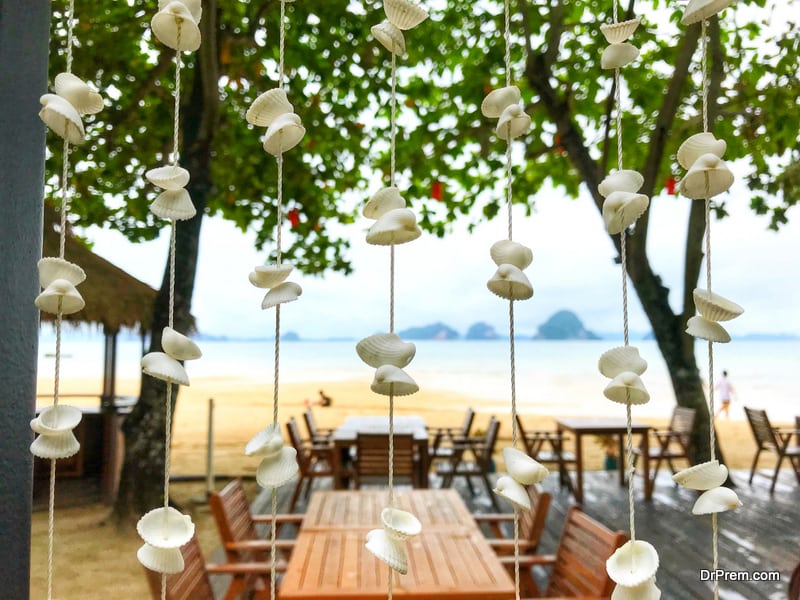 This unique wedding colour theme may work all round the year in both indoor and outdoor weddings. This is a versatile wedding colour combination. Deck out these soft colour combinations with some dark coloured elements like wallpaper or carpets.