When we talk about wedding dresses for brides, every bride has her own unique wedding dresses and ideas. Though most of the girls feel scary about alternative dresses for their wedding but going out of tradition can really be a matter of fun sometimes. If you are not in a mood for stereotypical dresses, there are a lot of non – traditional wedding gowns you may opt for.
Some unique wedding dresses and ideas
Francesca Miranda- Nina: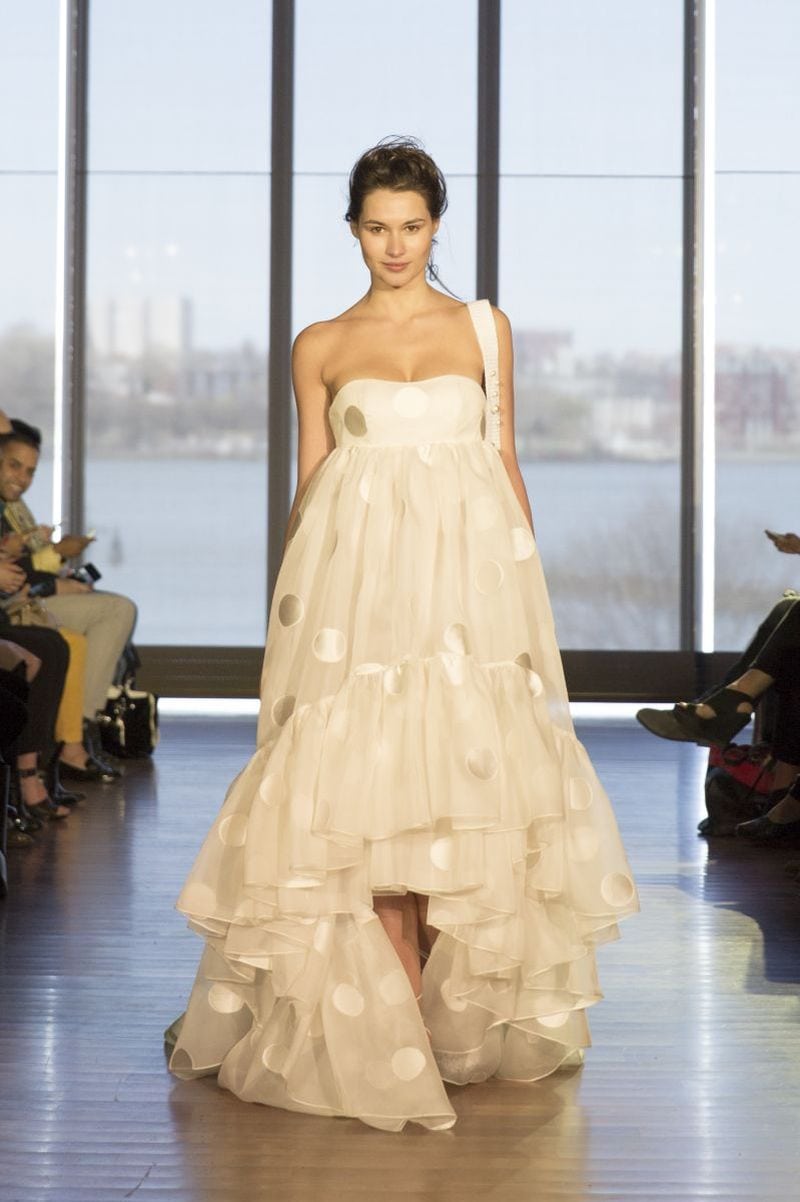 Image Source : francescamiranda.com
Rami Kadi:
If you are searching for some unique wedding dress and ideas, couture gowns by Rami Kadi are worth to try. It has pale gold and blue patterns that are really tasteful. The stars incorporated as a subtle bring out the real glam in the bride's look.
Paolo Sebastian:
Paolo Sebastian has a lot of creative ideas for wedding gowns. One of them is the classic V- neckline red coloured gown. The red colour gives a perfect stunning look and oozes romance in the wedding environment. The gown is ideal to be graced at a winter wedding reception with the groom to be dressed in all black.
Kelly Faetanini-Olga: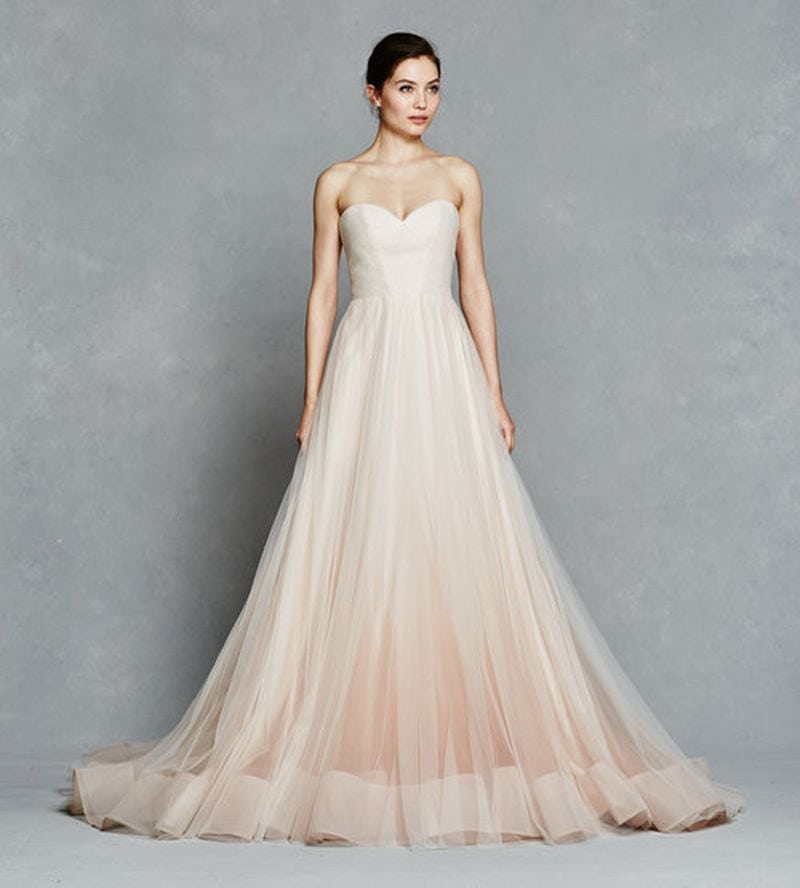 Image Source : squarespace.com
Feathers are the best and the most stunning feature of this wedding gown. The statement making feathery flares along with a gold bodice is perfect to wear on your big day. The skirt is perfectly textured to give out a royal look.
Rami Kadi- 05 Campay:
The stunning floral style wedding dress is perfect to show off your body curves. The blushing pink colour and the amazing waist corset will make you feel lucky after wearing it. The dress is off shoulder and gives a very stylish appearance if worn on your wedding day.
Rami Kadi- FW16- 4:
Image Source : buro247.me
This is a show stopper dress with a complete transformable wedding looks. The beetle embellishments look exquisite and appear to be racy green if seen in dark. Brides looking with alternative wedding dress options should go for this perfect gothic bridal outfit.
Alfred Angelo 972:
A truly gorgeous dress is being presented by Alfred Angelo that has a deep V- shaped neckline and classic design. The design consists of a catchy detailing bodice with sparkling and stunning cage like embroidery at its back. Sparkling wedding gowns are always attractive and will never disappoint you.
Martina Liana: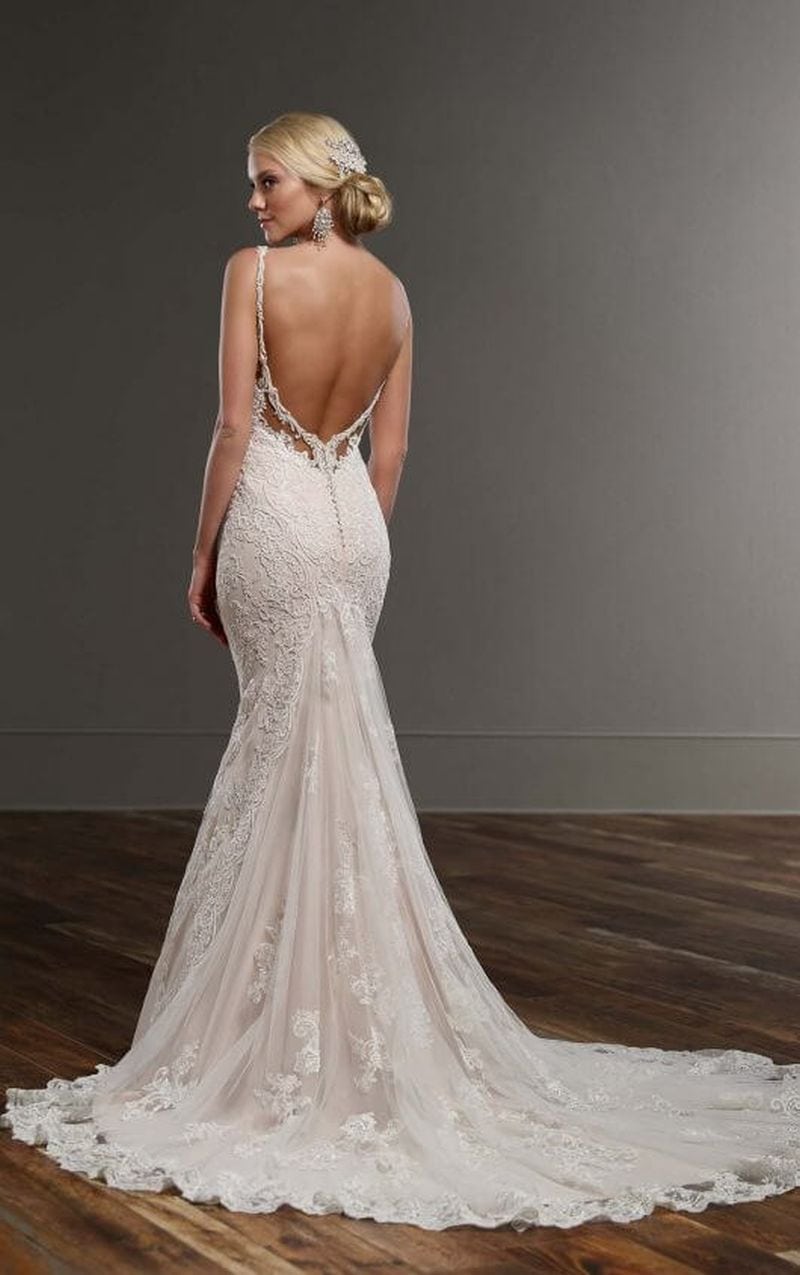 Image Source : cdn.essensedesigns.com
Martina liana has an excellent collection of unusual wedding gown ideas. She has presented a sexy and sleek trio of Sanji Skirt, Cora Corset and James Jacket which makes your wedding dress to be the most unique option one has hardly seen. The sweetheart corset comes up with a fine and stunning lace that perfectly complements the famous crepe skirt. The additional jacket gives out a unique appearance and makes it a completely transformable dress. It is entirely different from the traditional bridal wear options and is perfect for a modern day bride.
Paolo Sebastian:
The breath taking high quality Paolo Sebastian fashion design has a combination of high edged intricate embroidery with crochet seams which is very rare to see. The dress has an undeniable edge and one will absolutely fall in love with the risqué sheer over the skirt and bodice. A daring bride going for this dress will surely have necks turned around her and will feel fabulous.
The dress is an example to those who think funky and tiered wedding outfits do not work well. This wedding dress is truly dramatic and its voluminous design looks utterly fabulous. The girls who dare to experiment with fashion should definitely try this one.
Kelly Faetanini- Florence: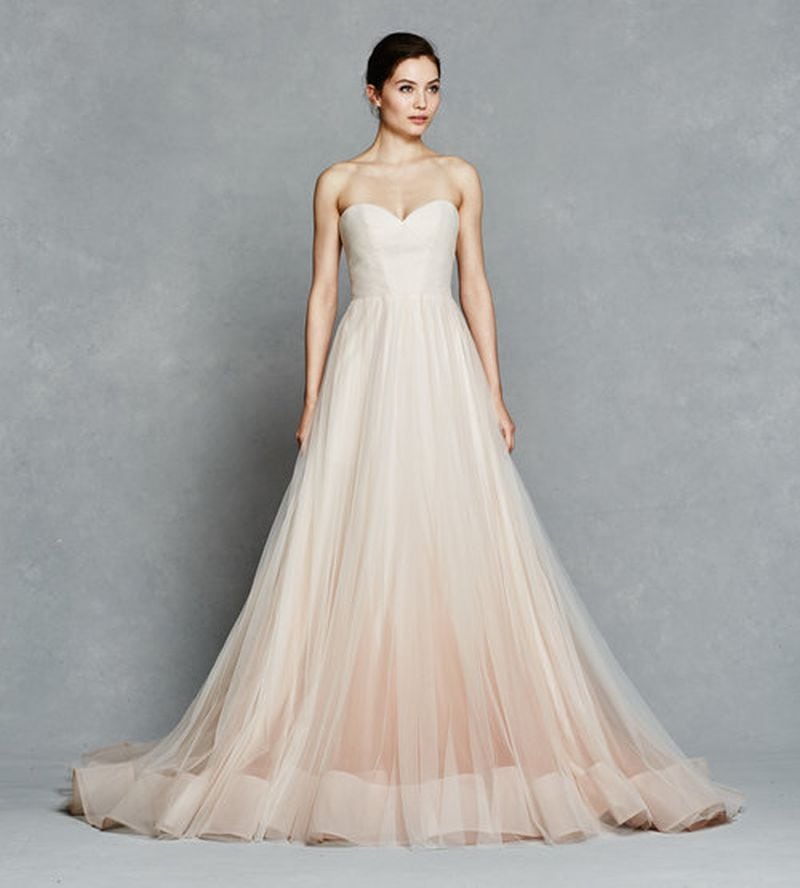 Image Source : static1.squarespace.com
If you want to go for some non traditional wedding gowns, this option will go best for you. The dress comes up with a pink colour and arouses a romantic atmosphere in the surroundings. The flattering addition of classical sweetheart neckline makes it an unusual bridal outfit.
Kelly Faetanini:
Kelly faetanini poses unusual wedding gown ideas. She has beautifully designed this golden dress with impeccable colour. The dress is an honest option if you want to present out yourself with a royal look. The dress is already fabulous and loved by all, but the stunning lace application and sheer train have made it reach to a newer height.
Eliza Jane Howell: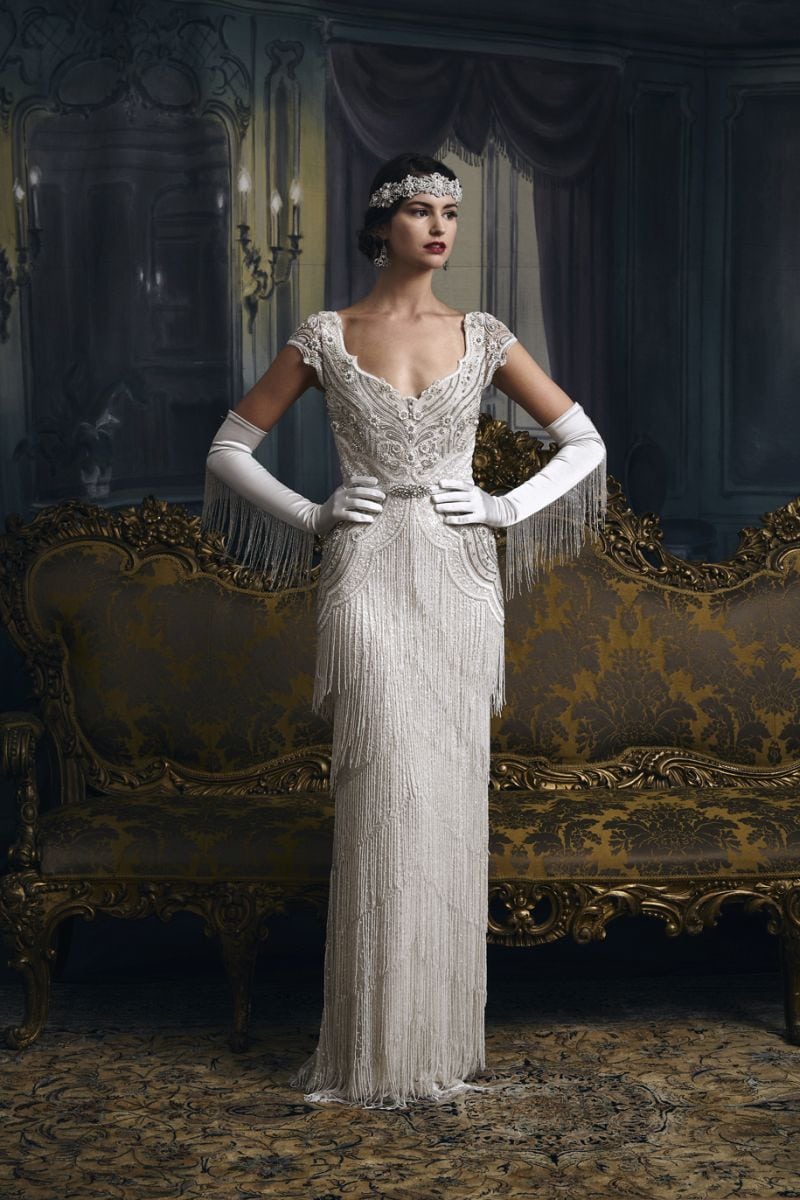 Image Source : elizajanehowell.com
The gown comes covered with glitters and sequins which is absolutely stunning for a bride to wear. Additional red colour marks this dress to a newer height.
Jenny Packham:
Jenny Packam comes up with creative ideas for wedding gowns. She has presented a stunning and unique green coloured dress containing perfectly studded desirable embellishments. The dress is best for the weddings with a rustic theme. The gown is highly recommended for its perfect finish. The sheer sleeves will make every girl fall in love with this dress. The dress with a mint green colour will make the colourful vibes to flow throughout.