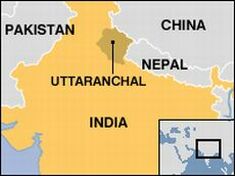 CNN reports, that approximately 48 wedding guests were killed in a truck accident in Uttranchal, a state in North India when the truck carrying the wedding party went crashing down to a gorge nearby Almora district.
So far, the villagers and the police department have recovered 48 bodies from the truck with three already dead on their way to the hospital.
This is the second major wedding accident that has taken place in India, killing so many innocent people. The previous accident took place nearby Barpeta district of Assam during the festive season of Bohag Bihu, the biggest festival of the people of Assam.
Image: BBC