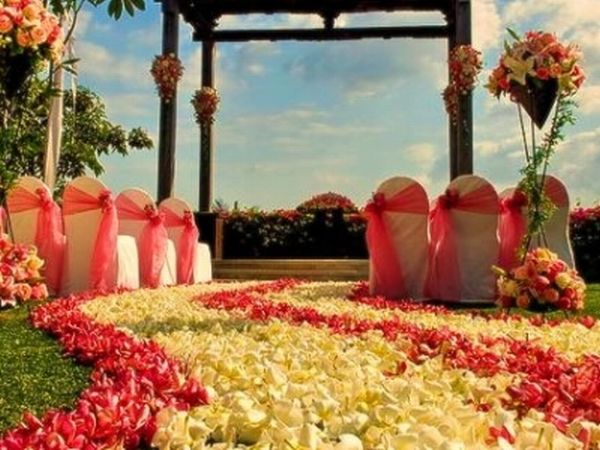 When it comes to wedding, you want to plan everything special you can. The latest trend followed by all who will soon exchange rings, is to set up a theme based wedding ceremony that can be a memorable day for them. Exotic wedding themes are one of such themes that are most talked about nowadays. Everyone today wants to celebrate that special day in a more exotic manner. So we present you an exotic list of themes from which you can surely pick one for your ceremony:
1. The Alice in wonderland theme
Alice in wonderland is one such theme that you can enjoy the most as your wedding theme. The fun, the games and the adventure make it a very lovable theme and it attracts the women mostly. Being a fairy tale theme, it is loved and enjoyed by all. You can design your ceremony with some magic shows planned in it. The whole look of fairytale and wonderland takes you back in the childhood and makes you feel like a kid.
2. The Pirate theme
One of the most adventurous themes of all time, the pirates theme is sure to turn eyes towards your ceremony. Pirate theme can be designed in a creative way with some hats and nets all around the wedding location. The movie Pirates of the Caribbean is popular and well known, this would help your theme to get more admired among the people. You can do many experiments with this theme as it's full of adventure and fun. This can prove to be a landmark theme for any wedding ceremony.
3. The Fairy theme
One of the most loved themes; the fairy theme can take all the appreciation and can work wonders in your wedding ceremony. The fairy theme can be designed in a more creative way like you can put the fairy dress code for all. Everyone can be instructed to dress like they are in a fairyland like prince and princess. This idea can create curiosity among the invitees and they would surely want to dress the best. This inquisitiveness can work for your wedding and can make it more memorable.
4. The Star wars theme
This is one theme that is sci fi in its nature. Because it is so futuristic that everyone will love it. You can plan this theme with some future based ideas, like you can dress your wedding gown or tux in a star war theme. And can advice your guests to dress according to the theme. This could look like some sequence of a sci fi movie and it can make your wedding day more memorable and adventurous.
5. The Murder mystery theme
Murder mystery theme is a theme of horror and thrill. It can make your wedding look more interesting and thrilled. You can incorporate this theme in your wedding by decorating the venue in a mysterious style. You can put some questions written on a piece of a paper onto the seats of your guests and then tell them to find the thing. This will make your wedding more interesting and it would have that thrilling experience, for you and your guests. You can also plan a false murder at your wedding and can keep it a secret till the end. This will add the required suspense to your wedding day and will make it unforgettable.
6. The Country theme
With country theme as your of wedding theme. You can experiment a lot. In this theme you can rewind back and can bring back everything you have ever loved in your parents wedding ceremony video. The overall look of country theme is so traditional that you can actually dress and decorate your wedding venue in a full traditional way. For example, you can put daisies at the place of roses and you can use glass jars rather than wine glasses.
7. Beach theme
Like the name suggests, the beach theme is all about celebrating that special day with your loved ones at the beach in a beach based theme party. Beach theme is for people who love to celebrate in an extra exotic way and are all open for some experimental fun. In a beach theme, you can decorate the place with beautiful flowers petals and can experiment with different color flowers. You can also move barefoot with your groom or bride hand in hand at the wedding area. You can also spread sand on the entrance. It will give an additional effect to your wedding.
8. The Autumn theme
Autumn theme is one of the most loved themes among the couples as it is a beautiful month of the year and you can experiment the most in this month. Because of the cool weather in this season, everybody enjoys to the core. You can use a variety of bright colors in your wedding decoration. It will look beautiful and attractive and will compliment the beautiful weather.