You're having a wedding! Yay! Someone has likely told you by now that you need to tell people it's happening outside of Instagram. Telekinesis just isn't that advanced yet. Sorry. You don't want to pen an epic poem, but you do want to make sure everyone at least knows the basics. As long as you've got at least these nine things included, your guests will not wander around lost and confused (at least, hopefully). 
1.   The Invitation Itself
Believe it or not, this should go in your wedding invitation. Wild, we know. The crucial piece has to be included. This is where you get to have lots of stylistic fun. Hire a calligrapher, add a picture of that classic men's wedding band you got, draw on them all in crayon, do what sounds fun. As long as it has your names, the date and time it's gonna go down and where it will happen, you're golden. Whether you throw little details on the front or go the corner copy route is up to you, but make sure people know about the reception if there is one.
Note that save-the-dates are not included here. You could send them out together, but it likely defeats the purpose. You want save-the-dates to go out at least a few months ahead of time.
2.   RSVP Cards
Very high-end middle school vibes. Will you go to my wedding? Check yes or no. Leave it just as your middle school passed note or add other pertinent information on there. If your guests are vegan or gluten-free or have any other dietary restrictions, the RSVP cards are great places to get that information. It will help you to include a spot for your guests to note such things, so take advantage of it.
3.   Reception Cards
We admit this one is optional. Reception cards are starting to go by the wayside, but you're more than welcome to have them if you like. A reception card basically just says everything you could say on an invite about the reception. If you want a separate one, though, go wild. This could be a fun artistic outlet to play with color scheme and overall design if you so choose — and we aren't here to stop you. Alternatively, if your wedding reception is held at a separate venue, these can be quite helpful.
4.   Events Card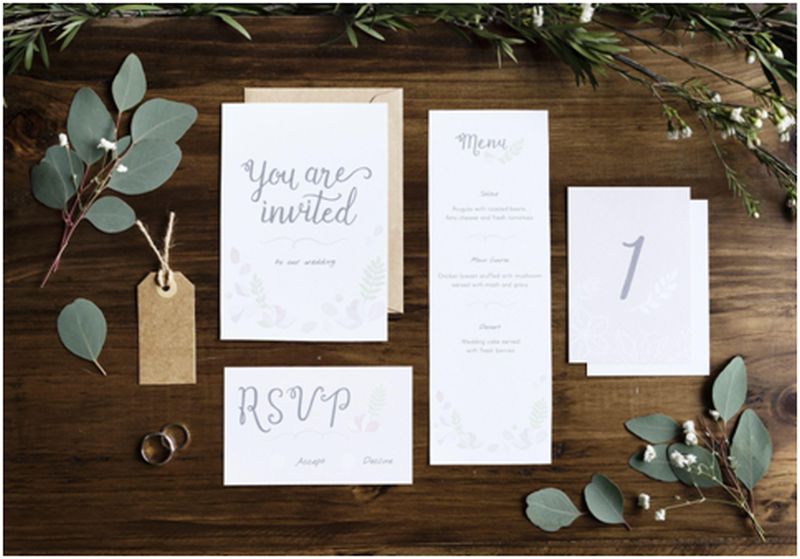 Look, everything besides the invite and the RSVP card is technically optional. This included. Some of the optional things are pretty helpful, though. If you're going for the whole wedding weekend thing, give your guests a heads up. Let them know what's going on, where and the dress code for it. The fewer cousins in shorts at a fancy brunch, the better. Someone's going to get it wrong, but you can minimize the number of someones.
This also gives your guests a good heads-up about the theme of the wedding. If you want it all to be about nature, that's awesome, but make sure your guests understand what's going down.
5.   Accommodations List
You could probably combine this with the events card to make one big FAQ card. Might not be a bad idea. Either way, a list of accommodations is going to be helpful for your guests. Could they just use the Airbnb app on their phones? Absolutely, but not all your guests are millennials. Throw your elder guests some love and pitch a few good hotels and basic information about them. Tips on getting around will help, too. Yes, Google Maps exists but just put it on there to be polite.
6.   Place Cards
Unless you enjoy the most awkward game of pseudo-musical chairs available, give your guests a heads-up. This will help them know exactly where to head when they get to the reception. From there, they can look out for their name at the table and you can bask in that sweet, sweet efficiency. 
Not Strictly Part of Your Wedding Invitation, But Necessary 
7.   Envelopes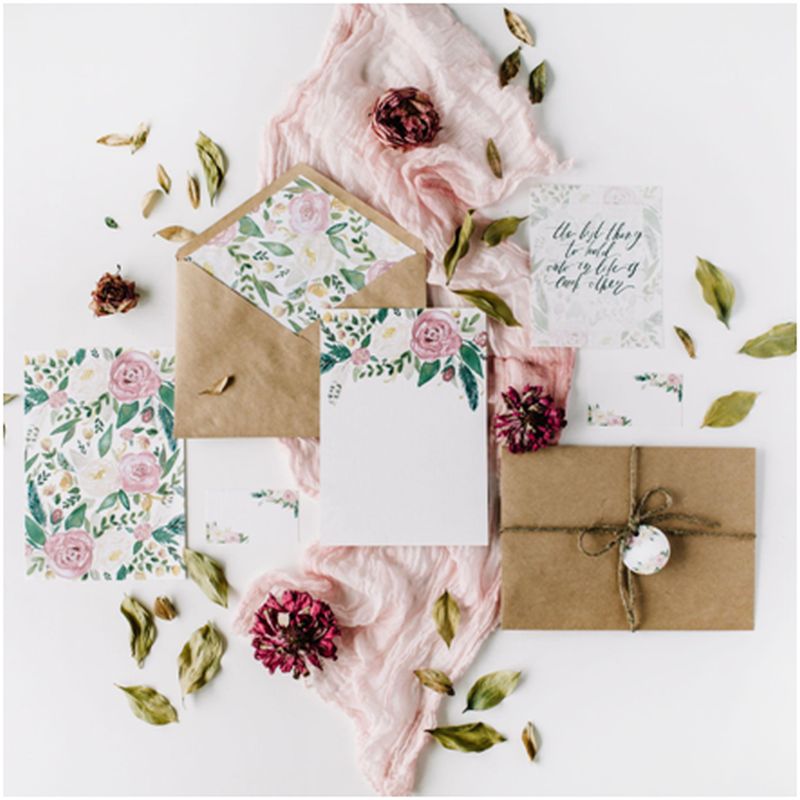 Yep, you'll need a lot of those bitches. Like, potentially an unholy amount. If you opted for a smaller wedding, your invitations are where you thank yourself. Who wants to lick 200 envelopes anyway? Regardless, make sure you have your envelopes in order first or you're in for a long and annoying trip to the post office.
8.   Extra Postage
You, friend, have just created one heavy-ass letter. Seriously, you could've used every ounce of ink from an original printing press on that thing. Bring postage with you just in case, or buy it at the post office. Up to you. Pro tip: Ask for your letters to be hand canceled. Ever seen some weird wavy lines in the corner of a letter you got? That's a machine cancellation. Imagine how that's gonna ruin the aesthetic of your nice wedding invitation. Hand cancel and don't leave until they agree (though this shouldn't really be a fight).
9.   Thank You Cards
It's polite to show appreciation. Much like you can send a wedding gift up to a month or so after the ceremony (whether you should is a different question), you have roughly a month maximum to send these out. Will your guests be framing them and putting them on the mantel? Unlikely, but it's still the thought that counts.
Could you text your friends a QR code that has all the pertinent information in one easy place? Yes, and when the robots take over, that's what they'll do. For now, though, even if it's a bit of a hassle, it's a part of the process. Enjoy it!
Article Submitted By Community Writer