Are you looking to make your wedding ceremony unique and memorable? Then you must read this article thoroughly. A splendid and unique wedding ceremony that people might remember for years is a dream of every single couple. But what makes a wedding different from others and so unforgettable? Though it's a fact that each individual has a different perception of uniqueness and specialty, still, there are many ways by which we can grab the attention of majority of the attendants. The ideas for a memorable wedding could be a sight captivating location, a warm welcome to guests, enjoyable seating arrangement, aesthetic decoration, a creative wedding entrance, fun wedding reception games that must involve every single being in the ceremony, a delicious menu, music that forced people to dance or a unity ceremony.
We have elaborated three of these ideas so that planning for your wedding should be as easy as eating a piece of cake.
A creative wedding entrance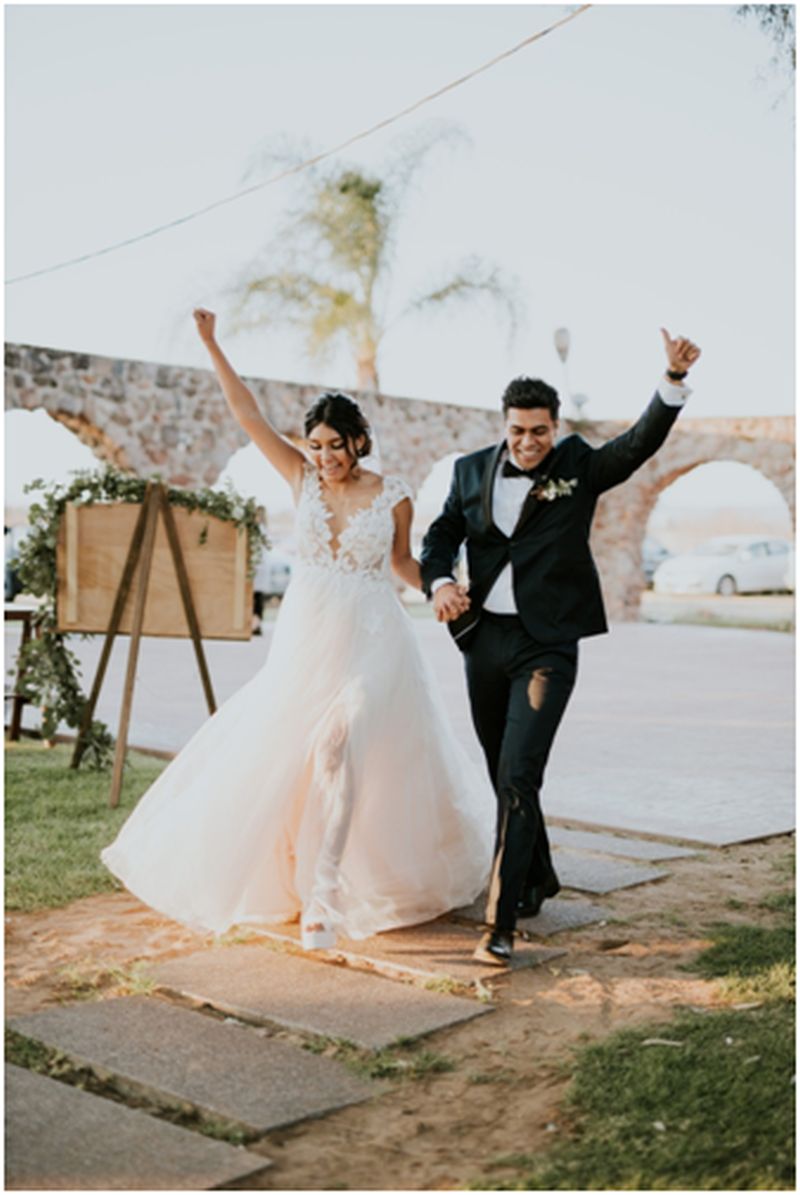 Bored with a typical wedding entrance? Let's try something new with the essence of traditions. You can make your entry in either a luxurious, brand-new car or hot air wedding balloon ride. You can also make your moment memorable for all others as well by making your entry dancing and singing. The choice of bride and groom's wedding dress is another way to make it a wonderful moment.
You can set your wedding entrance with a creative arrangement of hundreds of flowers. If you are lacking in time and want everything as quickly as possible, then we have an easy solution for you. You can set your entrance with an elegant Gold Wedding Centerpiece Stand. Gold colored metal vase with a slender waist and unique shape is just a perfect centerpiece for your unforgettable wedding entrance. It is handcrafted from high-quality materials; the surface of the flower stand is a matte process and 50 cm in height. This centerpiece will not make your budget to be so down; either you're having plenty of money to spend or just having a limited statement. The flowers in this quality gold wedding centerpiece stand would be of your choice; either you wanted an original or artificial flower bouquet. Both will better fit with this special and unique gold metal vase and will leave the faces of guests with heartening and awe expressions.
1.      A unity ceremony
In a wedding ceremony, to represent the union of a pair, a symbolic ritual called "Unity Ceremony" is performed right after the exchange of vows. This is another way to make your big day, the best, and can also involve other family members to make wishes for you.
A unity ceremony may be carried out in one of the following unique ways to make your day distinct from others.
2.      Lighting a candle together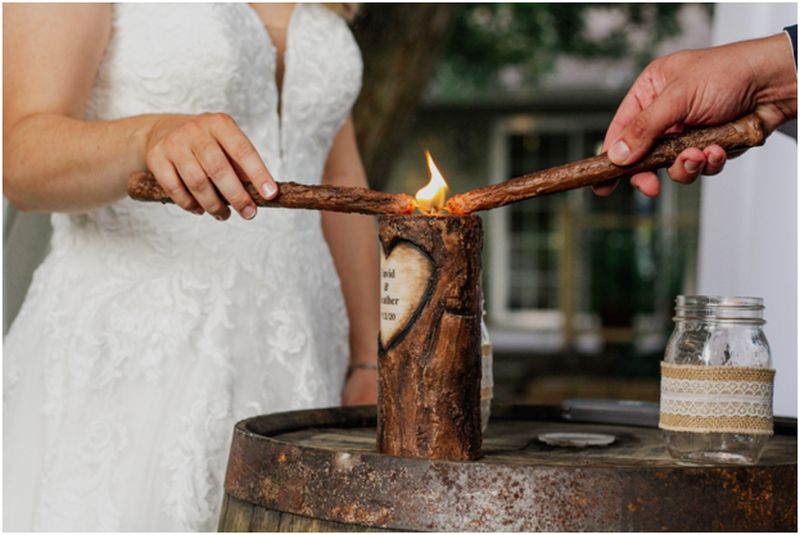 This could be a simple and meaningful ceremony in a memorable wedding reception. To show an official twosome, both will first light their individual candles and then, together, the duo will flame the ritual unity candle. This is a traditional representation of unity.
3.      Releasing a wish lantern
To show union and love, together releasing a paper lantern is another classic way for the unity ceremony.  It's ok if you wanted to be the center of attention and release the lantern alone, standing in a lawn. But to make it more fun, you can invite all the other couples in the ceremony to release their own lantern and spread the message of love in the air all around.
4.      Handfasting
Handfasting is quite a primitive and symbolic tradition derived from Celtic culture. While exchanging the vows with each other, someone will wrap the right hands of both bride and groom together with a piece of rope. This unity ceremony represents the strong bonding between the two.
5.      Planting a tree
This is an amazing and simple idea for your memorable and joyous wedding reception. For a unity ceremony, both of you will need to add soil to a pot with a tiny plant in it. You may also go for water instead of soil to avoid a mess. This is all about your comfort and choice. This planting idea is a reminder for both of you that as plants need care and love to grow and flower, your relationship will also demand patience and efforts to have a happy ending together.
6.      Pouring a jar together with sand or glass crystals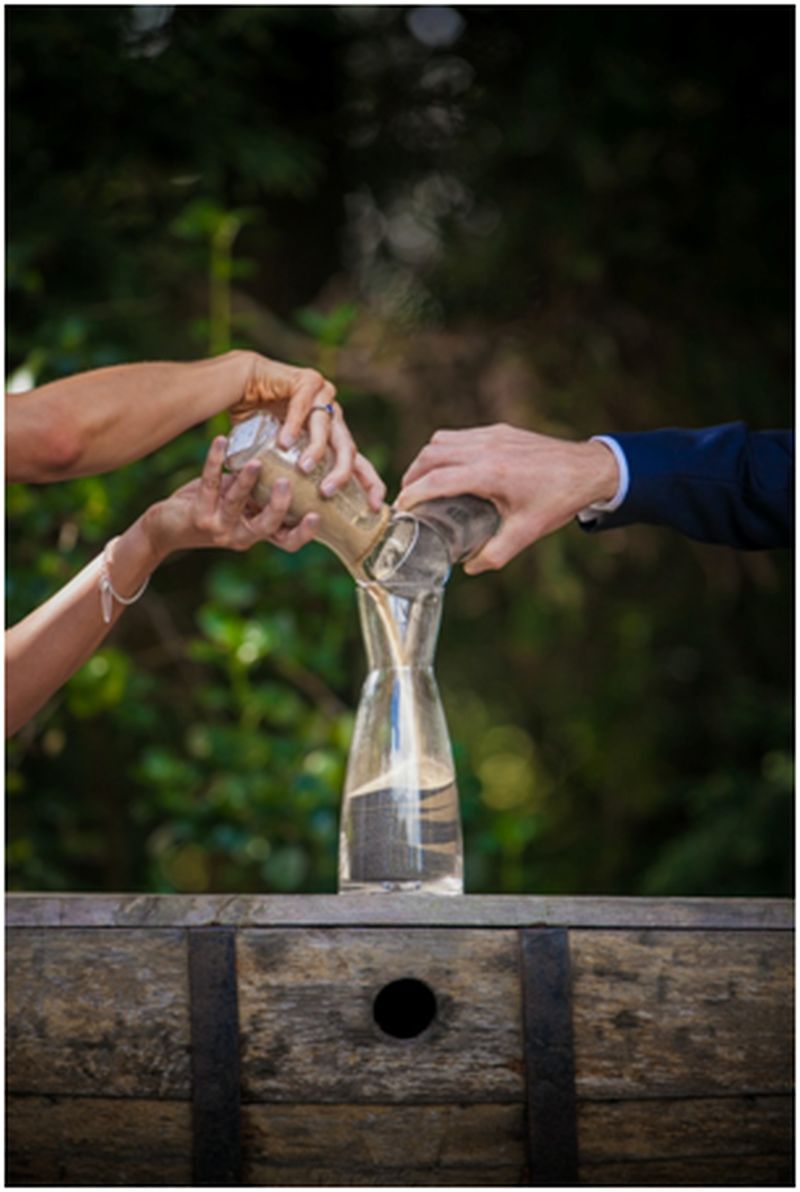 Filling a glass and transparent jar/vase with sand or colored glass crystals is one more jovial idea for your wedding unity ceremony. First, both of you will need to fill separate jars with either sand or colored glass crystals (as you have decided before), and then at the same time, both of you will make sure to empty your filled jars into another bigger one. This is a true representation of the blending of two souls. You can also invite your family members or children to add love and prayers to your unity jar in the form of sand or colored glass crystals. These unity ceremonies will definitely add an unforgettable and fancy moment toa wedding reception, not only for both of you but also for all other guests.
Fun wedding reception games
After emotional and busy hours, this time is to fill participants with enthusiasm and warm feelings. Some couples might love to start their special day with exciting wedding reception games, but we think the wedding ceremony must be closed after engaging everyone via playing indoor or outdoor games and realizing people that their participation in the ceremony had lots of meaning for love birds, a majesty couple of the day.
We have created game ideas that will keep your guests entertained throughout the ceremony, including kids.
1.      Truth and Dare
This is one of the best games to involve many people at a time for a cheerful and jolly wedding night. This game should be led by newlywed love birds. They should ask every individual in the ceremony (who is willing to play a game) to go for either truth or dare. If they select truth, then seek help from other people to ask funny or difficult questions. If one goes with a dare, then give him/her little tasks like kissing the person next to you, hugging a personality you like the most present in ceremony etc. This activity will bring a roar of laughter to your memorable, great day. Kids can also make their part in this game.
2.      Who best knows the couple?
This is a second classic idea for a wedding reception game to pull guests towards fun and happy closing ceremony. You should put a box filled with interesting questions about the loving couple, and then ask people to answer the questions. To make it more fun, you can announce to award the winner with an amazing Gold Wedding Centerpiece Stand.  The one who answers more questions rightly and quickly should be given the tag of the winner.
3.      Customized photo booth
Everyone wants to have a gallery full of pictures that attract more people. The setting of a customized photo booth will add to make your dream day to be unique and unforgettable.  This booth will reflect your wedding theme and make everyone try it once. For children, you can add their favorite cartoon characters or movie characters like spider man etc.
4.      Guess the Guest
Guess the guest is a unique and fantastic idea to involve everyone attending your big day. The couple should have a paper with unique characteristics about the personality of respected guests. Then ask people to guess the guests with their renowned attributes. This activity will let the people know about their funny and serious personality-orientated characters and left their faces with lots of happiness and joy.
5.      The Show Game
This is a traditional wedding reception game. In this activity, both bride and groom will sit in a position with their backs touching each other, i.e. with their faces on different sides. The bride will have one of her own shoes and another shoe from the groom in her hands. Same is the scene with the groom. People will ask questions one by one about the two like who proposed first, who kissed first, who liked the pizza most, who had more embarrassing moments, who is annoying etc. Then both of the love birds will raise that shoe with whom the question was about. In this way, coordination between the two will be shown by fun factors.
6.      Musical Chairs
The musical chair is a most played game in almost all cultures. There will be a circle of chairs facing outward and with loud rocking music playing behind. The number of people should always be greater than the circling chairs. As the music begins, people will start running around the chairs and will try to fix their seats as the music will be stopped. This will bring enthusiasm and energy to the memorable wedding ceremony. Love couples can also participate in musical chair activity, or they may play the role of judge for fair ending.
In this way, you can make your wedding day unique, traditional, and unforgettable.
Article Submitted By Community Writer