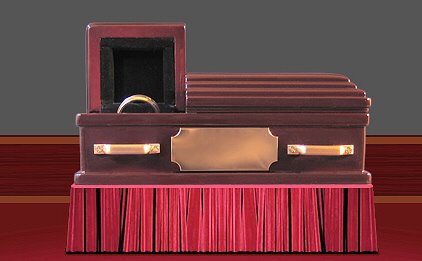 What according to you is the best way to do away with the wedding ring after a nuptial dies? Throw it in water, put in some corners of your house, where you'll never find it, give it back to your spouse or criminate it suitably.
I know all other tasks are understandable to you but the last option seems a bit confusing… right? Actually, Jill Testa, got this wonderful Wedding Ring Coffin idea from this story which is somewhat similar to her life;
Once upon a time, there lived a young woman who was lucky enough to meet a man who she believed was her prince. They fell in love, got married, had a child, and almost lived happily ever after. But after 20 years of kissing her prince, the woman realized he was actually a frog!
The 15X5 centimeter (six by two inch) solid wood coffin has a black velvet ring insert, a choice of six brass plaques inscribed with messages including 'Bury the past and move on to a new tomorrow,' 'Rest in Peace,' 'R.I.P,' 'Gone and Forgotten,' "I do… NOT!!" and "Six feet isn't deep enough," and costs $29.95.
Source: Presurfer