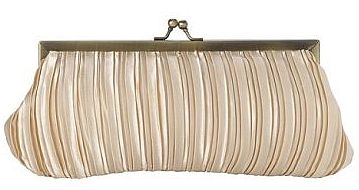 Match a clutch for your special day. Do not think that it looks tacky to carry a purse on your wedding! Rather a chic clutch can help you to keep your obligatory things like lipstick, little cash and mobile phone handy.
This is a Pleated Clutch in satin to match your gown. It is an ultra elegant clutch with metal kiss-lock frame. It's vintage look makes it a choice for dressy occasion. Price: $14.99

You may check out more bridal clutches here.