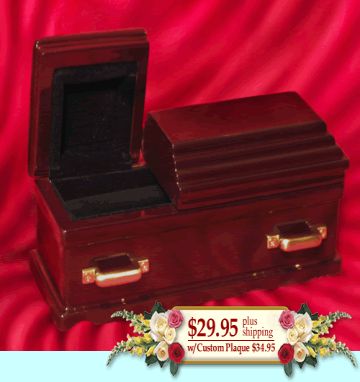 There are people who do everything but do in style. When they marry their marriage is one event people look out for. Their style is grand and they carry it throughout life. But what can they do when their marriages end in divorces. They can't do anything much, just pull off their rings and throw them in garbage.

However, we have one stylish idea to make sure that you can even end your marriage in style. Don't keep any favors of your ex, not even the ring. Return it and that too in this stylish 'The Wedding Ring Coffin'. This coffin is made up of solid wood, which has a dark mahogany finish with gloss. The coffin is 6 1/4″ long, 2 1/4″ wide and 2 3/8″ high. The interior just like a real one has been lined with black velvet. It also has a place for your ring.
It also carries a brass plaque card on which you can get your message engraved. A perfectly stylish idea to bury your marriage dead and yeah, no hot feelings please!
Source: Weddingringcoffin