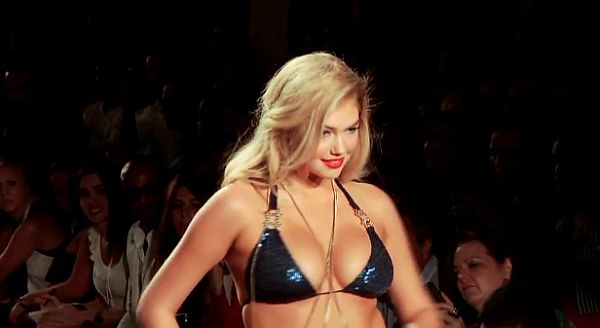 Sexy swimwear doesn't go hand in hand with the wedding dress but all this seems to be possible here with the Beach Bunny Swimwear collections for bridal wear in Miami Swim Fashion Week. Though this fashion show in Miami is known for its sophisticated collection of wears exhibiting sex appeal, amazing designs and sexy bikinis but this time around, it has blasted the show in an all new way by featuring various models in sexy wedding white twist attire.
The supermodel and Sports Illustrated magazines cover girl for the year 2012- Kate Upton was the one that opened the show clad in her bold and mesmerizing style, wearing black and gold sparkling bikini that was all enough to take away the breath of people came to attend the show. The other models also pompously walked around the ramp showing their oomph factor to the fullest by wearing various shades bikinis in red, blue and white colors. The show couldn't be completed without an array of other sexy colors in bridal swimwear collection like purple, yellow, pink and leopard prints that set a perfect cord in the show.
Beach Bunny Show was filled with exhilaration, innovative collections and a lot of fun what was enough to make you reconsider your decision not to marry this summer by wearing this amazingly hot bridal wear. Everything associated with the collection – pearl embellishments, veils, lace details and theme- was unique. At last, again, the all time favorite of everyone – Kate Upton made a sparkling entry by wearing a high-waist wedding bridal bikini that left people astounded. In overall, the show was really energetic and this fashion week has assured that this summer is going to be fresh and provokingly hot.
Via: fashiontv