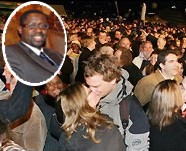 'The international day against racism' on March 21 was taken as a platform for a mass wedding celebration in St-Niklaas in northern Belgium. Deputy Mayor Wouter Van Bellingen plays the overseer of this evening as 700 couples say 'I do' in St-Niklaas.
The step was taken by Van Bellingen, the first black councillor of St-Niklaas, as a protest for an incident that took place in February when three couples refused to let a black official get them married. Deeply moved by the incident Van Bellingen said:
It was the most primitive form of racism. Nothing but the colour of my skin.
Racism is at its peak in Belgium and discrimination based on skin colour is the latest disease that has infected a majority in Belgium. There was a huge protest last year following the killing of a woman of African origin. A 2-year-old girl was also killed in that incident.
Rwandan-born Van Bellingen, who was elected as councillor at local elections in October, arranged the mass wedding on March 21 which is observed as International Day Against Racism by the UNESCO.
Though the opposition is trying to label this mass wedding as a political gimmick by Bellingen, it was a very necessary step taken to let the common people identify with the problem that is killing a nation.