Of course the wedding dress is one of the most important items when planning a wedding; from the minute women get engaged, they day dream about the perfect ceremony and the perfect dress they will wear when walking down the aisle. Brides put a lot of effort to look outstanding on their wedding day; they test different hairstyles, different make ups, and most of them want to have a special hand-made dress for which they need to hire a haute couture designer and do several fitting tests to adapt it to their bodies.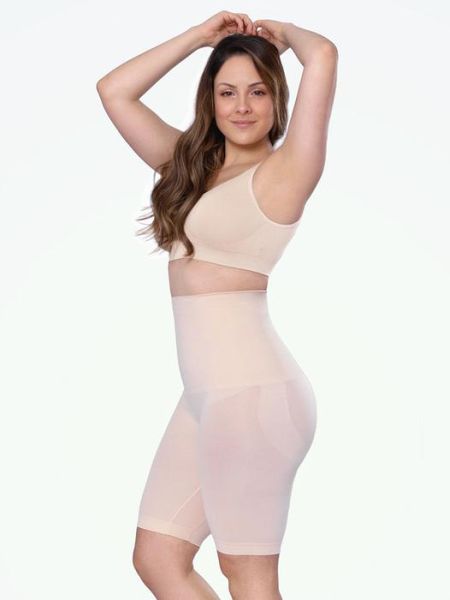 This is why; another important item is the undergarment the bride will wear beneath that special and unique wedding dress. Brides need to feel confident, so the last thing they need is a pair of shaper shorts rolling down their waist or an uncooperative bra throughout the whole ceremony and party.
It is important to clarify that wearing shapewear is a personal choice, no one should be forced to wear something they don`t want; however, it is what most brides choose. Therefore, we made a research to find the best shapewear options to make sure your body looks smooth and curvy while wearing your wedding gown on the big day.
Get the right piece of shapewear according to your body and dress silhouette
When looking for the perfect shapewear for you, the first thing you need to do is to know which areas of your body you would like to accentuate or smooth and then you need to consider the shape of your wedding dress. The type of shapewear will depend entirely of the structure of the dress; if you are getting married in a strapless corset bodice or a low cut v-neck you will probably need a strapless shaping bodysuit, and if it is the waist and bottom you have to take care of, you can wear shaper shorts.
Another important thing to consider is the color of your undergarment; shapewear is available in many different shades, you should acquire one that matches the color of your dress. If your wedding gown is white, get a light colored shapewear, that way you can make sure it doesn't show through the fabric of the dress.
Finally yet importantly, don´t leave the shapewear for the last minute, it is important for you to evaluate how you feel while wearing them. Try them on, move around, check how it feels on your body while you are dancing. Your undergarment should feel comfortable, and you should be able to move freely; if you feel squeezed then it is not right for you.
Get the right size, check the size chart and pick the correct one. Do not get a smaller size just to achieve more compression, this would be a huge mistake; you will end up feeling extremely uncomfortable and the undergarment will probably make you look more bulky than smooth. After all, it is your wedding day, and you must feel confident and comfortable!
Different types of shapewear. Which matches best with your dress?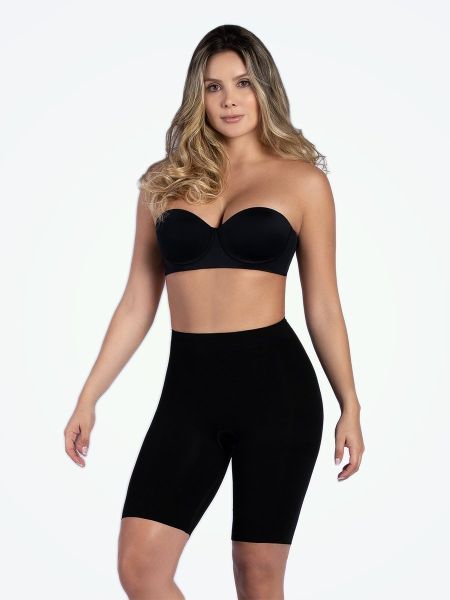 The world of shapewear is a vast one. There is a huge variety of styles, shapes, and colors. To help you find the right match for your dress, we will describe some of the most popular pieces of undergarment.
Shapewear shorts
Most of them cover from the waist to a few inches above the knee (some of them cover up to just below the bust). This piece of undergarment will tuck your tummy, smooth your hips and will help to shape your tights making them slimmer. They are perfect for almost any type of wedding dress, long or short; except maybe for the mermaid cut or the sheath.
Sculpting body
You can find this garment in a big variety of designs, but most of them have adjustable straps (some are strapless) and cover your body from your breasts to your hip, they can also reach your knee. They can make your tummy look flat, accentuate the curves on your hips and waist and they offer a light support for your bust. These are ideal for a corset bodice type of dress.
Sculpting Sip
This undergarment helps shape and contour your body giving a light support to your bust. Most of them have a scoop neck; therefore, they are perfect for low cut dresses or v-necks.
High-waist briefs and thongs
These pieces help flatten your tummy and curve your waist giving you a perfect silhouette. They go from your waist to your hips. They are ideal to wear beneath tight dresses because they don´t leave line marks in your rear, especially the thongs.
Article Submitted By Community Writer