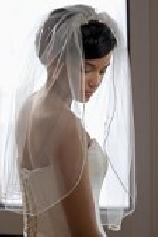 Bridal veils undoubtedly lend more mystery and beauty to the bride. So, don't you think that it is all the more necessary that you choose the best designer bridal veil for that special day?
Wedding veils comes in different sizes, styles, fabrics and price. If you wanna have it customized in any particular design, all you got to do is place the order and the next moment the veil will be shipped to you free of cost. But folks that is an exclusive offer from the unique weddings only for the U.S brides.
If you want to create your own bridal veil, visit Bridal veil creations, the one stop corner for varied veils such as, Plain edge veils, Pencil edge veils, Satin cord veils, Ribbon edge veils, Lace veils, Embroidered veils, Nylon edge veils, Pearl veils, Rhinestone veils and lot more.