Every bride is most concerned about how her wedding dress looks and how she would like in the gown chosen. The search for THE wedding gown starts months before the actual wedding with lots of trails and fitting sessions. Today, there is a stunning array of wedding dresses which is bound to leave any bride spellbound. Below are the 11 dazzling wedding gowns which will flatter any bride and make her look her best in her own elements.
The Vera Wang range of bridal gowns is a class of their own. Vera Wang worked for a style magazine 'Vogue' before branching out to create a wave in fashion design. She has designed stylish bridal gown for celebrities like Mariah Carey and Jennifer Lopez. The dresses are designed to accommodate any body type and cost between $2000 and $8000.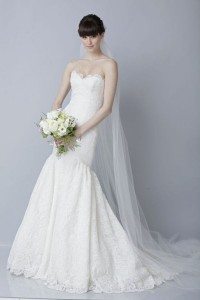 The second trendy bridal gown is that designed by Theia. With a focus on maximum shimmer, bridal gown designer Theia has created a range of stunning gowns which every bride would love owning.
The third one is by ReemAcra, a leading bridal gown designer who is known for her elegant and shimmering gowns. She is known as being the designer for stars and is a favourite of many celebrities. Her gowns make use of luxurious materials and lots of attention goes into the making of a single gown.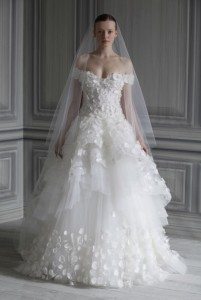 The fourth gown is by Monique Lhuillier who is known for her sexy gowns which would be perfect for the bride who wants to don something romantic on her special day. With a range of materials used for the gowns, the gowns possess elements of luxury, elegance and glamour.
The fifth gown is by Carolina Herrer is known for elegantly simple wedding gowns. Without too much flamboyance, these gowns render a stylish look for brides.
The sixth gown is by Jenny Packham who designs simply amazing apparel for brides. Jenny Packham wedding dresses are luxurious and are designs which are world famous.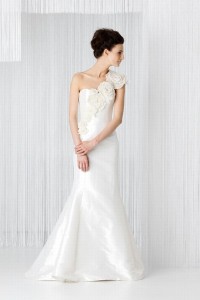 The seventh dress is by Angel Sanchez and she pays great attention to details in her gowns. Always creating fresh and modern dresses, brides will be guaranteed a stunning look for any design.
The eighth dress is Heidi Elnora who is known worldwide for designing gowns which can sweep you off your feet.
The ninth dress is by Kelly Faetanini who offers the modern bride romantic, elegant, and timeless wedding gowns that she will never forget for many years to come.
The tenth one is by Modern Trousseau and each design evokes a classic couture which has a vision of sophistication. Modern Trousseau gowns allow brides to confident and stunningly beautiful on their wedding day.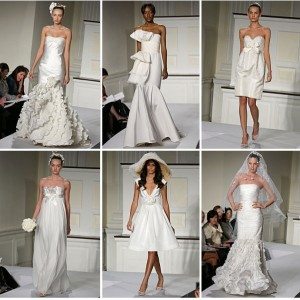 Finally comes the gown by Oscar de la Renta whose bridal gown designs feature outstanding embroideries and beautiful fabrics, from silk duchess to French Alençon lace.