Liam is a very famous Australian actor, who was born on 13th January, 1990. Besides, Miley is a very famous actress who is 20 years old. These two popular stars are in relationship from past few years. However, their wedding had become a question mark these days. This is the second time, their wedding have been postponed. A new source revealed that Mileys immature way of behavior is alone responsible for the misunderstandings between them. Miley Cyprus had taken out the engagement ring from her hand while going to a party. This had hurted Liam a lot. In fact he is getting fed up with Miley's childish behavior.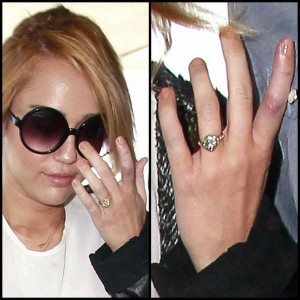 Who is at fault?
Miley takes off the engagement ring every time when she argues with Liam. Her immature behavior is creating a wide gap between them. According to the information we have got, this couple decided to marry only after resolving all their issues. He had decided to take some more time and thus kept the wedding on hold. However, this decision had further enhanced the fight between Miley Cyrus and Liam. Miley totally got upset with Liam's decision. Moreover, this had also enhanced the anger on him.
All this information is exclusively collected by the source hollywoodllife.com. There are some people who had mistaken his decision in the way that he broke up the relationship with Miley. But, in fact he just kept his wedding in hold! Liam had really took a good a good decision by putting his wedding on hold said his friend. On the other side Mileys parents doubt the future of Miley with Liam. As Miley had already achieved great heights in the film industry, everybody is thinking that Miley Cyrus might not marry Liam. But in fact they are in deep love.
Solution for them
This young couple really looks fabulous on screen and off screen. It is all her childish behavior which had led to this situation today. Let's hope that Miley understands the Liam's feelings soon. Everybody is eagerly waiting for this lovely couple wedding. Let's hope that this couple pairs up soon by resolving all their issues. Moreover, it would be better for them to sit together and discuss their problems with each others to resolve their issues. This might help them in understanding each other well.
Let's wish all the best to this young and lovely couple!