Besides the beautiful bride that you are going to be in that dreamy gown, make sure your maids complement you in their unique rose gold bridesmaid dresses. Are you confused about what type of gowns to choose? Explore them here.
Congratulations to the bride-to-be! So, if you are done with choosing your dream bridal dress, then spend some time choosing the outfits of your bridesmaid. They are equally excited about your wedding and will play a pivotal role on your D-day from giving you company to posing with you for pictures. Are you wondering how to give them a fabulous look? Start by settling on the color of the dress.
If you want to add a romantic, glamorous and feminine hue to your wedding, choose rose gold, the chic color for the outfits of your bridesmaid. The color is not only trendy but would lift the beauty of the party with a touch of sophistication and glamor.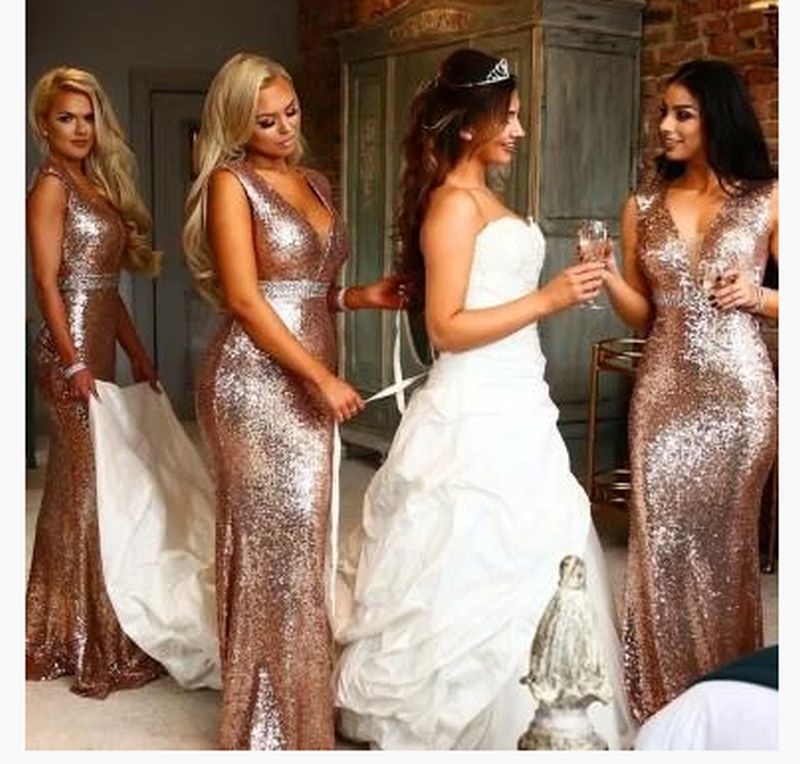 The soft, dusty pink rose hue exudes the romance that symbolizes a wedding, while the shine and brilliance in it makes the dress perfect for a glittering and elegant gala wedding occasion. If you haven't yet considered this pretty color for your bridesmaid style, it's time to get inspired by the stylish rose gold bridesmaid dresses and pick some amazing ones for your maids.
Things to consider before you start shopping for your bridesmaids:
Bridesmaids' body shapes
Bridesmaids' fashion sense
Wedding theme
Your budget
Well, considering the body shape and taste of your bridesmaids, you can either pick a single style of rose gold dresses for all girls or mix and match the look by choosing different styles. The possibilities are endless. Read on for more inspiration!
1. Long rose gold chiffon bridesmaid dress
Envisioning your bridal squad in floor-length dresses in a pinkish color? Grab long-bridesmaid gowns in rose gold and let them turn heads on your big day. Whether it's a black-tie or white-tie wedding, these long gowns make your girls look stylish and feminine.
This V-neck, gorgeous dress allows your leading ladies to show off their cleavage without compromising on the modesty. Apart from that, the feathery light chiffon will make them feel comfortable the entire day.  If any of your ladies is worried about her skin imperfections and pale legs, the long gowns will help them easily hide those imperfections and make them look perfect. It will be the go-to alternative for your girls when you are in need of the right combination of traditional and modern silhouettes.
2. Rose gold sequin mermaid bridesmaid dress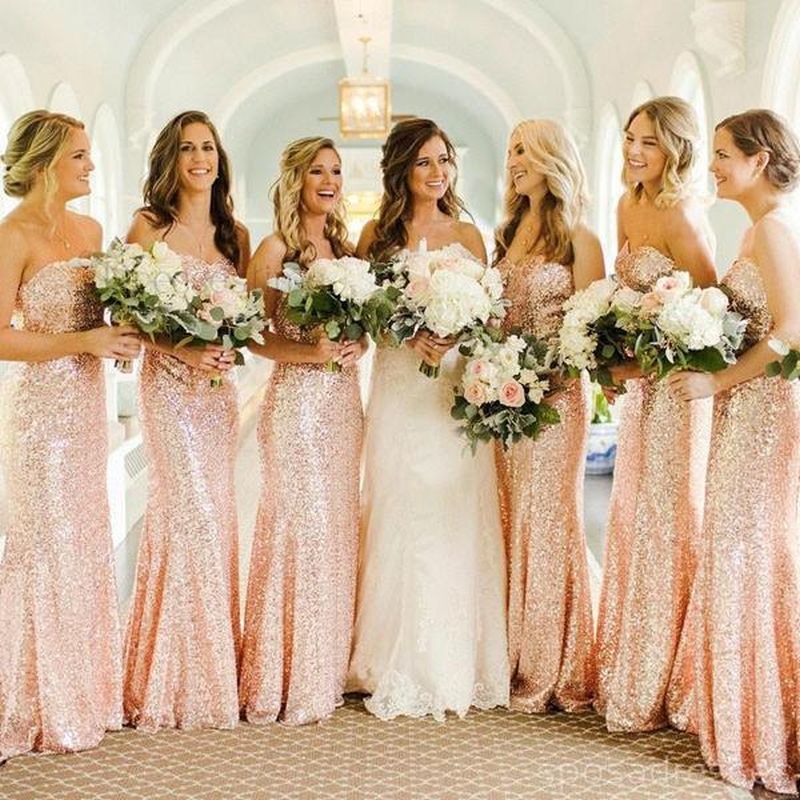 Your girls want to play up with their natural curves and add glitz and glam to the party? Choose this exclusively designed dress for your fashion-forwarded ladies. Your maids will swish and swirl their way around your wedding celebrations in this oh-so-pretty dress.
The snug fit around the hips incorporates flattering ruching and tapering, while the fitted neckline will complement the bust. Using minimal jewelry, create a timeless look that will turn the heads around.
3. Off the shoulder, side-silt rose gold gowns
One of the trendiest options for your girls is this shimmering off-the-shoulder dress in an alluring style. This incredible gown from the exclusive collection allows your girls to expose a little skin giving your girl gang a flirty and refined look at the same time.
Your maids will fall for the unique rendition of the color. This is the perfect choice to go for when you want to show off décolletage and keep it classy at the same time. The side-silt elevates the look as your girls can flaunt their beautiful legs. If you wish, add some custom-made features to walk that extra mile.
4. Sleeveless fitted rose gold dress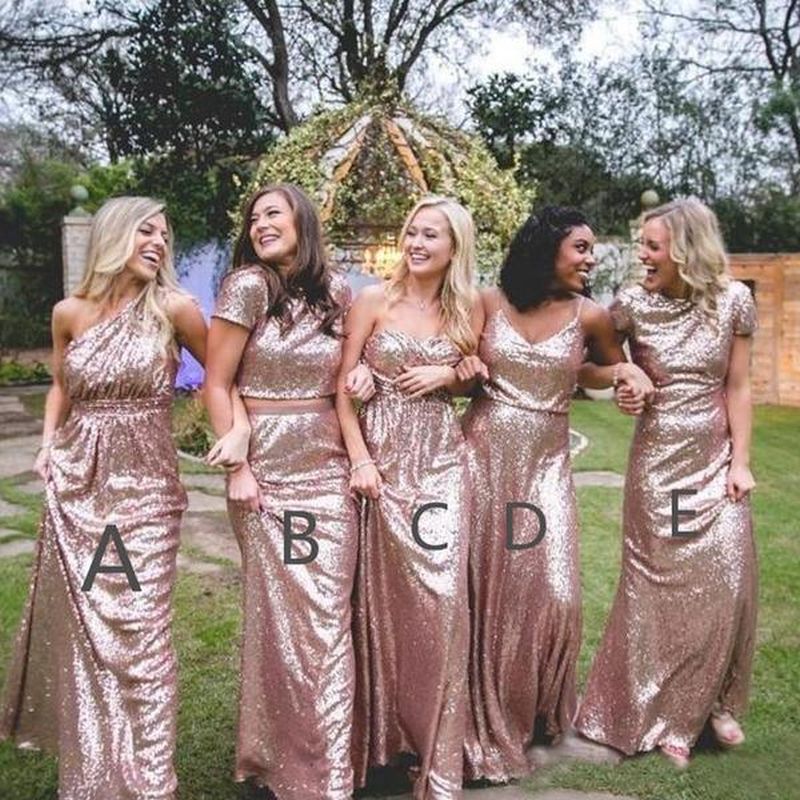 If you are going to tie the knot at a romantic evening wedding, nothing can be as perfect as this sparkling gown for your maids. This curve-highlighting and sleeveless gown skims the figure. The mermaid shape of the gown fits most body types and the backless feature adds the bold and beautiful statement to your girls. With some extra embellishments on the gown, you can make your girl squad complement you in every sense.
And we haven't yet reached the end of the options for your bridesmaid. Among the wide range of choices, shop by necklines, silhouettes, or fabrics and find the most flattering gowns for your maids. If you have any particular style in your mind and want to customize the dresses accordingly, feel free to share your requirements. And don't worry about the price. We promise to provide you the best quality dress of your choice without making a hole in your pocket. So, are you ready to see your girls in rose gold bridesmaid dresses? Then, what are you waiting for? Order the best gowns now!
Article Submitted By Community Writer