For all the brides, mothers and even the to-be hubbies, if you are getting married in the near future don't forget to visit the glamorous Bridal show to be hosted in Africa from tomorrow that is 13th and 14th of May.
The Bridal Africa 2006 show will kick start at the Gallagher Estate located in Midrand and is all decked up to mesmerize you all with its cross-cultural beauty.
The event will host over 100 exhibitors who will be showing off a varied collection of everything that has to do with Wedding.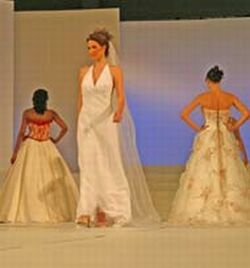 You will have all the wedding services right under one roof: from wedding dress, accessories, hairstylist, cakes and all.
There will be almost 154 individual designs that will be displayed in the bridal show: all the dresses will be created by 47 premier fashion designers from South Africa.
So what are you waiting for, just book your tickets and fly for the show.