It doesn't matter how much money you spend and which location you choose, few indoor venues can compete with the beauty of a scenic outdoor wedding. Opting for an outdoor wedding can be a great way to save money on venue reservations while also creating a more open and enjoyable environment for guests. However, being that the typical indoor amenities won't be present, you'll have to ensure such accommodations are accounted for and placed within close proximity to the festivities. With that said, here are some of the essential provisions to consider when planning for an outdoor wedding:
Restrooms and Changing Rooms
Even if the site is located within a reasonable walking distance of a structure that contains restrooms, you'll have to be considerate of the fact that some elderly, pregnant, or child guests might not be able to "hold it." However, having an undisguised porta potty just sitting out in plain sight can make the venue look tacky, so be sure to keep it relatively out of site yet nearby. You may even want to use curtains to shield the porta potties and changing rooms for extra privacy and a more aesthetically pleasing setup.
Drink Stations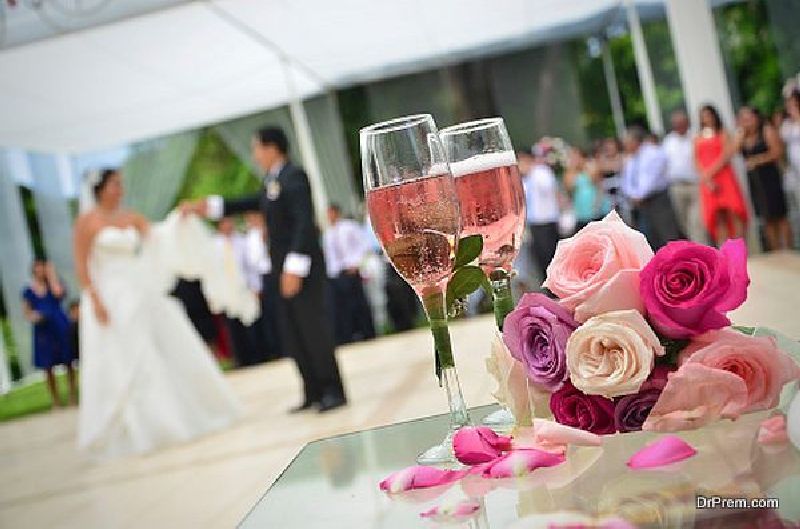 Chances are you're planning the wedding for a relatively warm day, as nobody wants to be standing outside in the cold during a lengthy ceremony of the vows. Of course, even if the temperatures are moderate, wedding guests tend to overheat easily with all the layered clothing and social interaction, so providing custom drink stations will serve to keep everyone hydrated and comfortable. Many outdoor wedding ceremonies conclude with an indoor meal, but even if you take that approach it's still a good idea to have a few drink coolers available in the outdoor area.
Seating and Pathways
The configuration of your seats and tables will play a major role in how accessible and convenient everything is at the ceremony, so be sure to put some careful thought and experimentation into this step. It's a good idea to start with some wedding seating chart templates and then modify one to your liking.
Weather and Time of Day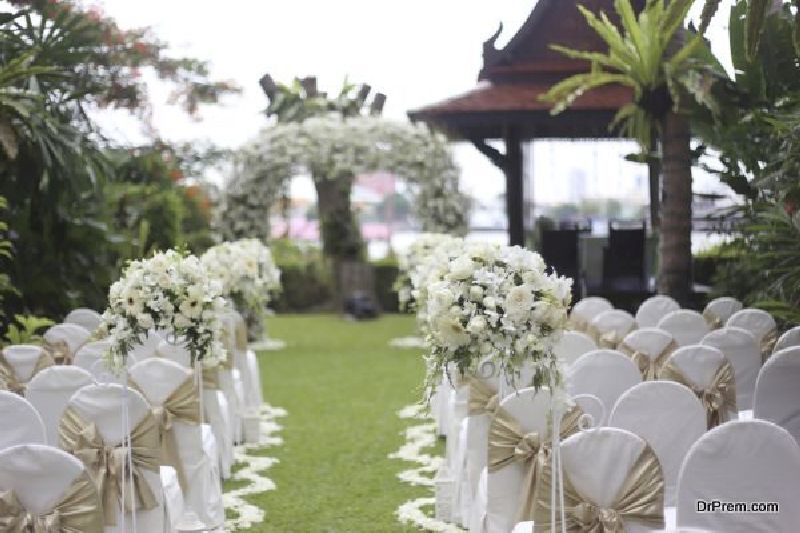 Last but certainly not least, in addition to checking the typical weather forecast for the region on the day of the wedding, it's best to refer to the almanac and choose a week that is projected to have very little or no precipitation. Surprise showers can ruin a ceremony, so 0% precipitation is what you're after. Likewise, the afternoon seems to be the best time to avoid the cold temps of the morning while also giving guests plenty of time to show up before getting started.
Making the Event Convenient and Hospitable for Everyone
Ultimately, the goal when planning an outdoor wedding is to make the entire ceremony as enjoyable as possible. This can be challenging when you're at the mercy of nature, but planning ahead will certainly put you in a position to accommodate any stumbling blocks that may arise. The tips above are meant to help you cover all the basics before the big day.
Article Submitted By Community Writer