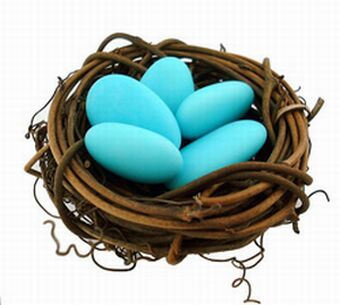 So I have told you how you can make a wedding favor…but now instead of giving you a detailed description I would love to get this one for your bridal shower.
Again a natural feel gift product, this cute little elegant thing called the Twiggy bird's nest with five bright blue colored Jordan Almonds looks just beautiful. Each of them comes for a cut-throat price of just $1.50.
With the wild look that is pretty evident from the bird's nest, you can place it over in your bedroom corner table which has got a shade slightly lighter than the nest.
This charming product has also been featured in Martha Stewart Wedding and In Style Weddings.