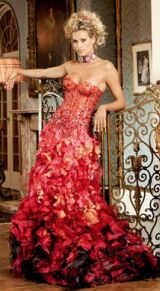 Bridal trends are flooding the market to lure the future brides. Here is an attempt to provide in-depth detail for a posh bridal makeover.
The most happening bridal accessories for the 2006 weddings is the fabric belt so as to give an extra touch to the bridal attire.
Beer and wines are the drinks recommended and a signature drink will be the best option. Don't leave to decide during the eleventh hour.
It is always better to add a personal touch to the guest's gifts: for instance, a CD on your wedding songs or going by the budget factor gift them CD's of some famous singers.
Book the best wedding photographer available to capture those golden moments in photojournalistic-style shots.
Make him capture each and every little detail which will give you immense pleasure when you glide through them later in life.