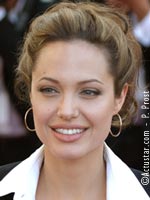 Folk's don't you feel that the Brangelina couple is really heading no where. Heights of wedding rumours are all that can be said of the celebrity couple. It seems that they have no plans to marry. What say??
The Italy wedding date turned out to be nothing but a hoax with all the paparazzo's returning back with dragging bodies. Folks I meant to say, they were so pissed off waiting for the power couple that they had no option but to return empty-handed.
As for the latest reports Angelina will get married only when her kids asks her to and Pitt is going down his knees begging to walk down the aisle.