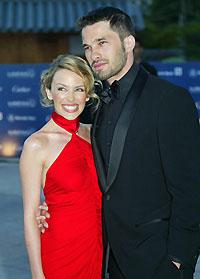 Kylie Minogue is one hell of a strong lady. Hat's off to her positive thinking and will power. She had been battling with one of the most frequently rated women health concern-breast cancer. Folk, now she is all hale and healthy and guess what?? The sexy singer is all geared up to walk down the aisle with the man who nursed her back to health in the most crucial stage of her life.
There is this wild news making rounds everywhere that she planning to settle down with her French boyfriend Olivier Martinez in 2006 and will be based in her native land Australia.
Good luck Guys. We wish that she gives her ailing health a kick and start fresh with her new life.
Read more: Celebrity wedding