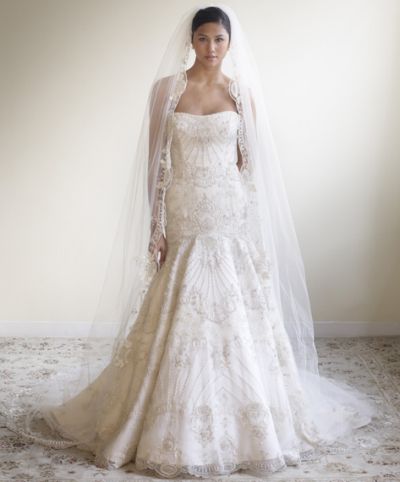 Wedding day is the most important day for every woman on this earth. It is a special moment, which is fantasized by her. When it comes to wedding, every second counts and there is not even a second chance. It's known, bride is the centre of attraction in the wedding. So, it becomes highly important for the bride to be extra cautious while selecting her wedding dress or gown. In this article, we are listing down top ten designer wedding gowns and dresses by Lazaro, which will compliment your personality in a best way making it difficult for your man to take off his eyes from you. Lazaro is a designer brand for wedding apparels that are beautifully, sumptuously and intricately designed that suit almost every body type. So, pick the best wedding dress for yourself that will add the sensuality, glamor and haute couture feel to your personality.

1. Wedding dress, style 3766
BRAND : Lazaro
PRICE : USD 5535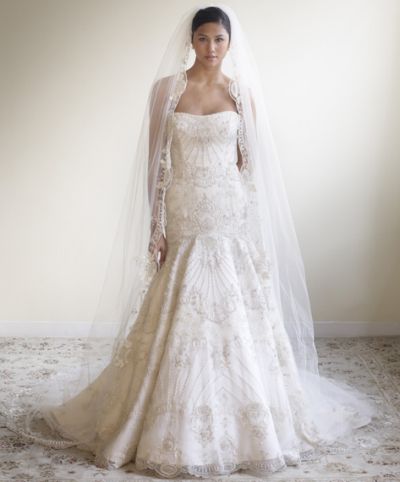 This stunning wedding gown is intricately designed for weeks, which ultimately increases the price tag of the gown. This beautiful strapless gown is made from silk organza fabric with detailed embroidery, bead work and Chantilly lace insets. The gown features trumpet silhouette which elongates the body whilst offering you an ultra glamorous look. It comes with an inbuilt petticoat, but another can be added to it for more volume and flare.
USP
This spectacular wedding dress from Lazaro is carefully and painstakingly crafted for weeks with hand beaded embroidery that makes it look dazzling and super stunning.
PROS
Although the dress is bit pricey, but if you want something that can prove to be an expression of you and your personality, then this beautiful wedding gown is just made for you.
2. Wedding dress, style LZ3507
BRAND : Lazaro
PRICE : USD 4180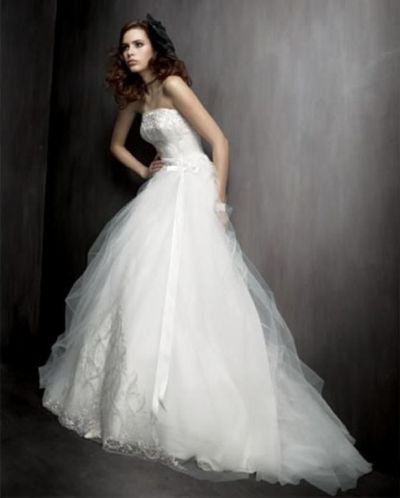 This gorgeous dress from Lazaro is asheer delight. With ball gown silhouette and straight across strapless design,the dress is quite unique in design and look. The dress is white in color and is hand beaded and embroidered to give a luxurious look to the gown. It is crafted of princess silk and satin fabric. It comes with beaded tulle draped at a side of the gown skirt with satin ribbon, chapel train.
USP
The unique sumptuous design of thedress will make you crave for it big time.
PROS
Buy this ultra glamorous dress with silk, satin bodice and exclusive design from Lazaro to make your D day more special and cherished one.
3. Wedding dress, style LZ3007
BRAND : Lazaro
PRICE : USD 5414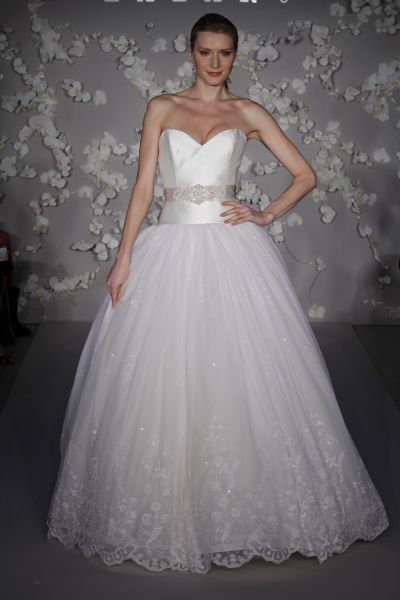 At your wedding, flaunt a Cinderella like look with this pretty wedding gown. The dress is made from English net formal, bridal ball gown style with strapless, sweetheart neckline that accentuates your neck and beauty bones. Silk Mikado yoke bodice of the dress fits well on bride's figure accentuating the curves for a more diva like look.It comes with embellished vintage fresh water pearl ivory ribbon belt at the natural waist. The English net skirt is fully embroidered that offers a royal touch to the dress. Apart from this, underlay the skirt is sequin tulle formore flare. This ultimate bridal gown from Lazaro has sweep train.
USP
The major reason for you to buy this extremely glamorous bridal dress is the royal and extravagant look of the gown that forces your man to look at you continuously with a dropped jaw.
PROS
Silk Mikado bodice is the biggest plus point of this dress.
4. Wedding dress, style LZ3004
BRAND : Lazaro
PRICE : USD 3600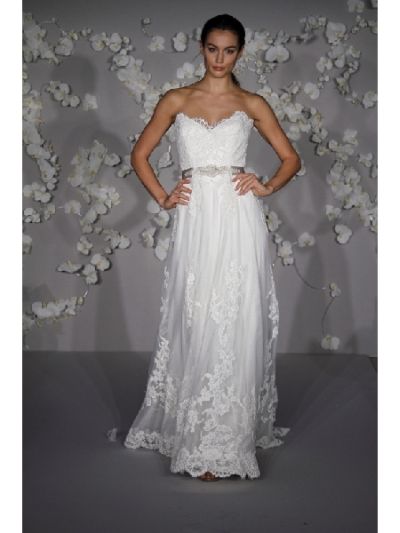 Redefine yourself with this sensuous wedding dress from Lazaro. It is a stunning lightweight dress that truly sparkles mysteriously. The dress is crafted from alencon lace net that has an intense sweetheart neckline. At the waist, the dress has a bueatful and sumptuous fresh water pearl brooch with tie ribbon, which is the attraction of the dress. It has intricate lace appliqué over a soft A line silhouette and chapel train that shimmers and looks stunning in light.
USP
The striking water pearl brooch on the waist of the dress is truly stunning.
PROS
The dress sparkles and shines in the light making you look more and more gorgeous with each passing moment.
5. Wedding dress, style 3053
BRAND : Lazaro
PRICE : USD 3500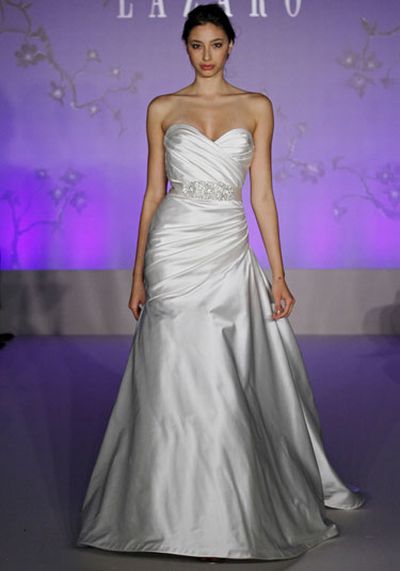 Style 3053 offered by Lazaro is a fabulous silk facet satin gown that makes you look like a princess in your wedding. The gown possesses a sober look that gives a feeling of royalty and sophisticated style when you walk towards your man. The dress has the asymmetrical trumpet style to it with a removable glittery crystalembellished sash. It has a gracefully pleated sweetheart neckline bodice and chapel length train. The dress is available in ivory and white colors while the removable sash can be presented in ivory, white, platinum or gold.
USP
The biggest selling point for this dress is its removable crystal silk ribbon or sash that adds a bit of bling to the dress while maintaining its elegance and simplicity.
PROS
The dress is extremely gorgeous and elegant at the same time, which can prove to be your most loved and valued possession of your lifetime.
6. Wedding dress, style 3061
BRAND : Lazaro
PRICE : USD 2959.92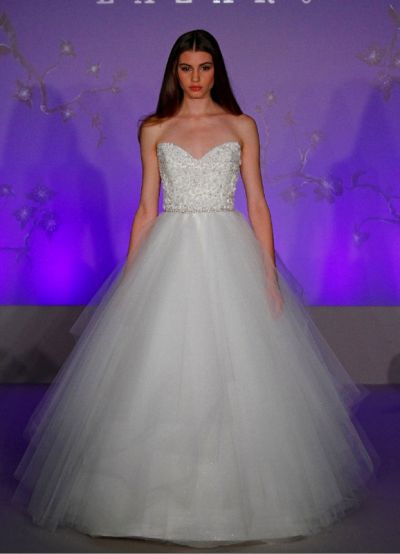 This authentic dress from Lazaro is a beautiful blend of elegance and simplicity. The dress is made of ivory godet tulle fabric with intricate floral beads embellishment. It features sweetheart neckline designed in a ball gown style. The sparkling crystal trim at natural waist is the highlight of the dress. This classic bridal dress is certainly for the one who looks for simplicity with a little bit of glam factor.
USP
This bridal dress has extremely alluring circled skirt, which offers a very distinct look to the bride.
PROS
The dress is an epitome of classiness and minimalism.
7. Wedding dress, style LZ3002
BRAND : Lazaro
PRICE : USD 5500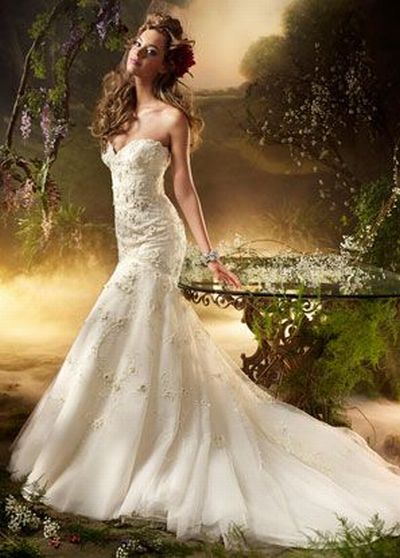 Lazaro's wedding dress style LZ3002 is meticulously designed from tulle fabric with exquisite appliqué beading embroidery done over the skirt. The floral accent on the dress with sweetheart neckline accentuates the body of the bride. It features mermaid silhouette and the length is till the floor that offers a captivating glimpse of you to your man when you walk down the aisle. The elongated bodice of the gown, chapel train covers up the figure magnificently that increases the oomph factor of the gorgeous bride. This attractive wedding dress is available in ivory and whitetones.
USP
The best factor of this wedding gown is that, it positively sparkles and shimmers in a best way to give you a royal bride feeling.
PROS
This beautiful dress displays utter sophistication at its highest class.
8. Fall 2010 collection, style 3010
BRAND : Lazaro
PRICE : USD 4070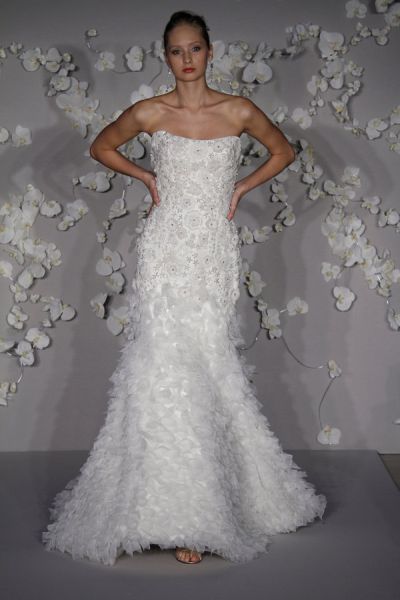 Walk down the aisle in a complete glamorous avatar with this fabulous gown over your body. Woven in silk organza and tulle fabric, the gown features mermaid silhouette that gives you an incredible look. The gown has tons of details and is festooned with handmade floral appliqués. The bodice also features intricate beading and sequins work that offers the gown an elegant look. The full skirt of the gown is crafted of hand folded raw edge organza layers held on by individual beads.
USP
If you are looking for many interesting details on your wedding gown, go for this one from Lazaro. It has different textures, details, volumes and appliqués that give a glamorous and classy look at the same time.
PROS
This ornate gown, when worn, makes you stand out whilst making you the most glamorous bride on the earth.
9. Wedding dress, style 3058
BRAND : Lazaro
PRICE : USD 2799.92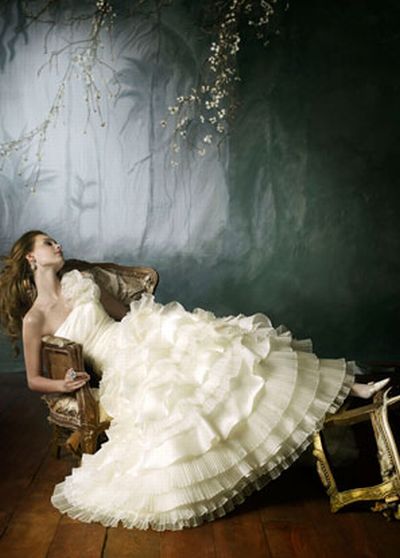 This gorgeous dress is being made from silk satin organza fabric with curved neckline, A-line silhouette and floor length gown. The dress is designed in a manner that it compliments every body type making the D-day ultra special forthe bride. The dress is one shoulder flamenco gown, which increases the glam quotient of the dress. When it comes to embellishment, it has asymmetrical ruffles on the skirt, which offers a unique pleated look. To project an ultra sensuous look in your wedding, go for this elegant romantic wedding dress.
USP
The bodice of the dress is crafted in a sensuous draped manner that offers sophistication to your persona.
PROS
This dress redefines classiness and is also available in other subtle hues, such as, ivory, white and natural white.
10. Wedding dress, style LZ3063
BRAND : Lazaro
PRICE : USD 5400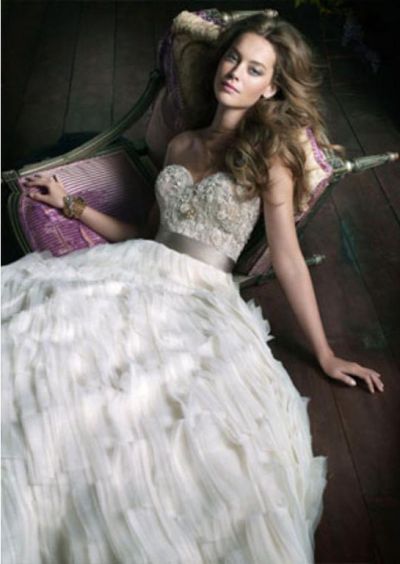 This extremely royal dress from Lazaro is made from tufted organza fabric, and comes in royal ivory tone. The silhouette is A line ball bridal gown with strapless sweetheart neckline. The bodice of the dress is encrusted with sheer jewels that shine, increasing the value of the dress and the bride of course. The natural waist holds the honor to have a platinum silk satin ribbon.
USP
The silhouette, chapel train and jewels decked bodice will make you truly fall for this stunning bridal gown.
PROS
The gown's bejeweled bodice is extremely beautiful that truly sparkles.