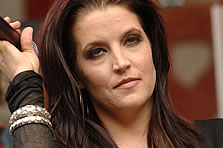 A $952m pre-nup agreement is signed by Lisa Marie Presley before her fourth marriage to musical director Michael Lockwood, 44. The duo had an extravagant Japanese Wedding ceremony.
The only daughter of legendary singer Late Elvis Presley is believed to have come up with the Pre-nuptial agreement so as to safeguard her mammoth fortune.
Lisa's act might prompt many to gossip about her hefty deal but the lady though too much in love will have to keep in mind her vast property which she has to protect at any cost.
As said by close sources the lady is desperate to have more babies.