The big day has come and gone. After months of planning and agonizing, the wedding was a smash. You had the time of your life, and so did your guests… Want to capitalize on the good memories you made on your big day? And relive them once more? Here are a couple ideas that will have you enjoying your wedding day all over again. 
Wedding photo albums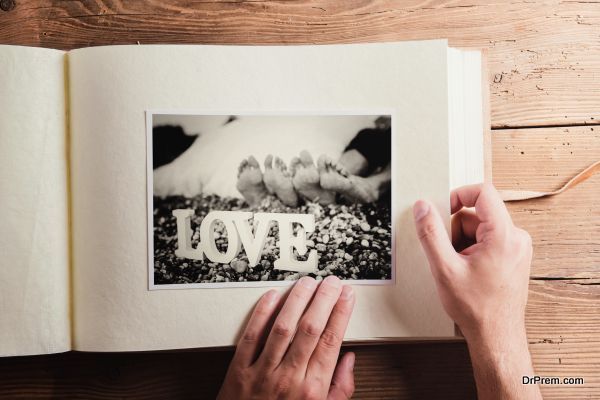 Did you hire a professional photographer for your big day? And perhaps you have already ordered prints and frames? There is another way to enjoy the fine wedding photography. Enter wedding photo books.
Take the time to carefully design and scrapbook all the special moments of your wedding day. From the girl's night out the night before to the morning of preparations. All the way until the wedding reception and the partying until the early hours of the morning. Wedding photo albums can be ordered with premium linen covers to leather hardcovers. Options include bespoke sizes and glossy or matte finishes. These photo books make a fantastic way to celebrate each moment of a day that should be remembered forever.
Trash the dress party or photography shoot
A hot trend in wedding fashion is the idea of wrecking the wedding dress after the big day has passed. After all the agonizing that went into choosing the dress, why would you choose to wreck it? Now you get to do those things you always wanted to do in your dress but just could not because you wanted your dress to look perfect for the wedding day. Take the dress out for a spin with your gal pals, and forget about the repercussions, because there are not any at this point. Some ideas include…
beach time frolicking
sand castle building
fishing
stomping in mud puddles
paint ball
night clubbing
Of course, the dress will not last beyond a day or night of such intense fun. But the idea is to create one more day of memories with your wedding dress that can be further immortalized forever.
An evening of writing wedding gift thank you letters
Some tasks after a wedding are unavoidable. Writing thank you cards for gifts received is one such task. But you can make it into a fun occasion by inviting over your maid of honor and other girlfriends and having them help you with the letterwriting duties. Put on the video montage of your wedding. Pour champagne and relive some of the highlights from that day. Thinking about how wonderful it was will help the feelings come across on paper. Ask your girlfriends to keep you on track with who gave what, as well as crafting funny and creative ways to say thank you.
A thank you night for your maid of honor
Did you have that one person who was essential to the success of your wedding planning? Perhaps it was your maid of honor, or your mother or mother in law. Whoever it was, devoting some time and effort into saying thank you is a great idea. Your maid of honor doubtlessly dedicated days to being at your beck and call – often forgoing leisure time to help you plan and prepare. Give her the recognition she deserves. Doing so will also give you an additional opportunity to remember your wedding day with someone who was there for you and helped you make it a success. Go for a girl's night out or a day at the spa. Or you can book a hotel room and get spa treatments. A thoughtful gift given in a beautiful setting will forever touch her heart and cement your friendship.
Remember, the wedding day was just the start of you and your partner's life together. With a little planning and creativity, you can continue to create classic memories to save and savor.
Article Submitted By Community Writer