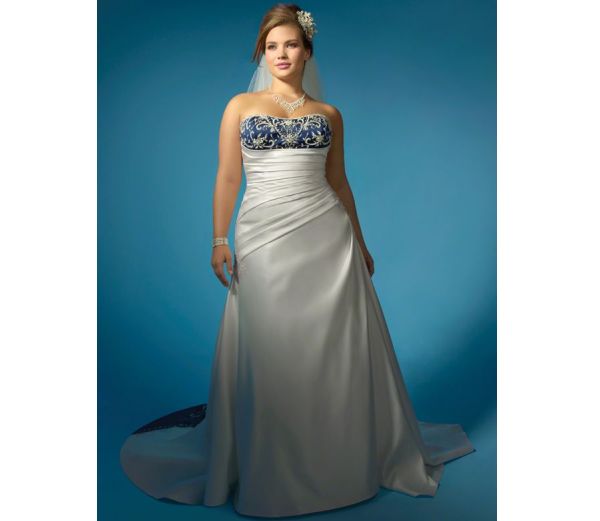 A lot many of us fall in the category of 'plus sizes' and feel that we do not have a lot to choose from, especially when it comes to wedding gowns. Here is a brilliant range of plus bridal gowns that fit fabulously without the need for any alterations. They are available in the latest styles and fashions and are designed to fit you comfortable and compliment your full figure. From traditional wedding gowns to the sleeker modern one, the curvier brides will have a wide range to choose from. No matter what your preferences are, you can easily find a gown of your dreams from any of these amazing ten designer plus size wedding creations:
Organza A-Line Gown with Beaded Lace Appliques Style 9V3434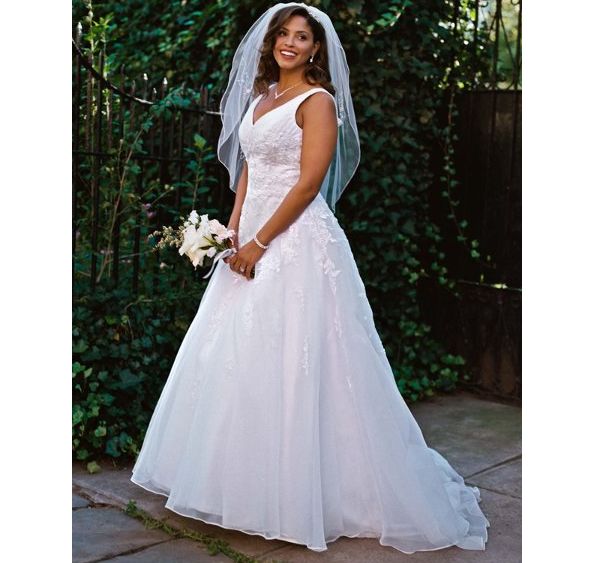 This sophisticated A-line gown is made from organza with a design that blends the traditional charm with modern chic. With a supportive tank bodice with a flattering neckline and a flowing gown embellished with beaded lace appliques, this style surely will add sparkle and shine to your wedding. The A-line silhouette is perfect for any body shape and will make the wearer look pounds lighter. This delicate gown is fully lined and is available in two colors, ivory or white. It also has a chapel train which makes it like a gown fit for a princess. Not only is this dress beautiful, but it also ranks high on the comfort factor.
Strapless Taffeta Gown with Organza Underlay Style 9WG3120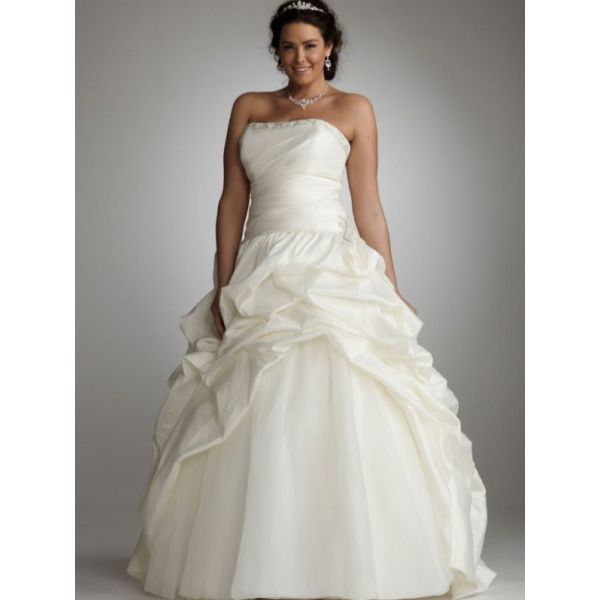 Now you can look like a princess, which you have always wanted to be on your wedding day, with this elegant strapless taffeta and organza gown. The strapless bodice is layered with a flattering work and the neckline is accented with beaded embroidery that doesn't look too flamboyant. The details on the full taffeta skirt look great with a peek-a-boo underlay, which looks very classy. The crystal bow on the waist adds more glitz and shine to the entire look. The gown also has a chapel train and is available in ivory and white colors. This gown is very figure flattering and tucks in at the right places, without making the wearer look bulky. Apart from the wedding gown, you could also specially order for coordinating Flower Girl outfits as well.
Charmeuse Side-Drape Gown with Sash Style 9WG3026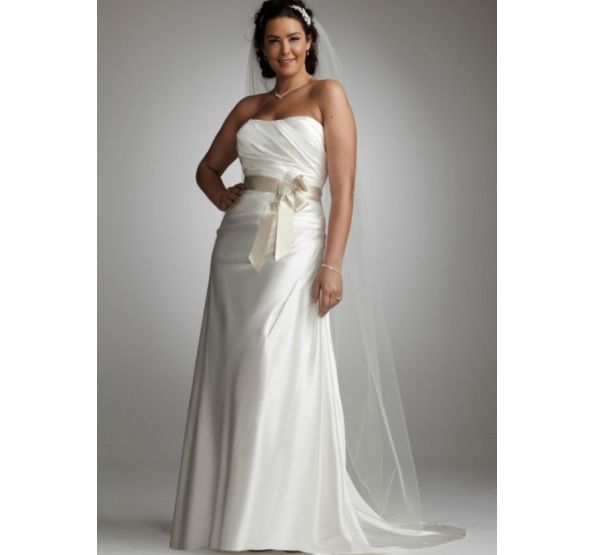 This extremely elegant gown is made by using soft charmeuse fabric, and has a sash bow tied along the waist. The well-fitted corset looks flattering. The flowing skirt looks smooth and slick with a slimming A-line silhouette that makes the wearer look sizes thinner. The classic ribbon sash has an elegant appliqué detail, adding more grace to the outfit. Apart from that, the gown features a sweep train. This wedding gown has a very dream-like quality about it and would look very sensual with its flattering style.
Satin halterball gown with pick-up skirt. Style 9T9250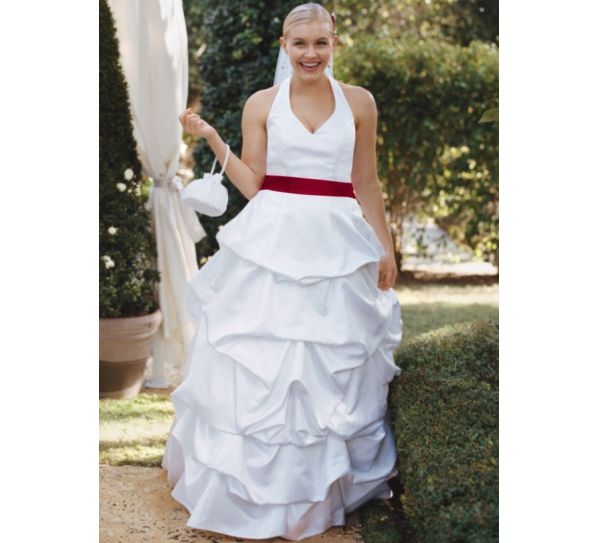 This elegant ball gown looks very modern in design with its halter neck corset and pick-up skirt style. The dress does not feature a train, giving it an ultra-modern appeal. This dress is available in both ivory and white colors. You can also opt for this gown with a sash that is sold separately. A red sash around the waist adds a contemporary statement to this beautiful gown. The best part about this is that it is flattering in all the right places, making the wearer look much thinner. The gown rarely needs alterations and can fit like a glove, apart from its high comfort value. This gown is affordable in price with great looks.
Soft Chiffon A-Line Gown with Ruffled Skirt Style 9PK3218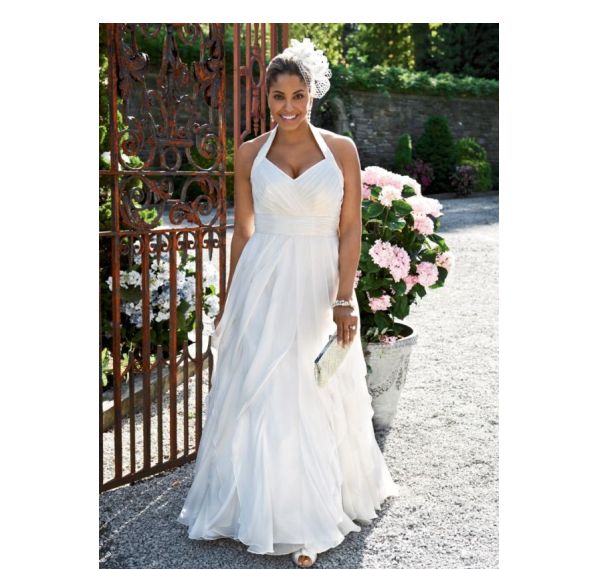 This soft chiffon A-line gown exudes elegance and charm. It is a complete blend between the romantic satin and the graceful chiffon used to perfection. This breathtaking gown features a halter neck bodice with a ruffled skirt. The halter bodice looks satisfying, whereas the ruffled chiffon skirt flows elegantly to create an A-line silhouette. This dress is available in white or ivory and features a sweep train. If you want a strong element of romance, this dress will add the romantic effect. The dress hugs and fits at the right places giving it a very flattering appeal. The dress is lightweight and has the perfect balance of style and embellishment without going over the top. It will suit all body types with its perfect design and cuts.
Satin A-line with Chiffon Split Front Overlay Style 9V9010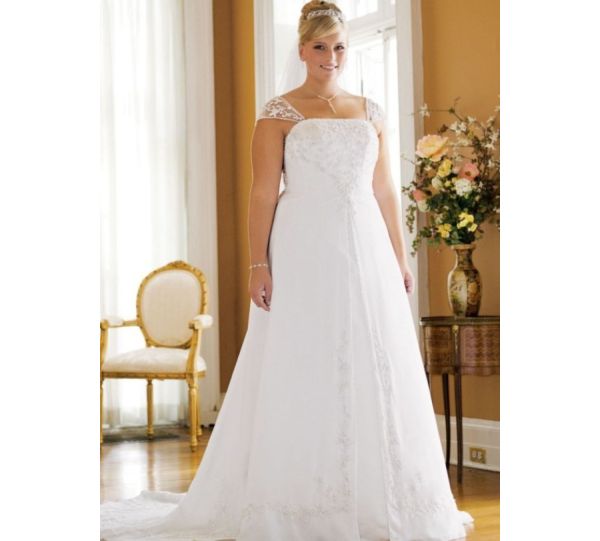 This satin and chiffon gown is the elegance personified and will make you look and feel like a princess after wearing it. This satin A-line gown has removable cap sleeves. The skirt has a chiffon split front that reveals the satin inlay. This elegant gown has metallic embroidery on the sleeves, while the bodice as well as the borders of the chiffon split front sections. The embroidery is perfectly placed, and does not look very flamboyant. The well-fitted bodice is very flattering and the embroidery on it looks extremely elegant.
Alfred's bridal dress 2132 w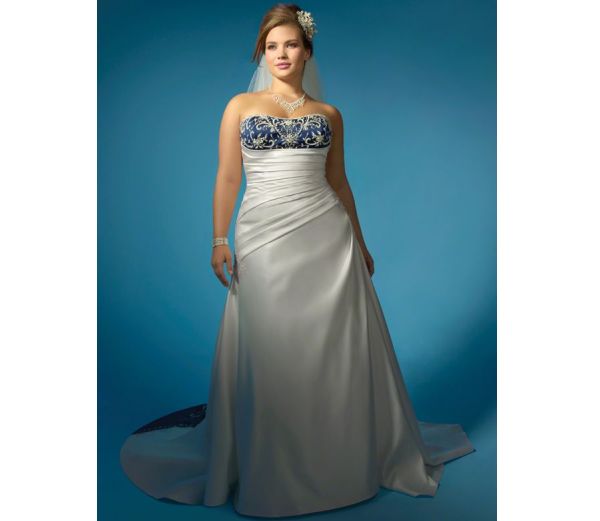 If you want to add a contemporary touch to your bridal outfit, Alfred's wedding gown 2132 w is an amazing dress that is made of soft satin with a striking metallic embroidery. The gown has a crystal bead embellishment on the bodice along with the embroidery to give a stylish and chic look. This strapless number has a very classic sweetheart neckline that is accented with embroidery, which is also called the Rhinestones Optional Modesty Piece. The gown is available in ivory and white shades, whereas the bust color can be chosen from a varied color palette. The dress has a perfect fit apart from being extremely comfortable. If you choose to look unique and different on your wedding day, do go for this gown to experiment with the color combinations.
Julita bridal gowns 3076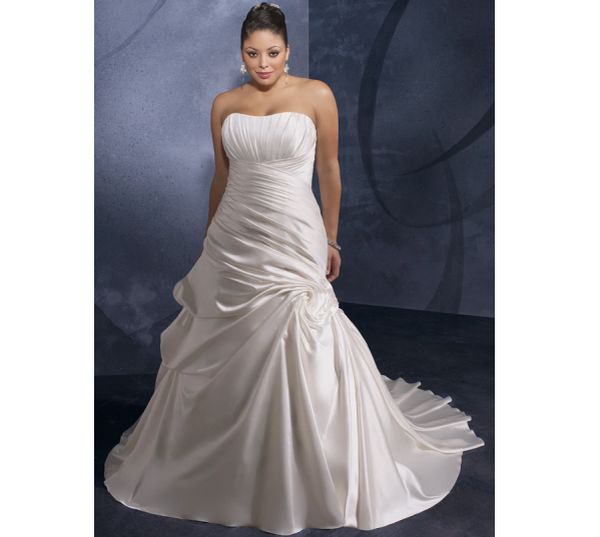 This elegant bridal gown has a strapless neckline with a well-fitted bodice that gives way to a flowing asymmetrical draping skirt that expands from the lower hips and is pleated to one end. This beautiful dress is available in ivory and white colors. Team this gown up with a diamond necklace and a delicate tiara, and you will look like a stunner. This satin gown is great for brides who are on a tight budget, as it is quite affordable. The design of this gown can really flatter your contours and make you look in perfect shape.
Luminous bridal style AdP6843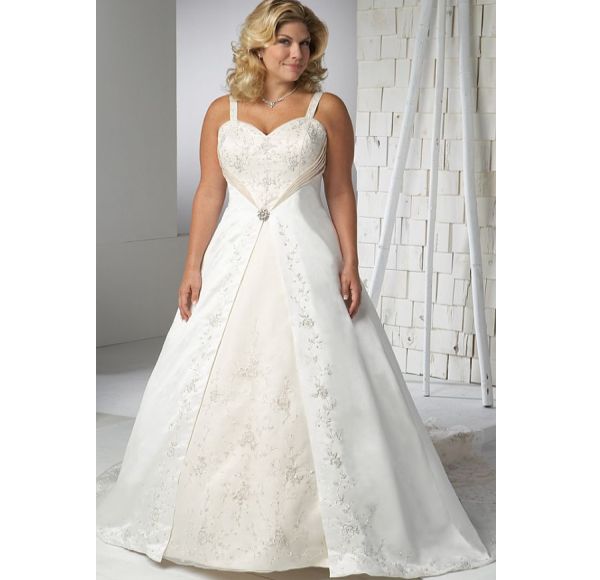 The luminous bridal gown is another stunning number that has thin straps along with a snugly fitted bodice that has a sweetheart neckline. The gown is well-fitted along the waist and accentuates the upper torso quite well. The straps have beaded embellishments along with a lacy back-up which lend the gown a unique look. The bodice breaks into a flowing split front skirt from the waist which is a combination of organza and matte satin fabrics. Apart from the design, the metallic embroidery over the bodice and lining the panels of the skirt and inlays is near to perfection. This outfit not only exudes a soft feminine quality, but is equally great on comfort too.
Cap Sleeved Satin Side-Draped A-Line Gown Style 9T3090

The cap sleeved satin gown is a romantic A-line style that has a side drape. This gown breathes romance and luxury with its rich sheer satin look. This breathtaking gown has a bodice with a sweetheart neckline that is embellished with a beaded lace. The classic lacy cap sleeves add an aura of romance which looks unique. The side-draped satin on the skirt of the gown along with the striking pick-up details across the skirt looks flattering on all body types. The gown has a chapel train and is available in white and ivory colors. The best part about this exquisite wedding dress is that the wearer appears to have a perfect hourglass figure and looks many sizes lesser.