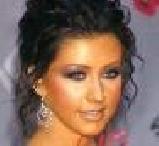 The year 2005 has witnessed innumerable number of devastating marriages as well as passionate romance of the Hollywood couples.
Here are few among them who's gonna walk down the aisle. Christina Aguilera and her love Jordan Bratman are planning for their big day in the thanksgiving moment of December. And well it seems that the event is pretty big, coz they have decided not on just one wedding reception but three. Great!
All well's at Brad and Angelina's world. It seems this couple too is heading for a life-time settlement. We hope this time Angelina really go for a permanent bond.