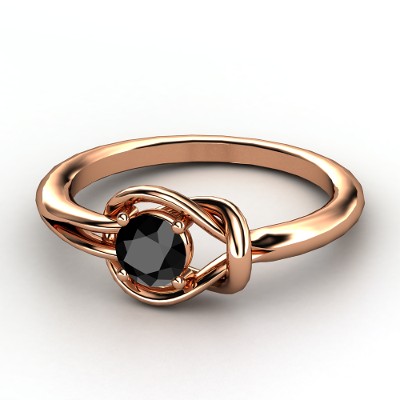 Rose and gold are both ornamental and suggestive of dearness and affection. Rose symbolizes the ardour and beauty whilst gold signifies the strength of love. Fusing both the ambassadors of affection, rose gold is formed as a delectable and desirable jewelry substance. The tender and pleasing hue of the metal is suggestive of feminine grace and daintiness. It blends beautifully with other metals of embellishment such as platinum and also with stones of brilliance like diamond. Why not make this envoy of beauty, the herald of your love. Announce your love for your one and only with a rose gold engagement ring. Here we have created a list of 10 most beautiful rose gold engagement rings. Have a look.

1. Hercules Knot Ring
BRAND : Gemvara
PRICE : USD 1026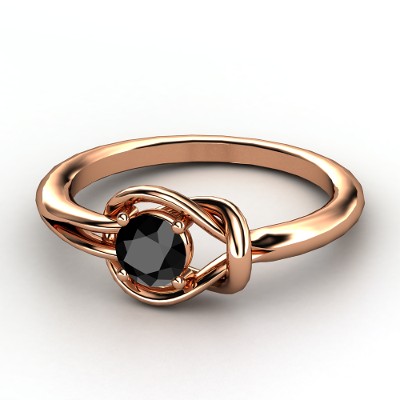 The Hercules knot is the strongest of bonds and nothing better could signify purity and commitment of the lovely bond you are about to share with your partner. It features a round black diamond at the top of it. The history of this Hercules design dates back to ancient Roman time when brides used to wear belt tied in a Hercules knot to signify the strength and commitment of their marriage vows to bind a couple together. This ring is crafted in 14k Rose Gold in a very stylish manner.
USP
This engagement ring has been crafted in 14k rose gold in Hercules Knot design with black diamond at its top.
PROS
This elegant ring is made using quality material and is sure to stay by you for long.
The simple and sober make of this ring makes it perfectly suitable for formal and professional wear.
2. 14k Rose Gold Black Diamond Ring Size 5.5
BRAND : Jewels For Me
PRICE : USD 1139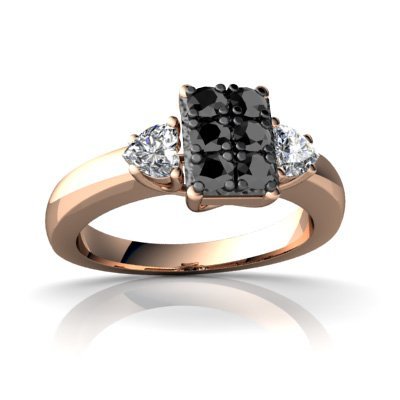 This majestic and intensely sentimental ring is best to express your love and feelings. It features brilliant emerald cut gemstones between two sparkling and adorable heart shaped diamonds which will make her heart bloom with happiness. These gems are set in a lovely 14k rose gold band. The gems are held in 4-prong setting. The size of this ring is 5.5 and the width 0.12 inches. Other than rose gold this ring is also available in yellow and white gold. The top of the ring features diamonds set in a stylish way that creates the illusion of one large black diamond. It has six black round diamonds weighing 0.27 carats.
USP
The ring has six round emerald-cut diamonds at the top surrounded by two heart shaped white diamonds on both the sides.
PROS
It is a perfect gift to make your woman feel like princess.
3. Angel's Halo- 14kt Rose Gold Pave Diamond Engagement Ring .50tw
BRAND : JR Dunn
PRICE : USD 1329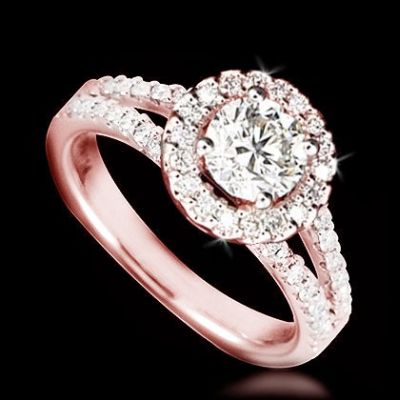 Angel's Halo is a special engagement collection by JR Dunn. This collection comprises of rare, elegant and beautiful engagement rings to make your special day memorable. This ring features round-cut diamond to symbolize your eternal love and compassion. The center sparkling diamond is surrounded by small round-cut diamonds on all the sides. The ring band is also decorated using diamond accents. This ring has been made using 14k rose gold and is also available in white and yellow gold.
USP
This beautiful ring by JR Dunn features a center diamond with small round cut diamonds all around.
PROS
It makes a perfect gift item for your love.
It has been created using chosen and certified diamonds with best sparkle and brilliance.
JR Dunn offers 30 days satisfaction guarantee on standard sizes.
4. Rose Gold Diamond Solitaire Engagement Ring – 0.25 Ct.
BRAND : Gems-is-Me
PRICE : USD 742.5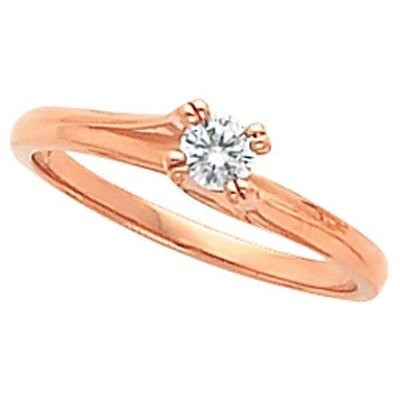 This pretty ring features a nice combination of elegance and simplicity. Simple yet stylish, this ring has been crafted in 14K rose gold. It is adorned using diamond setting. The top of the ring holds a round cut sparkling diamond in four-prong set.This ring is available in various sizes ranging from 4.5 to 8.5 with 2mm width. The total gem weight is 0.25 carats with a sharp round-cut shape. The metal used in the ring weighs 3 grams. The color of the diamond is GH and clarity is I1 with approximate weight of 0.25 carats.
USP
It is prong set ring with single sparkling diamond mounted at the top of it.
PROS
Simple design and elegant style makes this ring special.
Quality of rose-gold and diamond used in the ring is very good.
5. Asscher Cut Morganite Rose Gold Engagement Ring with White Sapphire Halo – LS1513
BRAND : Laurie Sarah
PRICE : USD 1084.5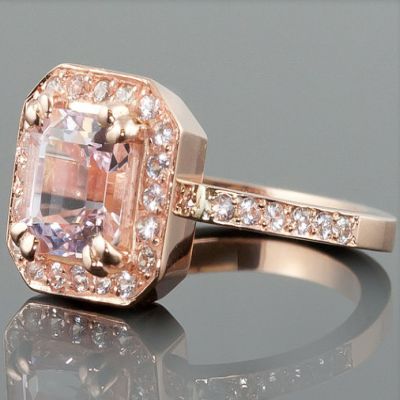 This beautiful ring has been designed by Laurie Sarah, well known for creating Wedding Ring Sets, Colored Stone Engagement Rings etc. This ring is the example of dainty perfection crafted in 14 carat rose gold. It features soft pink morganite at the top which perfectly complements its rose gold designing. The Morganite gem weighs around 1.75 carats and is decorated in 6mm Asscher Cut. The most attractive part about this gem is its soft pink tint. The center design is accented with round cut Sapphires on all the sides as well as on the ring band. In total 28 round sapphires are used to decorate this attractive ring.
USP
This ring has square cut soft pink morganite at the center surrounded by white round cut sapphires on all sides.
PROS
This ring features prong setting for the top gem to keep it tight in its grip and pave setting for the side sapphires for not letting them get off the ring.
6. 14k Rose Gold Square Genuine Sapphire Engagement Ring Size 4.5
BRAND : Jewels For Me
PRICE : USD 699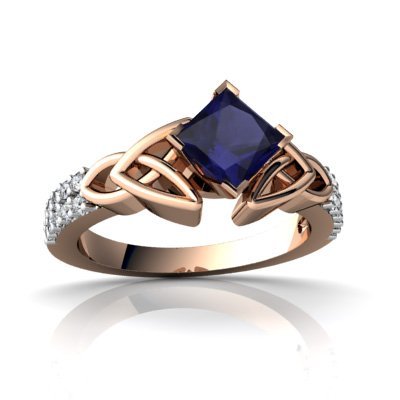 Make your woman feel special with this elegantly designed ring. The majestically designed center of the ring with blue diamond along with twenty sparkling diamonds around the band of the ring is sure to take your breath away. Another attractive feature about this ring is its Celtic Knot design in superb curvy lines of rose gold around the middle gem. This ring has a 5mm square-cut sapphire stone at the center with 10 sparkling diamonds on each side on the ring band. The total gem weight for the ring is around 1.1 carats.
USP
It is a beautiful engagement ring featuring square-shaped blue sapphire at the top surrounded by sparkling diamonds on both the sides.
PROS
This ring presents a nice blend of beauty and sturdiness.
This ring symbolizes immense love and desire to fulfill lifelong promises.
7. Moissanite and 14k Rose Gold Engagement Ring, Cushion Cut Recycled Matte Solitair
BRAND : Charles and Colvard
PRICE : USD 998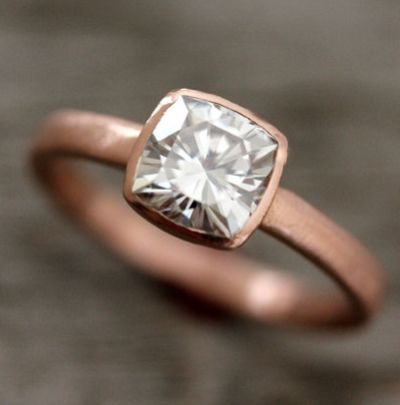 It is a gorgeous gemstone ring to make your heart bloom with happiness and love. It is quite simple with only single gemstone at the top of it. It features Moissanite at the top which is supposed to have more shine and shimmer than diamonds. It has been made using 14k rose gold with slender bezel holding gleaming gemstone in it. The band of this ring is around 2.5 mm wide and it is well polished for that shiny outlook.
USP
It is a simple ring with rose gold bezel holding shiny Moissanite at the center.
PROS
It is a simple, elegant and durable ring.
Moissanite is more shiny and durable than diamond.
8. Tiffany Soleste Style Bridal 18K Rose Gold 1.0 Carat Marquise Aquamarine Diamond Engagement Ring R11
BRAND : Artmasters
PRICE : USD 1449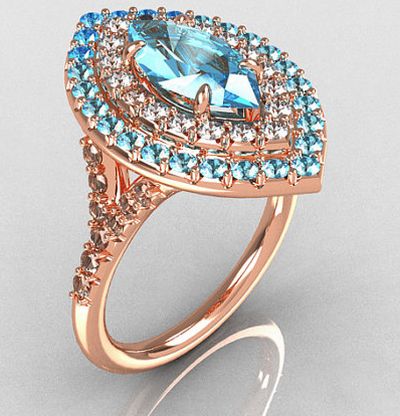 This stylish bridal ring features an elegant design with a marquise cut 1.0 carat at its center surrounded by dual row of 44 round stones. Inner layer and shank of the ring feature 36 round 0.015 carat top quality white diamonds and outer layer is decorated using 26 round 0.015 carat laboratory grown aquamarine stones. This ring is casted in 18K rose gold with designed shank holding 18 round stones.
USP
It is an elegant engagement ring casting Marquise Aquamarine Diamond in blue, surrounded by white diamonds.
PROS
The unique combination of blue and white diamonds make this ring look exceptionally attractive.
Solid metal casting and master hand polish imparts long life to this piece of jewelry.
It comes in a deluxe jewelry box.
9. Rose gold engagement ring with a flat coin pearl – Snow white.
BRAND : Artisanimpact
PRICE : USD 816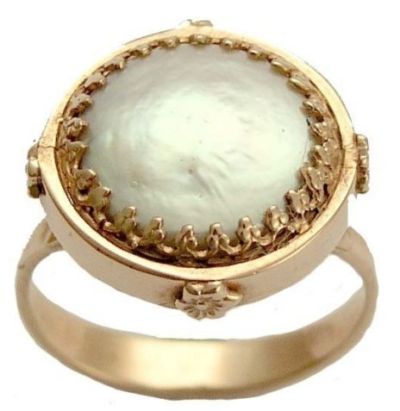 This fairy tale ring with ethnic decoration and architectonic lines surround center fresh water pearl in a very beautiful manner. Its approximate diameter is 16.5mm and is crafted in 14k rose gold. It is available in 4-12 size. The most attractive part of this ring is its fresh water pearl protruding out beautifully, decorated with detailed flower design on all sides.
USP
This handcrafted ring is decorated with natural white pearl at its top.
PROS
It has minutely detailed bezel around the center pearl to keep it intact.