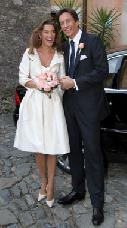 Both glitterati and literati witnessed the dazzling marriage ceremony of two power persona of the world-Swarovski heiress Fiona and Austrian finance minister Karl-Heinz Grasser on the 22nd October in Weissenkirchen.
12,000 rose petals showered right from heaven…
Hey! Just kidding, that is the plane thing. Okay, wanna know bout' the lady's wedding dress right. What else? She was all adorned in a knee-length flowing gown played upon with…Any guess folks?? Swarovski-crystal butterfly pendant, of course. All we can say is…good luck lady.
Wanna read more? Go head…