A.J. McLean, a member of the boy band Backstreet Boys, singer, actor and also dancer recently added the title of husband to his kitty by marrying Rochelle DeAnna Karidis on the 18th of December. Their wedding had a very eerie Gothic theme in which the bride wore a black dress for her wedding and the wedding card invites were also very spooky with their blood spattered writing. So, in order to match up with everything, their wedding bands also seem to be inspired by the Gothic colors of red, black and white!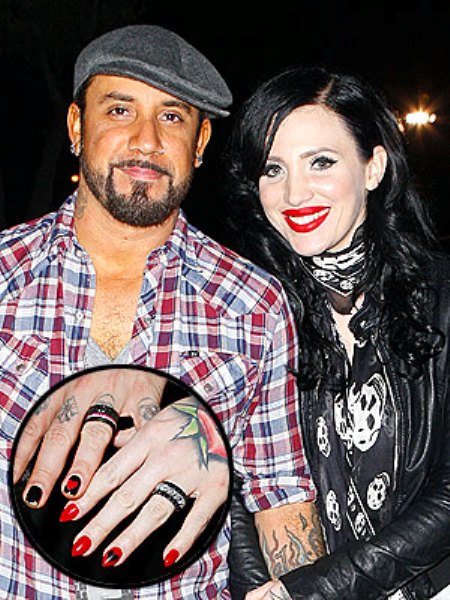 A.J. and Rochelle had recently gotten married at a hotel in Los Angeles and had kept the details of their marriage ceremony and the theme a close secret. They were particular about mentioning no cameras and mobile phones in the invites itself! However, the theme of the wedding was apparently Gothic and the entire decor and the wedding dresses of the bride and groom were clearly indicative of that. Proof of that is visible in their recent picture showing off their coordinated wedding rings, nail paints and heavily tattooed hands. Even the sheer pale whiteness of Rochelle's skin adds on to the Gothic look! Looks like they really have a thing going for Gothic!
The newly weds have recently moved into a bigger house in the valley area of L.A. as they are keen to start a family soon. However, A.J. has reportedly stated that he wants to wait for three years before they do so! Looks like he's making a good decision after all those trips to rehab; he'd better sober down for a couple of years before taking on serious responsibility!
Via: mjbstar