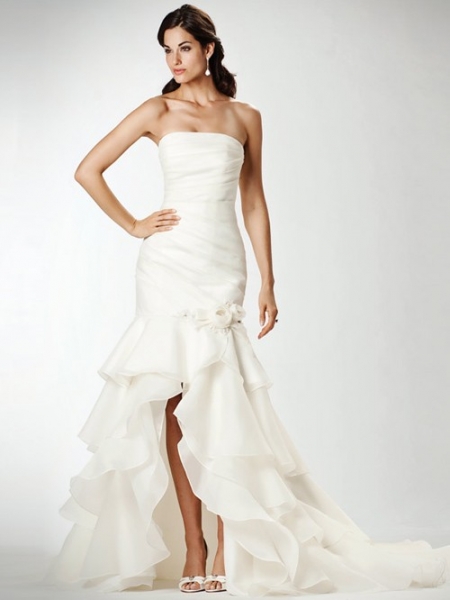 A unique wedding gown is every bride's dream. Getting a different design isn't always possible. When you are planning a beach wedding, it gets even more difficult. One huge risk involved in going for a design you laid your eyes on years ago is that it may actually go out of trend by the time you are ready to walk the aisle. If you are a bride to be and you wish to steal the show with the most suitable beach wedding gown, here are a styles you would be happy to own. One genuine selection would be the strapless style. A decent strapless gown won't make you look overboard and would help you dress up for the occasion and venue too. Our suggestion, just customize it a little with the choice of accessories and it would hard for people to take their eyes off you.
Own a beaded chiffon gown

Chiffon is the most suitable fabric for a slim body type. The fabrics looks apt for a beach wedding venue. Imagine gentle breeze kissing your cheeks and making your chiffon gown wave in a graceful manner. If you are blessed with an hourglass figure chiffon is the fabric for you. A strapless chiffon gown customized for your body type is a must have. This gown is an exemplary example of chic yet subtle design. The corset style top portion and the train are two very attractive features that give an edge to the classy design. This gown has one center of attraction, the very beautiful jewel like motif that sits over the side of left hip and accentuates the waist curve. If you want to add a little more bling to this understated design you can wear a glittery silver or platinum necklace. Just take care that you don't wear a jewel piece that is too blingy to match the venue.
Grecian one shoulder gown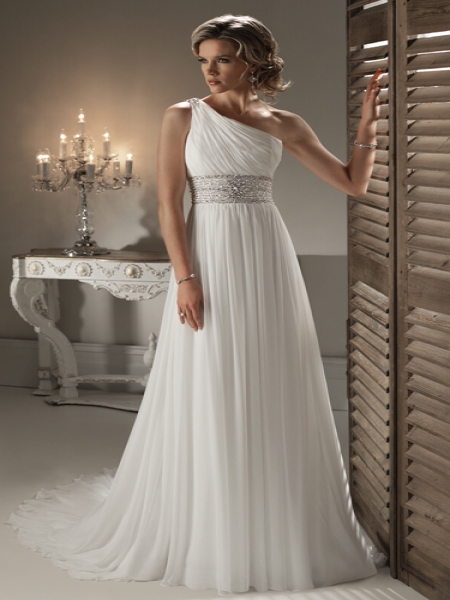 If you want to go for a trendy design that is high on sophistication front, this gown is just for you. This one shoulder gown has more than one highlights for brides to be. The single shoulder pattern suits the beach wedding where almost every lady is dressed in a bold and showy outfit. The clinched waist covered by a very graceful waistband gives more curves to the figure. If you have gym toned shoulders and a flat tummy you can go for this design. This gown would look perfect on brides who are tall and have slightly less defined body curves. Try keeping the accessories minimum because it may actually ruin the look. You have an option of selecting the elegant satin or chiffon for the gown. Arrange your hair in a nice hairstyle. Try to keep the hair tied into a bun to avoid hair covering the graceful shoulder design. It is also easier to carry tied up hair in a beach wedding.
Strapless gown with beading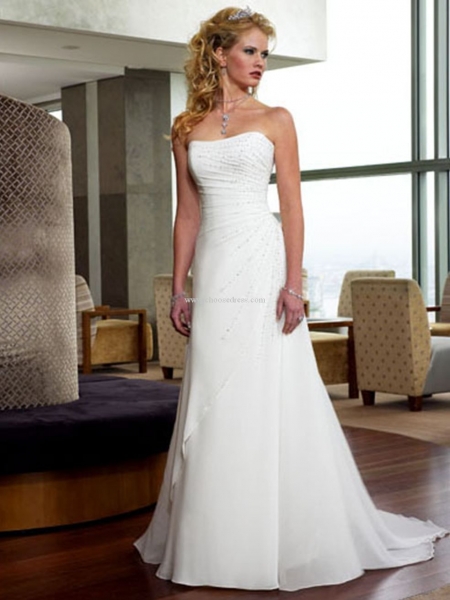 A floor length gown with impressive detailing and perfect fit may transform the entire look of bride. You would like to go for a design that fits you well and isn't uncomfortable to carry on a beach where the slightest stir can make your dress flow. In the given gown there is impressive detailing of beading that adds the required zing to your bridal outfit. The lace up style of this gown makes it comfortable as you can tie it up according to your requirement. It also accentuates the curves. This gown fits well on the body and you may actually get relieved of the tension of holding it every now and then, something that brides going for a beach wedding are often seen doing.
Informal wedding gown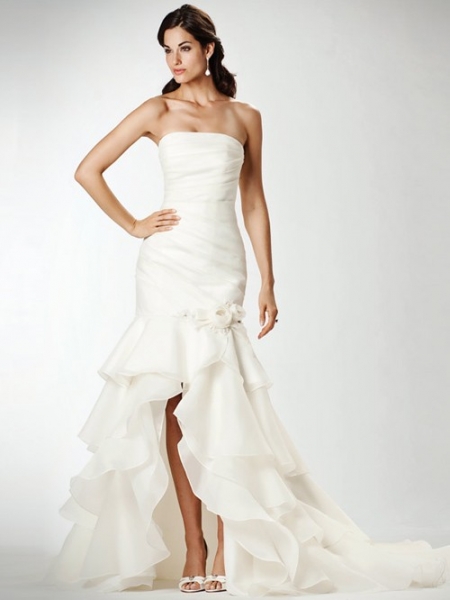 For brides who want to look bold and beautiful on the d-day a gown with a front slit is a good idea. For a venue near a beach such a look does not appear out of place too. Just make sure that you go for a gown which has sufficient wow factor. The ivory colored gown shown here can take anyone's heart by the sheer elegance and finesse of design. the rosette near the slit adds to the design and saves it from looking too girly, something you wouldn't want to look like on your wedding day. Also the frills are not too girly. While choosing such a gown you should pay extra attention to your shape. Hit the gym if you have slightest of doubt. You would love to take this little pain to get in such a stylish gown.
Floor length asymmetrical gown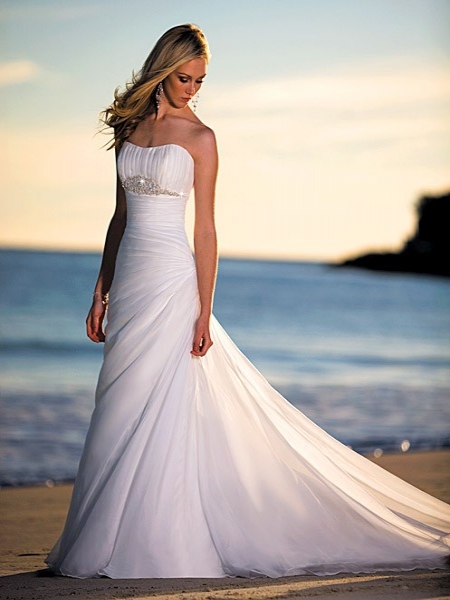 Asymmetrical cut is an in thing in beach wears. You don't have an option of wearing too bold design but you can surely blend asymmetrical cut in your gown. This design is not going to leave the fashion scene anytime soon. Opt for a gown with corset style top. For those who are not heavy on bust, this is a perfect design. Make sure that you are in best of your shape on your wedding day. The gown shown here has a lace up back that makes it easy for you to get into it. Attention to details like embroidery and beading make it look rich. With this much of work on the gown just a piece of high end diamond earrings and a pretty hairstyle is all you would need to make way to your prince charming's heart.
Surplice flowing gown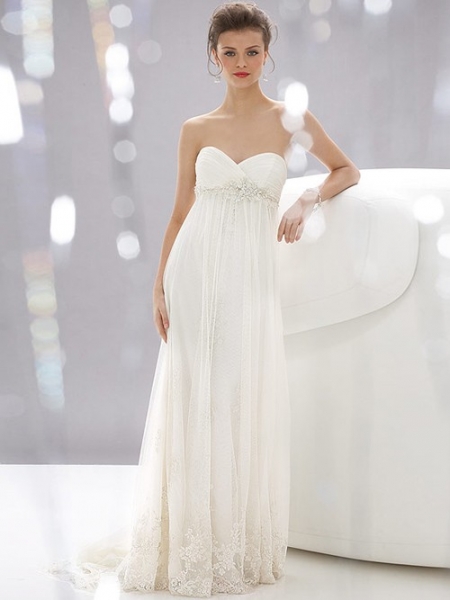 If your wedding venue is slightly closed and there is less chance of strong breeze spoiling your look, go for a surplice floor length wedding gown as shown in the pic. The sweeping train of this gown goes well with the entire design on the hemline and waist. Ask your designer to create a design that does not fit from your bust down to your hips. The gown is sufficiently accessorized by handwoven beads that make an attractive pattern on the high waist. If you are a little heavy on the belly, this is the one for you. Not only would it help you hide that tier on your waist, but would also accentuate your curves. Its look is very soft and feminine, very much like a beach wear.
Organza wedding gown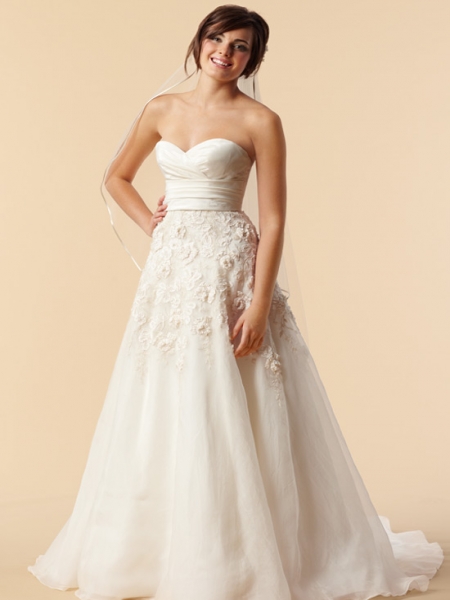 Soft, feminine and chic, this should be your three point focus while selecting a gown for your beach wedding. If you aren't blessed with a perfect hourglass figure, go for a well fitted gown that flows freely from below the waist. Such a silhouette helps in highlighting the curve of waist. Tall brides with a thin waist would love to go for it. The intrinsic detailing of flowers and beaded cotton threads over the skirt of organza fabric, give it a very rich look. The well fitted bodice on top demands custom fitting before you decide to get into this gown. Accessorize it with a net or organza veil and you would love the way people look at you as you keep your delicate steps on the sand of the beach.
Taffeta A line gown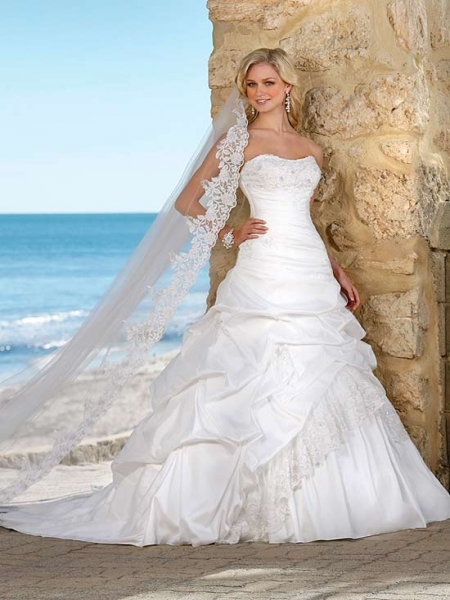 If you prefer a design that reflects the amount you had to shell out for it, you would fall in love with this asymmetrical taffeta gown. The best part about this gown is rouched design with asymmetric blend to it. Such a gown requires lots of handwork perfectness of sewing. If you are the one who doesn't believe understated designs you would like the way the silhouette of this gown screams richness. the rich fabrics adds a royal touch to it. It is advised to get such a design custom fitted. In fact the right fit is necessary for the beach design to avoid any discomfort. You may pair it with a rich necklace. Go for soft curls. You may even select an embroidered veil to complete the look.
Taffeta gown with detailing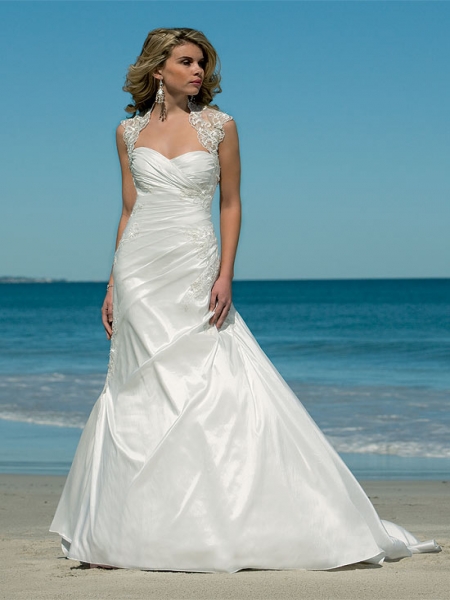 If you don't want to be a part of strapless bandwagon, this design will steal your heart. The gown has no straps but the shoulder work is pretty amazing. If you opt for this design tie up your hair and let loose a few curls, so that you could show it off easily without looking desperate. The transparent sleeve style extends behind and makes the back portion of the gown look pretty decent. The crushed taffeta gown gives a soft look to the wearer. The beading and embroidery descends down from the shoulder to the hips making the fit look elegant.
A-Line asymmetric floor length gown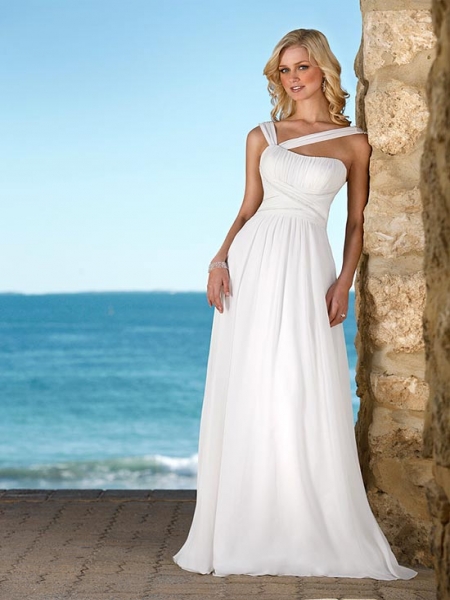 This one may floor all the lovely ladies who don't with to part with their original style element even on their wedding day. A lot of fabric looks cool when the wedding venue is on a beach. The shoulder work is quite amazing and would look great without over accessorizing. The chiffon beading gives the gown the richness required in a wedding gown. You may feel tempted to accessorize yourself with beautiful accessories, but it's advisable not to go overboard with accessories. Avoid a neck piece, as the detailing of the dress is enough to attract attention. Choose soft makeup, this works best for a beach wedding where too much of makeup may not stay in place for a longer duration.