Weddings are always fun and even in midst of the craziness, the one thing that is always the prime focus would be to look good. Right from the wedding dress to the hairstyle and even the shoes and accessories to complement it, everything is well thought of and bought accordingly.A lot of emphasis is given about looking good and ditching the glasses on your wedding. This may be possible for a few, but that is not the case with everyone. If you have no other option but to wear glasses, here are a few tips on how you can still carry glasses and look good at the same time.
The vintage look gives you the classic era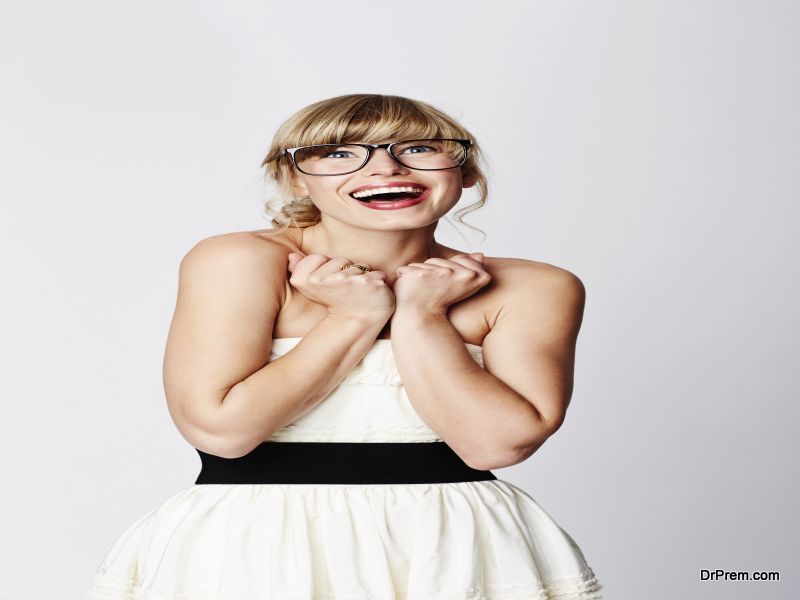 Frames which have a vintage look never dies out of fashion. No matter how old they may be, they still have the same charm and feel like you would get when you wear it the first time. The cat eyed look can blend it perfectly with your wedding gown and add a little spark to your look.
Oversized frames with the right blend of makeup
For those who like to go bold, then you can opt for oversized frames and blend it with a very natural look. Pay close attention to your makeup and accessories to get that chic look, this can be done by opting for a subtle eye shadow and a nude lipstick.
Let your personality shine with the classic black frame
The classic black frame can never go wrong with any attire; this includes your wedding gown also. You can get the cool-girl look easily with the black framed glasses and a blazer wedding gown.
The traditional look with your veil and glasses
Without a doubt, wearing a veil will always give you a traditional look, for the bride that has glasses; you can still get the traditional look. All you have to do is ensure that you choose a frame that will reflect easily even under the veil. If you want, you have a choice to go for the birdcage veil.
The modern wedding with acetate glasses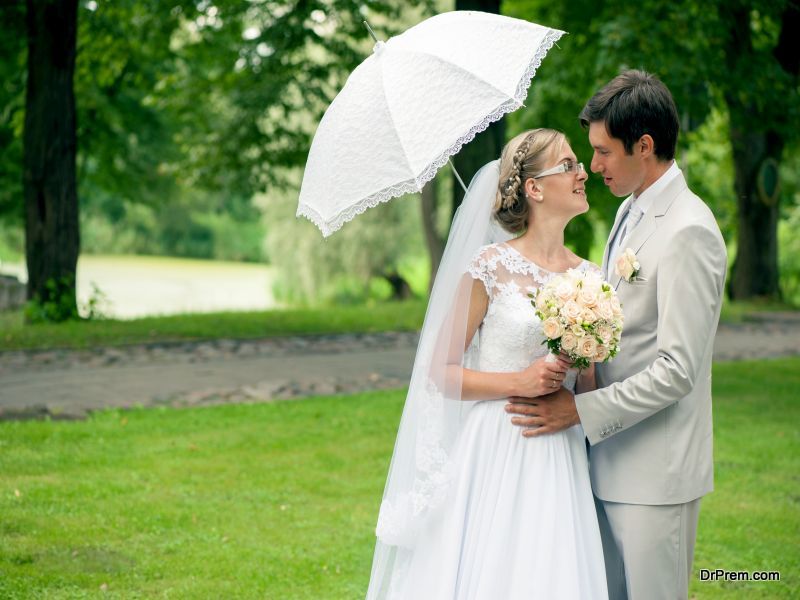 If you are looking at complementing your wedding gown with a modern look then acetate glasses would do the trick for you. This is one of the best choices you can think of if you are planning to look like the modern day bride/groom.
His and her frames
There are special his and her frames which you can get for the bride and groom. This would be ideal for the couple who has glasses and want to blend in the uniformity in their look. Having a look at some new glasses will transform your wedding day look and will give you a good idea of what is in store for you both.
A few handy tips
Now that you have an idea of how you can blend in your glasses with your wedding gown, let us have a look at some other ways to enhance the way you look on your big day. As much as it is important to ensure that your frame is right, it is also essential to pay attention to various other factors.
Just like how you would wear any other accessory, you can treat your glasses in the same way. This will help you choose the right one for your big day.
Avoid the frames which have a lot of bling unless you are sure you can carry the look. This will be one of the biggest mistakes you can make on your big day.
Ensure that your glasses have the anti reflective or anti glare coating, this will break the reflection of the light that falls on the glasses.
While choosing your earrings for your wedding gown, you can look out for a nice pair of stud earrings that will blend in. If you want to opt for hanging ones then make sure you take a friend along with you so that you can photograph your look to have an idea.
If you are not sure about how to choose the right makeup and accessories to get that chick look, then take a professional advice. This will help you get a clear picture of what kind of a look and frame would be ideal for you.

Article Submitted By Community Writer