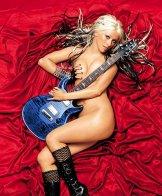 'To be or not to be.'(Hamlet). To believe or not to believe is our current situation. Once again a wild fire is seen to be hitting the crowds. Christina Aguilera and boyfriend Jordan Bratman as reported by the XtinaWeb.com has taken their marriage vows. It is said that this lovely duo had booked Staglin Family Winery in California's Napa Valley for celebrating this special occasion.
Rumors never seem to end. It is also heard that they are planning for a secret wedding in a tent housed by a forest so as to escape the public's eye.
It's ain't known whether the news is to be trusted or not. Anyways, Cheers!!!
Read more: Celebrity blog