Have you ever imagined a wedding dress made up of bread tags? This looks really exciting for everyone. Just like the eco friendly products eco friendly dresses have also come up these days. These wedding dresses are either made up of bread tags directly or by recycling them. Not only the bread tags, but they can also be made with the recycled material of plastic bottles etc. Most of the people had a belief that being eco friendly will not look much fashionable. But, you will definitely feel surprised on seeing the wedding dresses made up of the bread tags and the recycled material of the plastic bottles etc. The eco friendly bags are also amiable in the market these days. Thus you could try such eco friendly dresses to look more stylish and fashionable.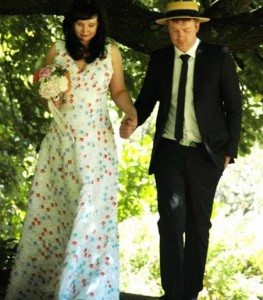 What's new this season in the wedding gowns?
You could opt for the gorgeous carpet gowns made up of these bread tags or recycled material to look more pretty and fashionable. In recent days Stephanie Watson had designed her own eco friendly wedding dress with bread tags. She said it took some months together to make her dress with bread tags. She had attached around 10,000 bread tags to make her dress. However, she also added certain recycled fabrics too to make the dress.
She had spent around 38$ to make this dress.  In fact this is the most prettiest and cheap wedding dress which i had ever seen. You will definitely love it! On the other hand Watson said that this dress was so uncomfortable to move in. However, he also added the statement that nobody will wear the wedding dress after their wedding. Thus, creativity is alone important here! As it is a matter of one day you can try this bread tags wedding dress to look stylish and also to look unique.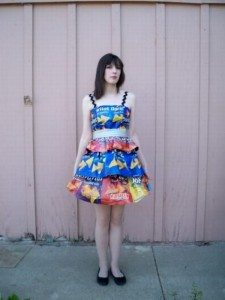 More innovations
Maura Pozek had designed a very crunchy dress by using the empty bags. Maura had truly designed this dress in a great way. You have to definitely see it in order to not to miss out a pretty dress. The parachute dress made by Obudah had created a sensation in the world.  Everyone had fallen in love with this lovely dress. She had made this dress by using the recycled parachute.  Why not give a try to the dress made up of candy wrappers this time? No doubt in it the dresses made up od candy wrappers too will look so unique!