For long, it has been a custom for all brides to wear white on their wedding day. Be it couture or designer, but white is must for a woman. They cannot be seen supporting other colors on such an important day. However, "The Spring 2014 Bridal Shows" brought forward another side of looking beautiful on wedding day. They showcased thirteen wedding dresses and all of them were completely non traditional. It was not as if wedding dresses have not been experimented with before. However, such contrast does always seem a bit shocking as well as polarizing to some. Before too people have seen pale pink, dove gray and mint green wedding dresses, however the irrational frenzy that it sends them into has not altered much.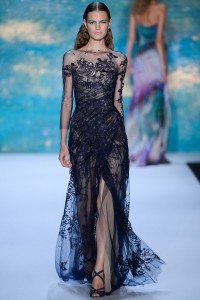 Monique Lhuillier wedding dress
This show told that even though white is beautiful; no woman should be compelled to sport them no matter what. Spring runways here were full of biggest names like Monique Lhuillier, Marchesa, and Vera Wang etc. Vera Wang especially threw in some quintessential moody drama into wedding dresses. Especially, her inclusion of no-traditional black in these dresses was very much noticeable. Even after being frothy and big they gave big time shock to people. What even some disliked in here dresses was inclusion of peplum. One of the dresses even gave peek-a-boo cleavage that did not seem apt or even necessary. Few dresses were even designed in a way that questioned their being wedding dress.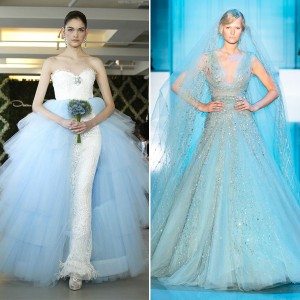 Experiments of other designers
On other hand, Monique Lhuillier gave further angles as well as looks to these wedding dresses. Most noticeable addition of this designer to the wedding dress was the look of "fur chubby". One dress of this designer showcased the bride in undeniably fresh and cool mode that agreed with other fashion critiques too. Non-traditional cream colour was also introduced in wedding dresses here that did not actually go too well. Next on the line was collection of Reem Acra. Dresses in this collection did not look like any wedding dress that would be ever worn by a normal person. Carolina Herrera did accessorize the dress with help of fur capelets. Oscar de la Renta tried keeping things simple but just in a different tint. Main tints adopted by him for wedding dress were of blue and pink. Blue did not actually communicated well with audience. Some of the dresses in this collection were complete horror too showing model's complete body underneath their wedding dresses.