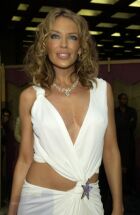 Rumor is agog in the media that Kylie and Oliver is ready to walk down the aisle very soon.
The pop star has just recovered from her breast cancer and as reported by onlookers she looked very happy when she was seen trying a vintage wedding gown in Melbourne with her French beau Oliver Martinez at her side.
As told to Sunday mirror by someone, both of them were heard talking that there is nothing wrong if she goes through some trial and error wedding dress session, even if its is a second-hand gown.
Kylie was also seen to be going through the stores at suburb of Fitzroy with a smile of satisfaction glued on her lips.