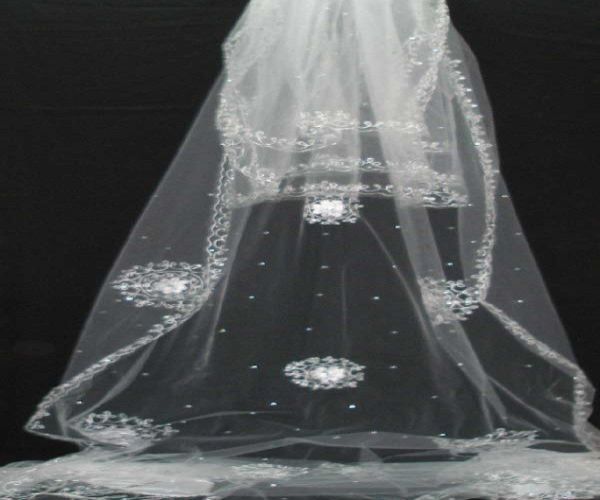 It is the dream of every girl to be a bride some day and adorn herself with the beautiful wedding gown. It is worn with a tiara and a veil that completes the look of the bride. Wedding veils are like crowning glory for any bride. It adds drama to your look and gives rendition of an angel. You are sure to woo every eye around and be the show stealer. It makes you feel and look more elegant as it gives a final touch to your wedding ensemble. It acts as a frame on bride's face and adds versatility to the gown. The veil gives a touch of formality to the occasion.
Before you buy a veil for your wedding, it is important to know that what veil you should opt to enhance your gown. There are eight types of bridal veils. These are :
1. Blusher
This veil just covers the face. It can be combined with other veils and worn in both formal and semi formal occasions. This looks beautiful on any bride.
2. Shoulder length
This falls nicely over your shoulders. It is usually around 20 inches long. This can be worn for both formal and semi formal weddings.
3. Elbow length
This veil is generally combined with shorter gowns. It is used with those gowns which do not have train. If your gown has details on its waist, this should be your preferred veil.
4. Fingertip length
This can be worn with any wedding gown, which is longer than tea length. This falls right at the fingertips of the bride when her hands are at her sides.
5. Knee length
The knee length veil is about 45 inches long. And as the name suggests it is designed to be knee length. This gives you a formal look but your veil does not touch the floor. This should be preferred for formal weddings.
6. Waltz length
This is also known as ballerina length veil. This falls anywhere between bride's calf and ankle. This is usually 54 inches long and looks great for formal weddings.
7. Chapel length
The average length of such veils is anywhere between 60 inches and 90 inches. This is designed in such a way that it just touches the floor. This should be worn for formal weddings.
8. Cathedral length
This looks better when worn with cathedral gowns. These can be worn for formal weddings only. Generally, this type of veil is extended onto the floor at least six inches past the train.
9. Regal length
This type is longest veil type. The regal length is usually more than 144 inches. This looks great with a magnificent gown, which has long train. These should preferably be worn on a formal wedding.
Essential tips to choose the right length veil
1. Your veil should not hide the details of your gown. It should rather accentuate its detailing. It is always best to choose a focal point of your wedding gown and then choose a veil accordingly.
2. Two tired veil looks great on almost every size. These are fuller and frame yor face on the sides, which makes you look gorgeous without putting much emphasize on your weight.
3. The blusher veil should not be more than 36 inches. They need to be long enough to flip back over your head acting as second layer of the veil.
4. If you are wearing a gown that has details on the back, then avoid wearing short veils. Wearing a shorter veil will hide the details on the back of your gown. You can try wearing a longer veil, which looks classy and lets you flaunt the detailing on your gown.
5. If you are wearing a gown with fuller skirt, then avoid wearing long veils. You can opt for elbow length veil. Remember that your veil should end below your lower back but before the start of the skirt.
6. Cathedral veil looks romantic and it enhances your style. These are in vogue yet again.
7. Your veil should always be attached with a tiara with snaps. This will make it easily removable during the reception. This is a great way to maintain your hairstyle throughout the day.
There are so many brands, which provide some of the best veils. Find out the 10 great veils at an astonishingly affordable price.
1. 1T Swarovski rhinestone shoulder wedding bridal veil
Price: $18.99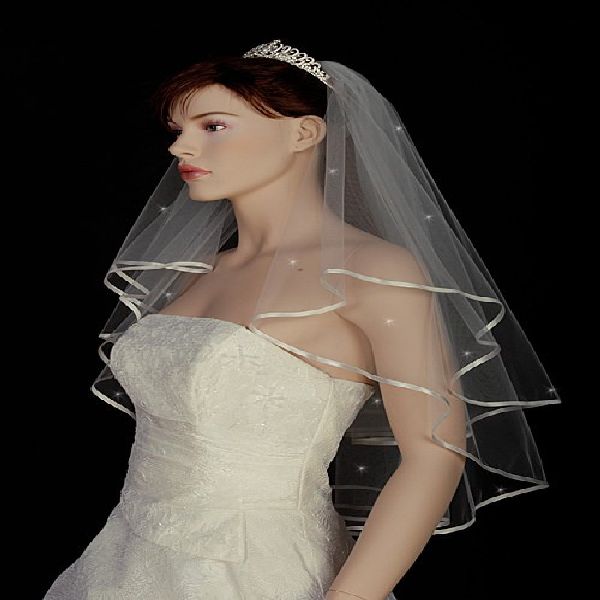 Product Description: The 1T Swarovski rhinestone shoulder wedding bridal veil is 25 inches long and 108 inches wide, which covers your hair completely. It comes in pure white color. This is a handmade veil and come with the guarantee of 30 pieces of Swarovski crystal rhinestone studded in it. The size of these crystals is 16SS. The material used for making this fabulous piece is illusion bridal Tulle with 2mm of satin rattail edge. It comes with a 4" hidden hair comb for its easy placement.
Product USP: It is handmade and light and comes studded with Swarovski crystals at a whopping $18.99.
Pros: The advantage of wearing this veil is that it enhances your look with the Swarovski studded crystals. These crystals are fabulously done on this sheer fabric, which gives it a rich look. This will look great with backless gown, as the rhinestone on the veil will enhance the look.
2. Gothic bridal veil
Price: $23.62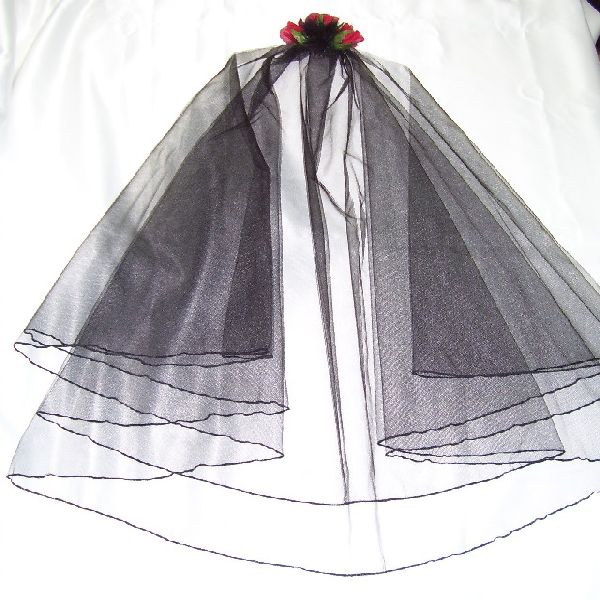 Product Description: If you love experimenting, then you can go for Gothic bridal veil. It will add a different style to your costume. It has black velvet headband with a black veil and red roses embellished on the top, made from silk. It comes in one size.
Product USP:
It was earlier priced at 34.99, which has been now slashed down to $23.62. Hence, you have all the reasons to buy this beautiful Gothic bridal veil.
Pros: The Gothic veil is for those who want to look daring at the same time elegant. This veil with beautiful red ribbon edge will make your appearance bold and classy.
3. Style VE03
Price: $26.00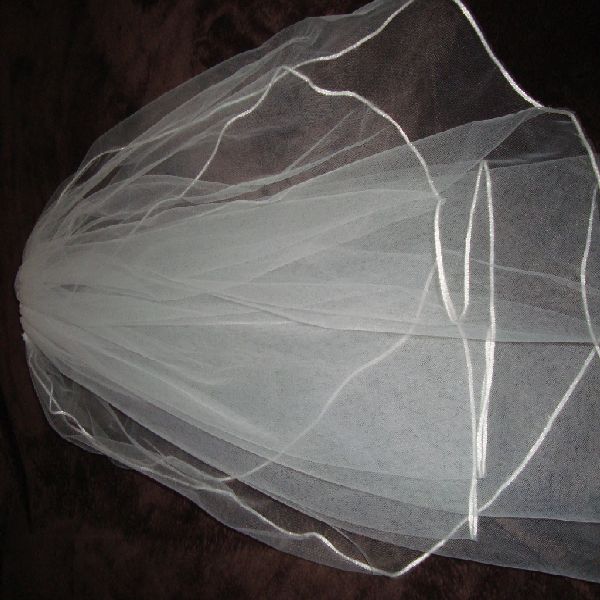 Product Description: It is a two tire elbow wedding veil. The first tire measures approximately 19 inches and the second one is amazingly 37 inches long. This is elegant and demure and it is the perfect choice for the bride to be. The single tire elbow length looks classy and dainty. It can make a bride feel more special on her special day. It is available in three colors. You can choose from white, light ivory and ivory colors.
Product USP: Unlike other brands, this is available in three colors. Not many brands give such option. It comes in white, ivory and light ivory colors.
Pros: The two tire elbow length veil looks gorgeous on the gowns with less or no detailing on the back. This veil gives a fuller appearance and completes the look of the bride.
4. Cut edge white cathedral wedding veil
Price: $28.78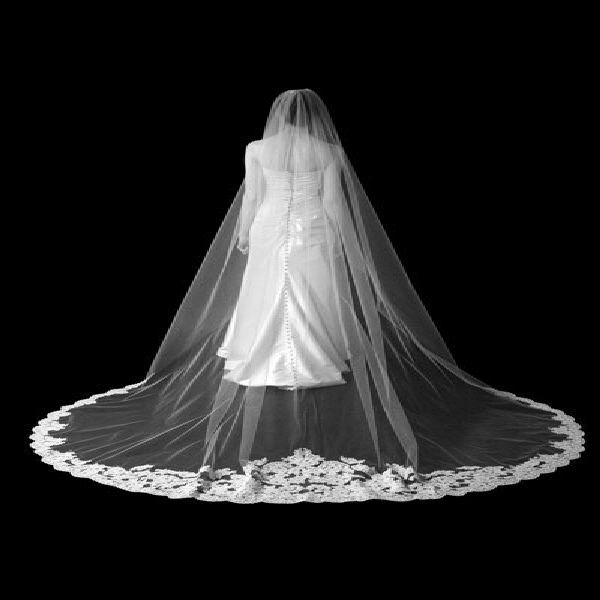 Product Description: This cut edge, cathedral length veil looks fabulous as it trains behind the gown; the veil goes well especially with those gowns that do not have a train. Generally, this type of veils can be seen in beach side weddings. This veil is preferred choice of many brides, whose wedding is either an outdoor wedding or a beach wedding.The veil is huge and can make you look gorgeous. It is astonishingly 120 inches long and 108 inches wide.
Product USP: The unique selling point is that this bridal veil makes you feel like a princess as the long train follows you. It enhances your elegance.
Pros: The cathedral wedding veil looks good with a cathedral gown. This veil gives you a romantic touch and gives you the feeling of Victorian era.
5. Bella bridal veils, candlelight ivory elbow/ waist length angel cut bridal wedding veil
Price: $27.00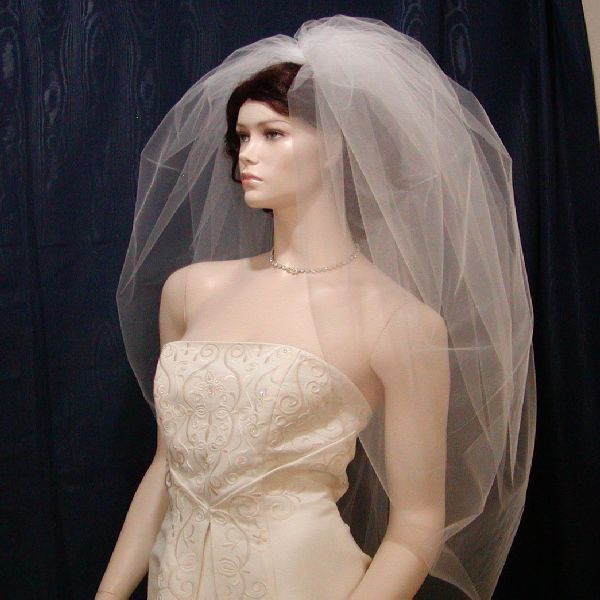 Product Description: This is a very beautiful and pretty candlelight elbow length bridal veil. It is made from finest bridal illusion Tulle material. It has delicate angel cut, which gives a gentle flow to the veil. It looks feminine and gorgeous on the bride. It is fabulously 32 inches long and 54 inches wide to provide a full fledged cover. It has the perfect flow and looks elegant. It is an A1 tire veil and is perfect for those who do not like wearing "blusher" veil. It is just the right veil, which does not hide any of your gown's details. This veil is finished with the most delicate pencil edges. It comes with hidden hair comb made of a soft plastic. It is 3½ inches wide, 1¾ inches long, and has 16 teeth. The hair comb is the 'Grip tuth' style, which holds back all types of hair. It fits on your head perfectly and comfortably.
Product USP: It is an elegant and flowing veil, which makes you look dainty. The delicate angel cut that it has makes it look feminine, without letting your gown's details go unnoticed.
Pros: The gorgeous angel cut makes it look different from the other veils. This veil gives a fuller look and provides a frame to the bride's face. It also lets the details of the gown show.
6. Veilubridal gorgeous mantilla with beaded lace
Price: $48.99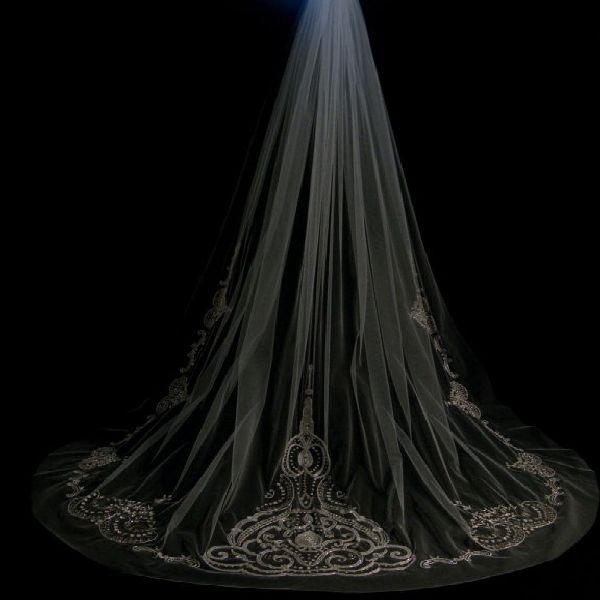 Product Description: This veil is stunning piece and is very affordable. This fingertip length bridal veil comes in two colors. One is white and the other color is ivory. It is an oval cut veil, which falls fabulously over your shoulder. It is 40 inches long and has beautiful lace detailing all around its border. This Alencon re embroidered lace is accented with faux pearls. The price makes it a showstopper. Obviously, no bride wants to miss this exceptional opportunity for buying a beaded Mantilla, at such an amazing price.
Product USP: The feminine look that this stunning piece has makes it stand out when compared to other veils. Moreover, it is studded with faux pearls and comes under $50 make it the one to die for.
Pros: The beaded lace gives a very feminine look to the veil. It looks sophisticated and royal. If you wear this, it is for sure that you will be a showstopper. This will make you feel glamorous and like a princess.
7. Illusion bridal veils, ribbon veil
Price: The price is available on request.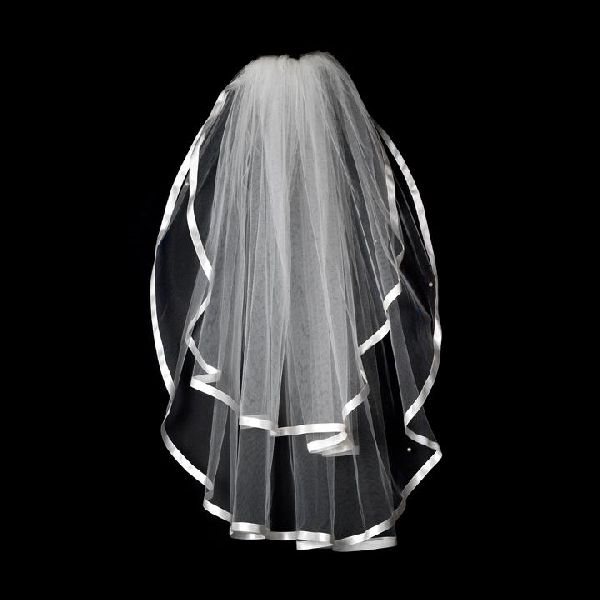 Product Description: The veil measures 30 inches in width and 54 inches in length. It is doubled layered, and comes in two colors, white and ivory. It has a 7/8 inches ribbon edge all around the veil. The first layer ends at the elbow while the other layer is a long trail, which gives a train effect to your gown. It has circular cut, which makes it look gorgeous.
Product USP: The edges of this veil are surrounded with ribbon, which makes it look gorgeous. It is made from a light material and is easy to carry off.
Pros: The ribbon veil looks classy and fabulous. It give a girly appeal to the look of the bride.
8. The Wedding Veil Shop, V 026
Price: $126.00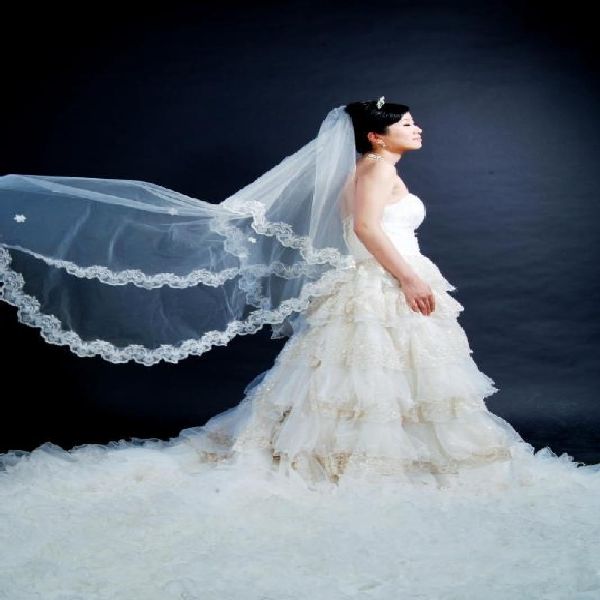 Product Description: This spectacular piece is available in just long lengths, which are beautiful chapel length and cathedral length veils. The bottom of this veil is edged with a dazzling lace appliqué work. It is adorned with sequins and pearls. It is finished with a braid for the added profundity. It is a single tire veil, which makes it more dramatic.
Product USP: The bottom of this veil is beautifully done with lace appliqué work; and sequins and pearls are an added advantage at such an astonishing price.
Pros: The appliqué work gives it a charming look and makes it elegant. The pearls and sequins add a feminine touch to the veil.
9. Bird cage bridal veil with pearl and crystal comb
Price: $89.99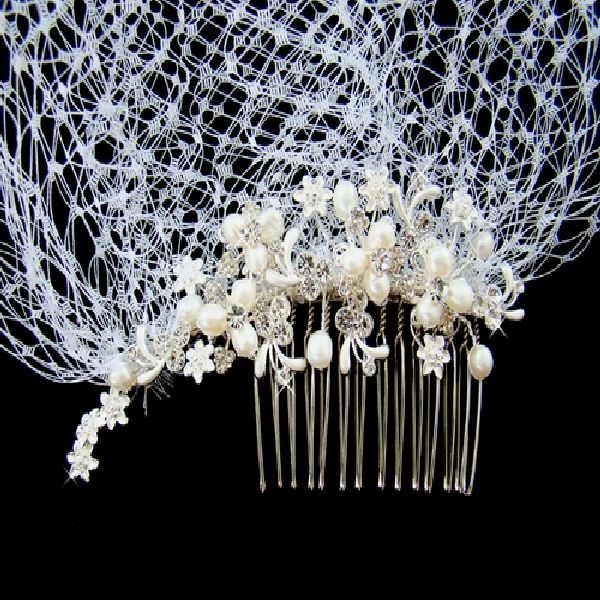 Product Description: This marvelous piece comes in two colors. One is gold ivory and the other is silver diamond white. It comes embellished with fresh water pearls and a crystal bridal comb. It is also attached with a Russian style, birdcage face veil that makes you look glamorous. This is very famous these days and most brides are preferring this one.
Product USP: It is bold yet elegant. It can make any bride look gorgeous at the same time classy.
Pros: The bride cage veil is the perfect one for those who do not like the long veil, but want a stunning touch to the veil at the same time. This beautiful veil comes with pearls and a crystal studded comb that will give you a sensational look.
10. 9 inches French illusion veil with side hair accessory
Price: $75.00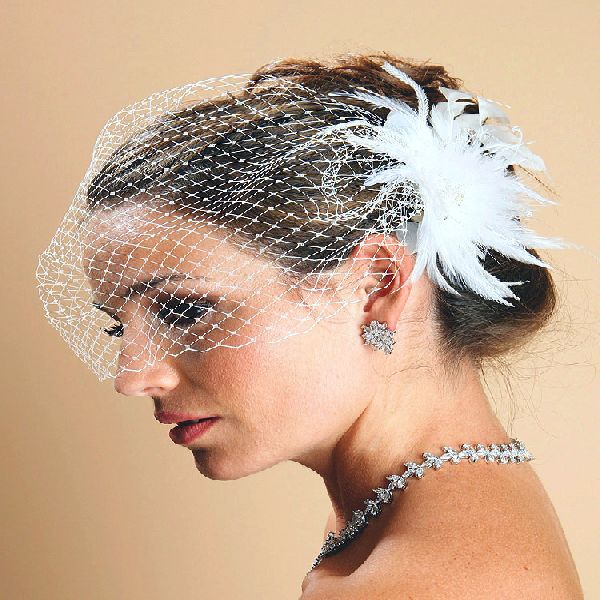 Product Description:This is a very pretty visor veil and is very versatile. This comes with a beautiful and decorative side accessory on both the ends. You can secure it on each side of your hair. The veil is made from 9 inches French illusion material. This gorgeous French illusion veil is available in three colors, black, ivory, and white. You can also get it customized according to your wish. You can opt for scattered pearls or rhinestones to the bottom border of the veil to enhance its charm.
Product USP: Not many companies provide for customizing your veil. However, Love the Bride lets you decorate your veil in your own style.
Pros: This visor veil comes with side hair accessory, which is an advantage; as you do not need to accessorize your hair with jewels and hairpins. This will look beautiful and elegant on your head. Also, the manufacturer provides options for custom veil decoration.