A wedding is the time of one's life, which has to be ornamented with the best possible thing that is available around. A perfect wedding is the one that includes great food, music, venue, cake and close ones, and is incomplete without a great dress and accessories that that go along with it to make the day all the more special and beautiful. A great hairstyle is as important as a good outfit. Females like experimenting with their hairstyle and like decorating it with pieces of jewelry. They like to adorn their hair with glittering stones just like their neckline and pretty fingers.
Hair jewelry, in the form of hairpins, can enhance the hairstyle in no time. The glittery pieces are perfect for brides as it adds a touch of glamour on their special day. The sparkling crystals manage to attract attention and make the hairstyle look all the more gorgeous. The classier the design the more attention these hairpins attract. These metal pins are a great hair accessory and are very easy to use as well. They are comfortable and do not pull hair at all. These sparkling pieces force people to fall in love with them and this love has forced designers to craft hair pins that look nothing less than a piece of delicate art that can be used to decorate hairstyles.
These sparkling pins can make the bride look like a princess and make her the center of attraction. These stunning pieces are available in a variety of shapes, sizes, materials, and colors that can be matched with wedding gown. Here is list of 10 glittery hair pins that will blind you with their beauty and attract you towards them like a piece of magnet.
1. Swarovski Rhinestone bridal hair pin
Price: $39.95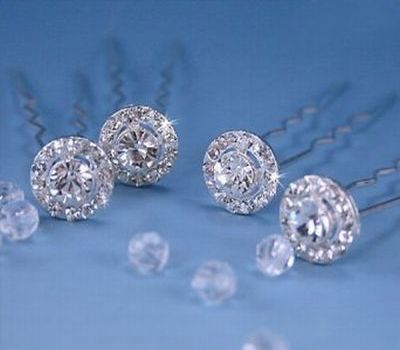 Swarovski Rhinestone Bridal Hair Pin will make the bride sparkle like a star. The vivacious pin has a beautiful circle that has been entirely made using real Swarovski rhinestones. These shine with unending grace will rev up the bridal look in a snap. The astonishing hairpins come in a set of 12, making sure that hairstyle gets a very special treatment. The beautiful pattern can be flexibly used with a variety of hairstyles and will lend an elegance look. With a beautiful design, the richness of the hair pins and the design will do its own bidding.
USP: The use of authentic Swarovski rhinestone makes the bridal hair pin very special.
Pros: Decorate a stylish bun or half-tied hair, these hair pins will not let you down. They can be used with dresses of various colors and will add vividness to the wearer's personality.
2. Rhinestone Pastel purple flower bridal hair pin
Price: $25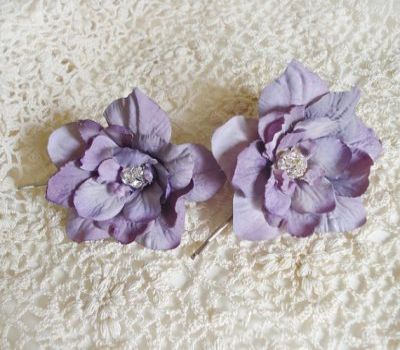 Rhinestone Pastel Purple Flower Bridal Hair Pin is a perfect hair accessory for a wedding. The whimsical hairpins are ideal for an outdoor wedding. They design comprises of frilly flowers that look nothing but exquisite. The hair accessory is very sweet and cute. It has a lavender color that is well complemented by a rhinestone in the center. This rhinestone sparkles with all its worth and lends a glittery effect to the plain color used in the pin. Each pin measures 3 inches and look quite refreshing. The petals have been placed together meticulously and the design will be perfect for a wedding.
USP: A hint of rhinestones in the center makes the wedding pins worth a steal.
Pros: The design can be modified as per a user's whims and fancies. It can be used with lots of hairstyles and will not give a monotonous look. These pins are also available in a variety of colors, so choose the one that best matches for your wedding dress.
3. White Silk flower beaded pearl bridal hair pin
Price: $15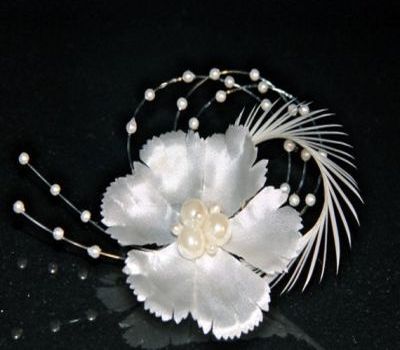 White Silk Flower Beaded Pearl Bridal Hair Pin is truly marvelous. The gorgeous hairpin has been crafted by hand and so is the silk flower that decorates it. The flower has a diameter of 2 inches, while along with the pearls and feathers it is enhanced to approximately 4 inches. This pretty flower can be placed on either an alligator clip or a small-sized bobby pin, which will hold it in place and make sure the flower does not fall off. White silk fabric has been used to make the petals that were cut in a very careful way. The center of this stunning flower was fixed with a shinning pearl. The beauty was further enhanced by using a goose biot feather and subtle pearls in white.
USP: The unique design of white silk flower beaded pearl bridal hairpin speaks for itself.
Pros: It is a perfect hair accessory in white. The usage of silk gives it a rich appearance and the pearls add to its overall beauty.
4. Pearl and Rhinestone Vintage wedding hair pin
Price: $25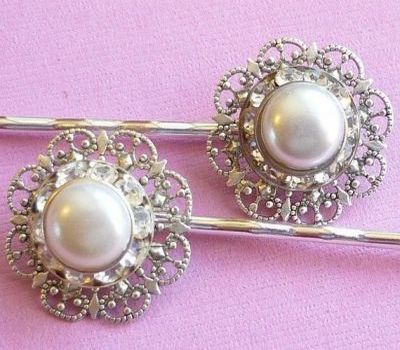 The design of Pearl and Rhinestone Vintage Hair Pin is breathtaking. These pins have been crafted by making good use of rhinestones in a vintage style. It features floral filigrees that are round in shape and have a silver color. It has an eye-catching pearl center that lends all the good looks required for the pin to be adorned by a bride. These wedding hairpins come in a set of two and are very light in weight. The comfortable hair accessory has a 1-inch top that has been nicely attached to bobby pins with a measurement of 2.5 inches. These bobby pins are silver-plated and the sparkling top gives them a beautiful existence. This glitzy set of hair pins is available for a price you can hardly believe.
USP: The vintage look of these hairpins is truly remarkable.
Pros: It is a one of its kind bridal hair jewelry and is very comfortable. The round top with nicely trimmed edges is exquisite and will attract a lot of attention, making the bride look all the pretty.
5. Deep golden yellow brown bridal hair pin
Price: $16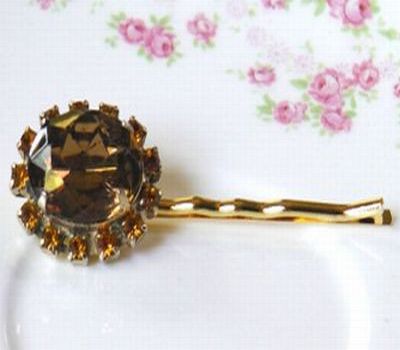 Deep golden yellow brown bridal hairpin come wrapped with a lot of bling that makes it an ideal hair accessory for a bride. The gorgeous hairpin is quite delicate and should be used just for ornamenting hair. It should never be used to keep hair in place, as they have not been designed to fulfill this purpose. They are perfect for bridal hairstyles that always want a touch of sparkle. The vintage looking hairpins will help craft memories and will become an important part of your wedding day. The lovely adornment has been secured on a bobby pin that measures 2 ½ inches in length. Treat them with utmost care and see them age with you as a perfect wedding memory.
USP: The deep golden brown color is sure very different and appealing.
Pros: They can be used with many hairstyles. Both the color and design give an antique look that adds to the richness of the shiny product.
6. Blue crystal bridal hair pin
Price: $22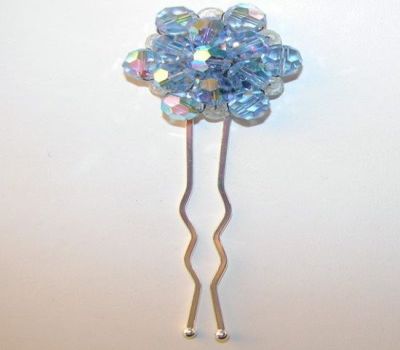 Blue crystal bridal hairpin has been made using a vintage earring. The back of the earring was discarded and was then placed on a hairpin. The color blue lends it a cool look, which will grace outdoor weddings and especially ones that are planned on a beach side. The dazzling crystals make it sparkle like a tiny star. It has a blue base that is elegantly highlighted by the presence of clear crystals. The hairpin is silver-plated and measures 3 inches. This is used to place the round crystal flower shaped top that has a measurement of approximately 1.25 inches. The design is simply beautiful and is perfect for brides. See the blueness in the bride's eyes when she flaunts a hair pin that she will never forget till her last breath after fetching uncountable compliments.
USP: Blue crystal bridal hairpin has been blessed with a cool color that will fetch a lot attention.
Pros: Its beautiful vintage appearance will make the bride all the more attractive. The glittery hairpin is perfect for decorating different types of buns and will flirt through the veil that the bride will adorn.
7. Crystal and Rhinestone bridal hair pin
Price: $19.95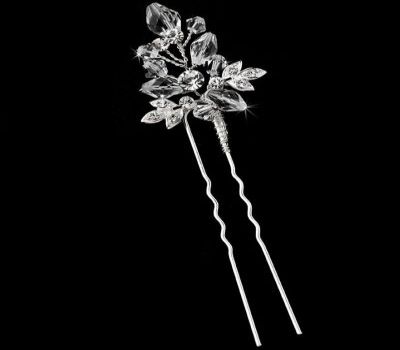 The bridal hairpin has been embedded with dazzling Austrian rhinestones that have been coupled with real Swarovski crystals that shine with all the grace. The tasteful Crystal and Rhinestone Bridal Hair Pin will have your interest shoot up to unimaginable levels the moment you set your eyes on it. The stunning floral vines add charm and make it look vivid. The awe-amazing hair accessory has been hand wired by making good used of silver plated wire that blends perfectly with the crystals and rhinestones. The top has a measurement of 1 ¼ inches in length and a width of 1 inch, approximately that rests elegantly on a 2 inch hairpin.
USP: The use of genuine Swarovski crystals makes it shine even more and it is pretty affordable and trendy at the same time with an attention grabbing design.
Pros: The stylish look of this bridal hairpin makes it all the more desirable and beautiful. Hand crafted design and silver plated wires make it simply awesome. The hairpin can be easily molded according to hairstyle for a perfect look.
8. Fuchsia rose crystal bridal hair pin
Price: $15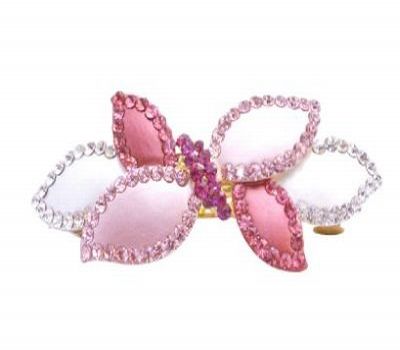 Fuchsia rose crystal bridal hairpin uses different shaded of pink and white. It will add an elegant touch to a perfect hairdo and will fetch plenty of praises. The hairpin will shimmer with all its worth and will add a glamorous touch to your hair. The fascinator has been made using great quality metal. It has been wedged with white and rose pink leaf designs that glitter because of the presence of crystals. The pin has a length of ¼ inches and has a width of 3 ¼ inches. The floral leaf hairpin has been embellished with clear and rose fuchsia crystals.
USP: The beautiful floral leaf shape is pretty attractive. It will pump up the level of beauty of a bride and eyes swoon.
Pros: The color pink is loved by girls and will be apt for the wedding day. The brightness of the crystals will make the hair pin shine more when worn with an equally amazing dress.
9. Swarovski crystal bridal hair pin
Price: $72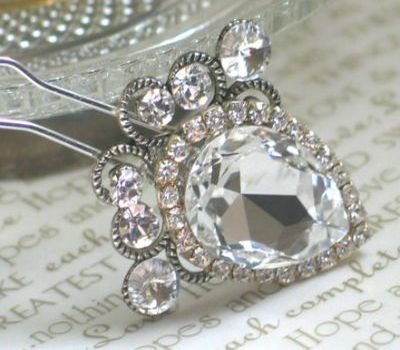 Swarovski crystal bridal hairpin will blow you off your feet and will lend supersonic elegance. The glittery hairpin has bold looks and come caked with a magical glamour quotient, which will leave onlookers awestruck. It features a single large Swarovski crystal that has is pear shaped. This chunky crystal has been further enclosed by smaller Swarovski crystals that make it dazzle like an angel's halo. All this rests on swirly filigree that has been crafted using antique silver. The hairpin has a length of 4 inches and will make eyes do a cartwheel in total surprise.
USP: The use of Swarovski crystals is worth the price.
Pros: The bling-bling hair pain is different from what is available in the market. It will appeal to stylish brides who would love to make their wedding day all the more special with a great look.
10. Victoria Filigree crystal bridal hair pins
Price: $21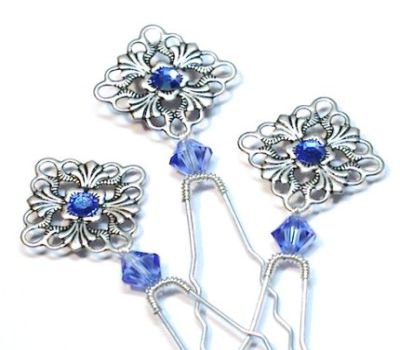 The beautiful Victorian Filigree crystal bridal hairpin features antique floral filigree that silver-plated. The beauty of this is enhanced by the presence of a sapphire blue colored Swarovski crystal that sits in the center with utmost style. The silver colored hairpin is available in lengths 1 ¾ inch and 3 inches. Choose the length according to the hairstyle and volume of your hair. The ornamented part is square shaped and has a measurement of ¾ inches. The intricately woven hairpin comes in a set of three and will add a subtle accent to the bride's hairstyle.
USP: A great product for all those brides who want to flaunt their hair accessories with an antique touch.
Pros: The bridal hairpin will decorate hairstyles and give the white dress a touch of color. The crystal embellishments will create a romantic look for your hairstyle.