If you are planning to buy a bridal shower dress, choose the one that goes with the weather and is simple yet stylish. Do not go in for cute-looking dresses, which will eventually be tucked deep inside your cupboard, but buy those that can be worn for all occasions and are comfortable too. Here are a few bridal shower dresses that are classy, elegant, yet simple and will prove to be a great addition to your wardrobe.
1. American Eagle's White Lace Dress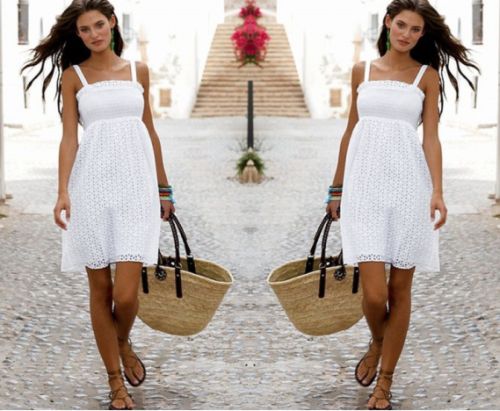 The American Eagle's White Lace Dress is a great choice because it is elegant and flirty. It has broad straps and a square neckline that is perfect for carrying an ornate necklace that can glamorize your look. This dress is fabulous for a summer bridal shower and would look great when worn for other occasions too. You can accessorize the look according to your individual style and make it look fun. An attractive necklace can spruce up the look of a plain white dress and a pair of stylish pumps can breathe sexiness into it too.
2. Coquette Bridal Shower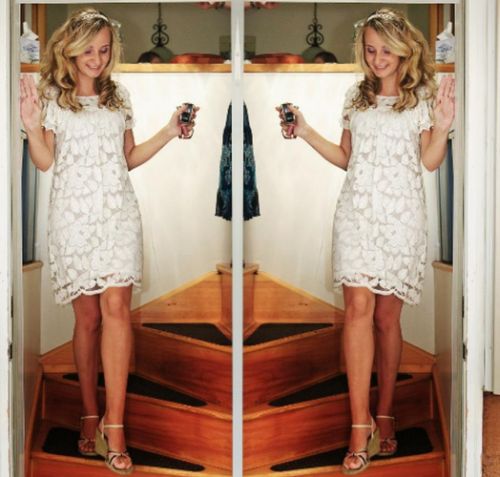 This dress is a lacy off white short dress that looks very cute with its frills on the arms and neck. This coquette dress is a perfect one for a summer wedding. It is very elegant and has been teamed up with a jeweled headband that gives the dress a royal quality.You can wear strapped wedge sandals which gives a very summery and classic look overall.
3. Olian Gillian Dress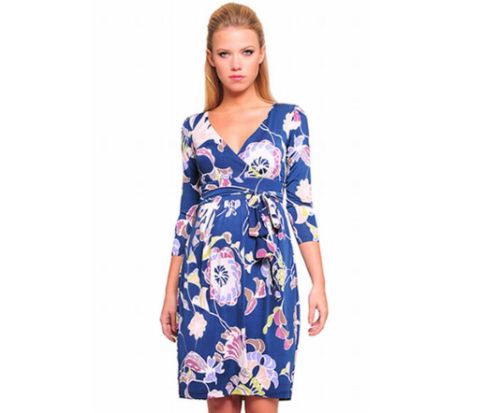 The Ollian Gillian dress is a short bridal shower dress for brides who are expecting. This dress has a very bright and lively print that makes it perfect for either a summer or a fall bridal shower. The Empire cut of this dress has a tie that can be affixed either at the front or the back. This dress would even look great after the baby arrives.
4. Bellyssima Ity Long Sleeve Dress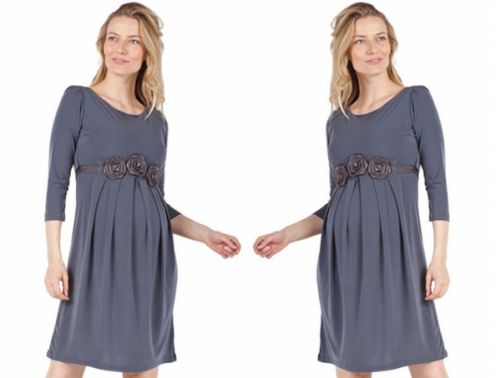 The Bellyssima Ity Long Sleeve Dress has a very elegant V-shaped neckline with long sleeves. The dress is slightly above the knees and has an empire waist that is embellished with three flowers with a single stone encrusted in each one. The dress has a satin ribbon on the back for giving the dress a better fit. The gray color of the dress makes it perfect for a fall bridal shower.
5. Grey Favorite Shirtdress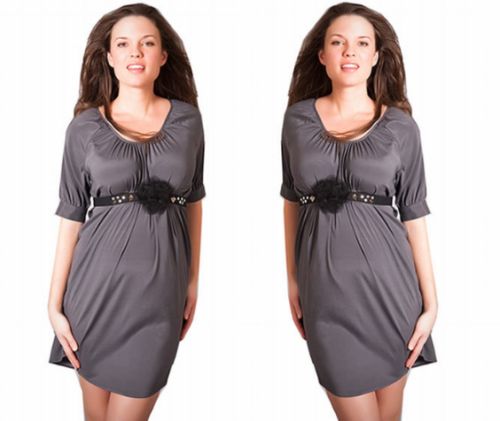 The More Of Me Grey Favorite Shirtdress is a very versatile dress that can be worn on multiple occasions. It will look great on expecting brides and can be teamed up with stylish tights. The look of this dress is so attractive that it can be worn even after the baby arrives.
6. Seraphine Quin Sequin Dress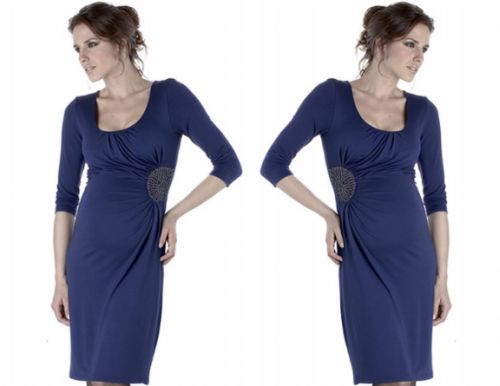 The Seraphine Quin Sequin Dress is an elegant outfit that would surely be a showstopper at any event. The royal blue color looks very stylish and the plunging neckline oozes sensuality. The dress is gathered near left side of the waistline which is embellished with stones. All in all, a very sensuous outfit for a bridal shower.
7. Pink Digital Skirt Dress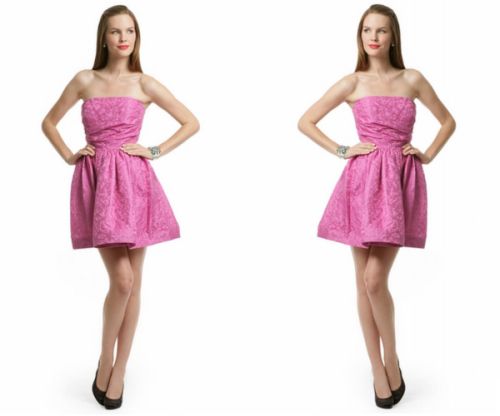 The Pink Digital Skirt Dress called the Shoshanna is a very playful strapless tube outfit that is well fitted around the bust that later flows out into a short skirt. The color looks very lively and flirty and would be the perfect choice for a summer bridal shower.
8. Cutie Pie Dress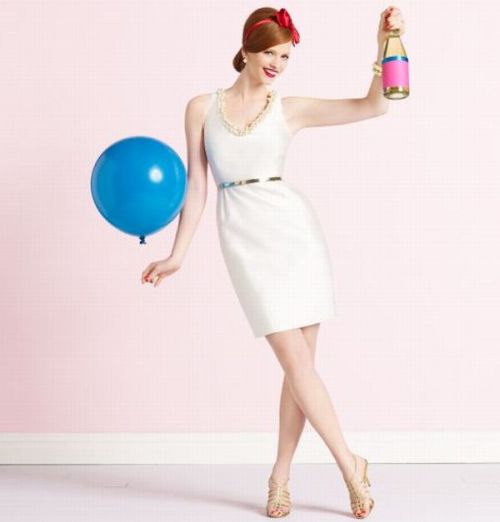 The Cutie-Pie Dress is a very classy white short dress that is well fitted. This elegant outfit has a deep neckline with cute ruffles encrusted with crystals and pearls that add charm to it. You can perhaps wear a golden sleek belt that would accentuate the fitted waist and add more grace to the outfit. This dress would look perfect with stilettos or sandals and a bright colored nail paint.
9. Betsey Johnson Evening Sweet Carolina Dress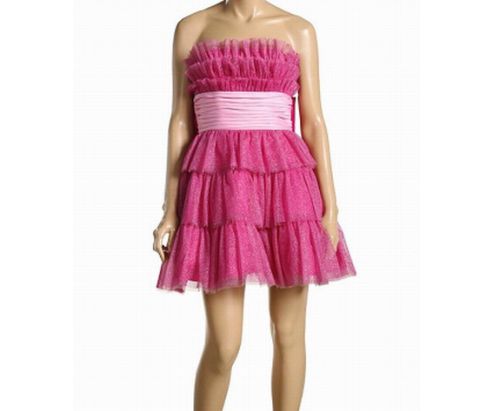 The cute Betsey Johnson Evening Sweet Carolina Dress is made out of a glittery pink mesh and also has a light pink-colored bow at the back. It is a stunning strapless short dress with three ruffles above the waist and three ruffled frills for the skirt. It would fun to adorn this cute dress for a bridal shower.
10. Rocco Mini Shift Dress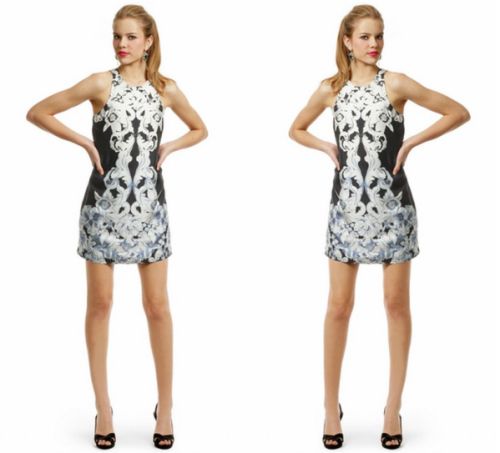 The Rocco Mini Shift Dress is a tibi-printed outfit that looks extremely stylish with a very classic haltered and sleeveless design. You can perhaps team it up with some peep-toe black pumps and some nice diamond earring to give it that classic look. Heavy and dramatic black eye make up would certainly add the sensuousness to this dress for sure.