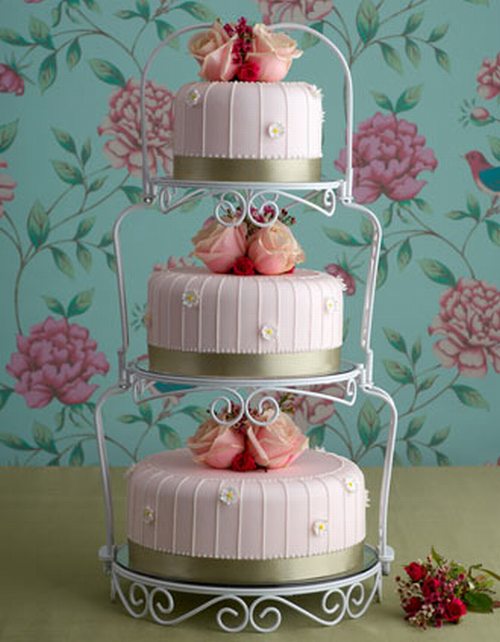 What completes a wedding in the most appropriate way is a wedding cake. Selecting the perfect cake, with a beautiful design and a charming outlook, is not an easy task. Right from the taste, flavor, to the style and the kind of marriage it represents, everything plays an important role. So, stop scratching your head and thinking what kind to go for. Simply check out these mouth watering, stylish, eye appealing cakes that are just perfect for any vintage-style wedding. These cakes will truly make your wedding the most happening and remarkable one.
'Paris Chic' wedding cake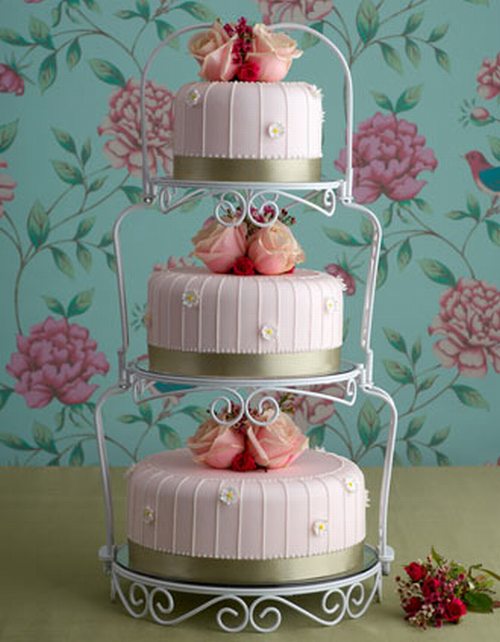 Embellish your wedding with the very chic look of the "Paris Chic" cake. Mounted on a vintage handle, the cake has been concocted out of almond buttercream, apricot preserve, Satab ribbon and is primarily a Madagascar vanilla bean cake. The cake has been decorated with beautifully done handmade sugar daisies on all the three levels. The cake incorporates a subtle vintage design. You can have this cake in three sizes of 6", 8" and 10".
Vintage wedding cake from The Little Brown Box Cake Company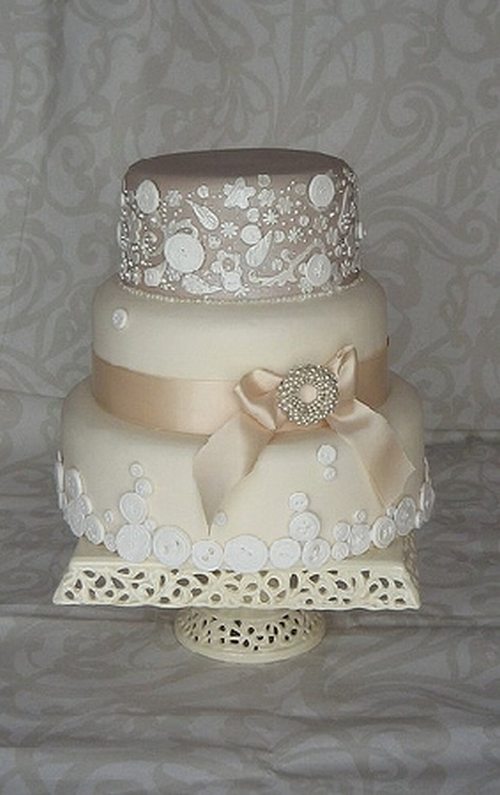 Catering to your sweet tooth is this outstanding vintage cake which is as delicious as it looks. Call it old fashioned but the cake oozes loads of style. Made by The Little Brown Box Company, the cake has been prepared using the best possible luxury ingredients, organic materials and free range eggs. The constituents of the sweet delicacy are going to make sure they have you longing to eat the cake all life long.
Pink Vintage Lace wedding cake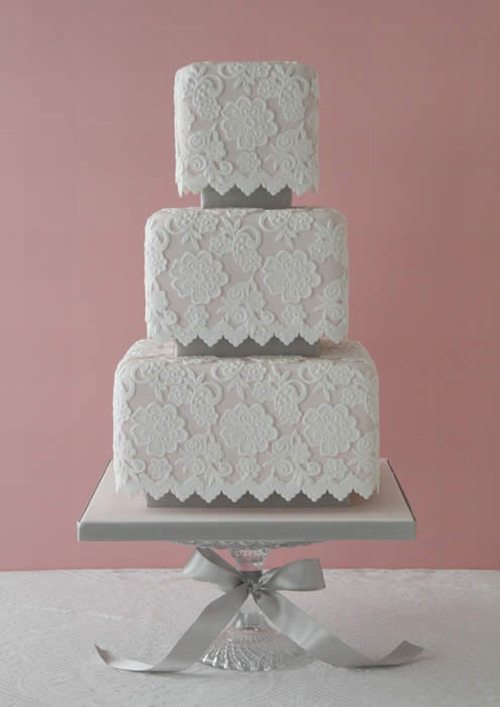 Get a Zoe Clark cake designed for your wedding and notice how everyone around will just not refrain from complimenting your special day. Recreating the dress lace design on to her cake, Zoe has showed the exact replica of a wedding dress on this 3 tier beauty. Replicating a unique vintage design, the cake has been blessed with white and pale pink hues, and carries on the surface an embedded lace design. There is a 1" gap between all the three levels.
Embroidered lace and Appliqued Wedding Cake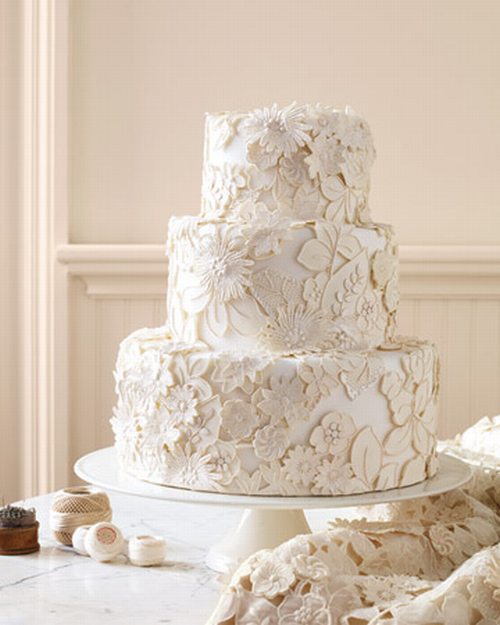 Now you can deck up your wedding cake with your dress design, all thanks to cake designer, Ron Ben-Israel. Evoking a breath taking vintage design from the early 60's era, Ron has crafted a beautiful, delicate lacy design on the cake. Even though, it was a tedious task, he has been able to create the best out of it. The end result is a charming little three tier cake which bears resemblance to a lacy wedding gown. The confectionery carries a dainty mix of flowers ranging from dahlias, roses and periwinkles. It's time to make everyone around you proud of this little creation.
Croquembouche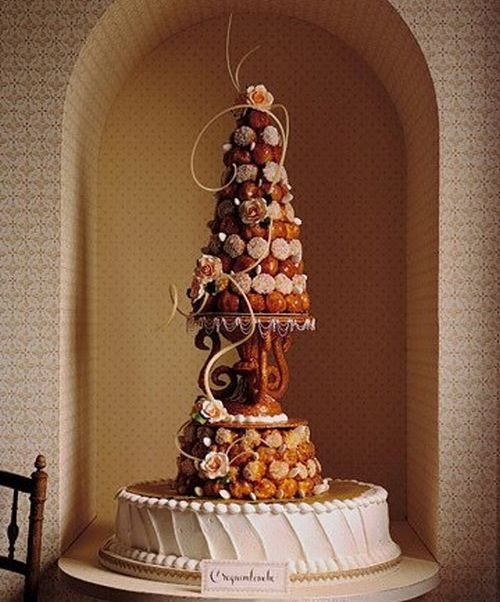 If your nights are spent worrying about how to embellish your wedding with something totally out of the way, then you need to check out this trendy yet vintage cake design. Don't underestimate the size of a cupcake, for this variety of cake is going to change that very soon. A combination of these mini cakes have been held together with serenading caramel sauce/syrup and decorated with long slivers of caramel, sugared almonds, chocolate, flowers and ribbons. Topping this decoration, the cupcakes have been filled with oozing cream. All in all, a truly fascinating piece of must have confectionery for commemorating your special day.
Fondant covered cake from Brenda's Cakes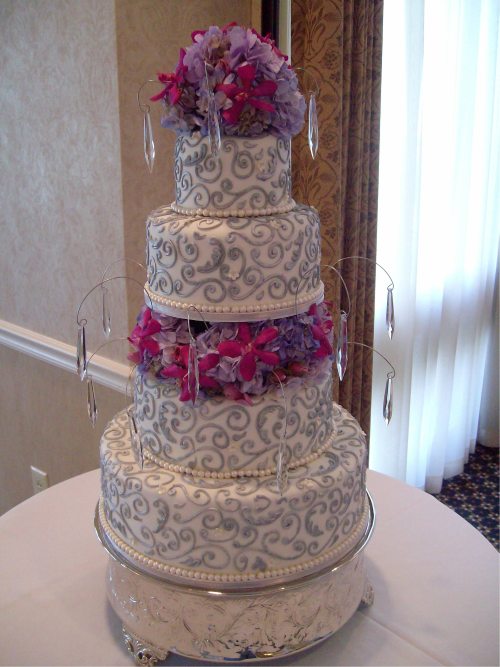 Brenda's cakes are famous all over her vicinity in West Jefferson, simply for her vintage touch. Just recently, she prepared an exquisite cake for Dionne and Roy, a couple who knew they wanted the best when they tie the knot. The four tier cake carries forth a completely refreshing design and has been decked up with flowers to break the monotony. Adding a sparkle to the creation are luminescent crystals hanging from the mounting stand. This is not all, for the cake has been smartly endowed with hand painted silver piping and white chocolate pearls. The flowers definitely add a subtle look to the cake's happening personality.
Cat Tails & Pond flowers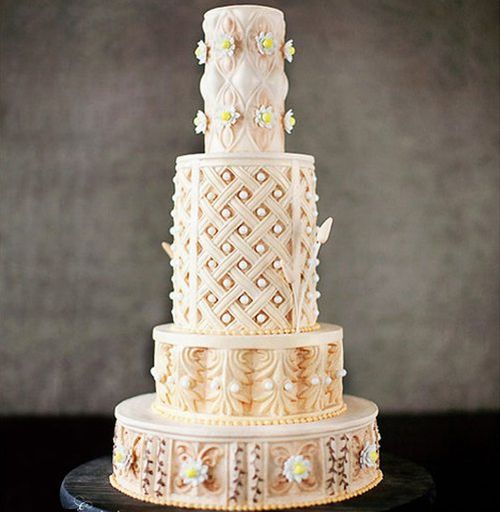 Adorning a look of utter simplicity, the Cat Tails and Pond Flowers cake exudes warmth in every bite. Molded out of buttercream and modeling chocolate, the handmade vintage fondant decorations will melt your heart in the first glance itself. Using a combination of edible pearls and detailed with hand painted details, the cake is a masterpiece in itself. Bedecked with elegant flowers, delicate designs and intricate creases, almost everything will remind you of how you deserve nothing but the best. The cake can be tailor made according to your taste.
Fountain Wedding Cake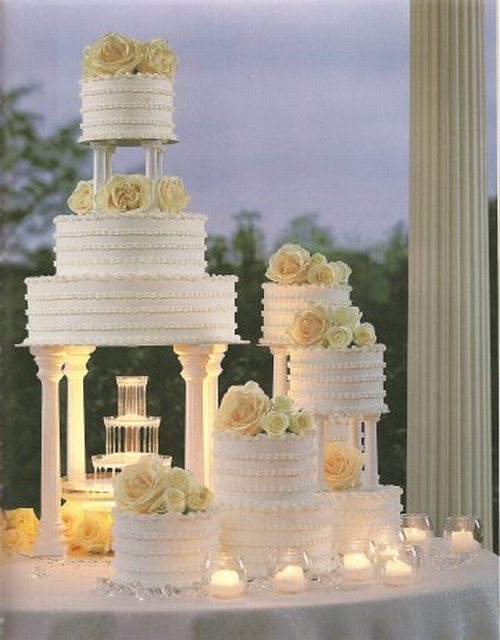 Fountain Wedding Cake will give a truly dramatic feel to your wedding. This cake will become an unforgettable experience and will blend perfectly with your dream wedding. The fountain is made using small water features. Special plates and pillars are used to house the fountain and raise the cake. The water can be lit up with lights and fresh flowers can be used around the fountain, lending it a magnetic appeal. Let your wedlock be the best of the season and be as vintage as imagined.
'Royal Belle Blossom' wedding cake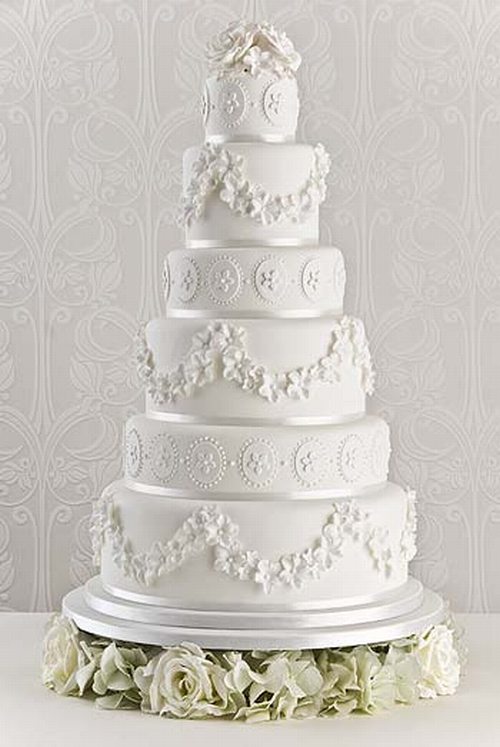 Outdo yourself with the 6 tier Madagascar Vanilla Bean cake lovingly known as 'Royal Belle Blossom' wedding cake. Fusing together Amedei Chuao chocolate buttercream, sugar flowers, sugar plaques and wounding around Satab ribbon, the cake spells success in every tier. With a promise to melt in the mouth immediately, the sweet concoction is the designer's baby. Each and every level has been designed tastefully, and carries with it a level of sophistication.
'White Daisy' wedding cake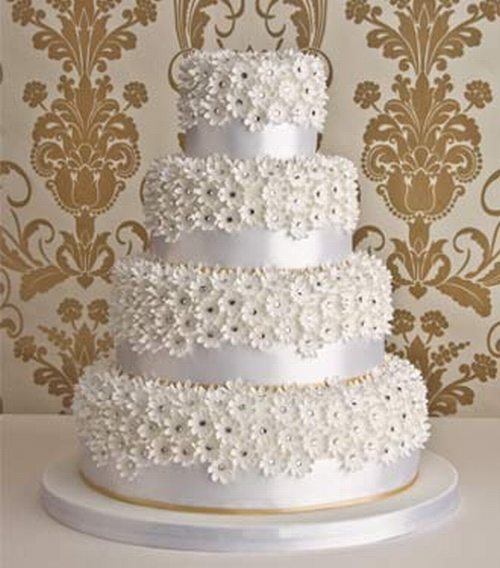 This is the best of all cake varieties. The shine on the cake represents the glowing number of oncoming years for the happily married couples. Grace up your nuptial with the White Daisy wedding cake which promises to never let you down. Elegantly designed, and emblazoned with miniature vinatge flowers on all the three levels, the cake will be the perfect ornament for your glittery wedlock. Simple, yet fancy, the cake would emboss years of happiness and well being for one and all.