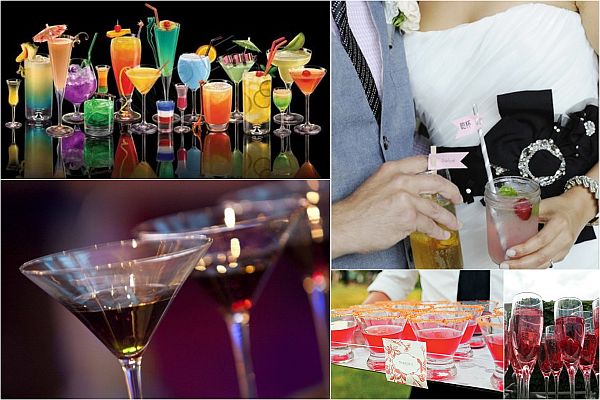 A cocktail wedding reception is a good idea if you really want to spend some pennies on the meal and also enjoy the cocktail hour to its fullest. It is quite different from a traditional wedding reception which involves the conventional meal, dinner and drinks and does not necessarily happen at the cocktail hour. The cocktail wedding reception is almost centered towards the theme of cocktails and hence has to have little snacks that are taken with the cocktails but no full meals. Besides you can really get creative with the menu as you can order a wide variety of delectable's on the platter. Before you send out the invites, there are some things to keep in mind to ensure that your day goes perfectly without any hitch or D-day disasters.
1. Informing your guests
Your guest list will comprise of different sorts of people and it is necessary that you let them know the kind of reception they are to expect. Simple words like mentioning 'cocktail reception' on the card is enough to let your guests know that they should not be expecting a full meal at the reception. This way they can also know how to dress or what to expect at the cocktail hour. People always remember disappointments in a big social ceremony like this and to avoid that you need to make them aware of what they should expect.
Tip: Make sure you have an idea on the drinks the bartender would be serving as it is important to know what your guests would be drinking. Secondly make sure you have heard the drinks names before, you do not want anybody getting drunk or causing issues with the drinks. guests often have the idea of getting drunk, when getting free drinks.
2. Catering
When you are not going to serve a full meal, you have to make sure that you serve a variety of hors d'oeuvres that everyone can taste and enjoy along with their cocktail. Cocktail reception is the one kind of reception where you are expected to be creative with the small plate delicacies and needless to say, you should not compromise on the range of items that can be served. Like most things it is necessary that you ask for feedback from your acquaintances who have had a cocktail reception. Their experiences and recommendations might stand you in good stead. Hence you should try a caterer who can offer exotic or unique items apart from the very basics. On one hand you can have Thai delights and Caribbean snacks and on the other hand you can have cup cakes, mousse, pastries and truffles for the mini dessert series.
Tip: Make sure the caterers have a style of serving drinks, in order to lure your guests to drink them. It is always good to have them get intrigued by the drinks. People like to explore new things. You must also make sure that the caterers listen to you guests and serve them what they desire. Especially when it comes to food, as people like snacks with their drinks and often get cranky when there is nothing.
3. The location
You might have booked halls or clubs to have a cocktail reception. While this is not unacceptable, it is better to choose your location in a place like the museum or near historical monuments or the beach where the invitees can stroll around with their glasses in hand.
Tip: Having a reception in a museum also helps keeping the guests sober. When you have a house cocktail party or a hotel party, you would find a bunch of people missing. It is the comfort zone which they should but less of it. A club might also be a good place as the dancing and the music helps maintain a significant amount of decorum.
4. The cocktail
In a cocktail reception you cannot compromise with the signature cocktail of the evening. While it can be any of your personal favorites, it can also be a unique concoction for the special evening. It can be a unique drink in sync with the theme of the wedding and reception.
Tip: Having the best cocktail would mean having the one made by you and your fiancé. While planning the cocktail party, think of trying the signature cocktail drink too. The two of you could sit and make it before the function. It would be the one drink which everyone would just have to have. Make sure you have the bartender around to help you out.
5. Entertainment
The guest list comprises of a mixed lot and it is not always easy to make sure that everyone socializes and no one gets bored in a corner. However if you want them all to be occupied, you can always arrange for some music. For a few chosen friends and a smaller gathering a small band of quartet would suffice. On the other hand a large gathering might call for a DJ who can rock the cocktail hour and make sure that no one gets bored in the reception. Like everything else, you have to make sure that the form of entertainment you choose goes well with the theme and mood of your reception.
Tip: Depending on your location of the party, it is important for you to know if your guests are being entertained or not. if you are going to have the party indoors in someone's house then you must definitely have music and games. It is important to know what your guests would love to do. Renting a club for a couple of hours would be good too. Do not have the reception for very long. People get bored very easily. Make sure the strangers are well entertained.