Celebrities marry in style and from their wedding ceremony to the bride's dress; each one is equivalent to a huge extravaganza. And if one is talking about female celebrities; you cannot deny that speculation of wedding dress, makeup and hairstyle, which continues until the final ceremony floors up. The year 2011 witnessed some of the most elegant wedding ceremonies; and that urged us to admire the beauty of wedding gowns, one can only adorn these beautiful celebrities weddings. Here, we present you a collection of awesome Celebrity weddings dresses and most expensive Celebrity weddings.  Read on to get some inspirational ideas:
1. Kate Middleton wedding dress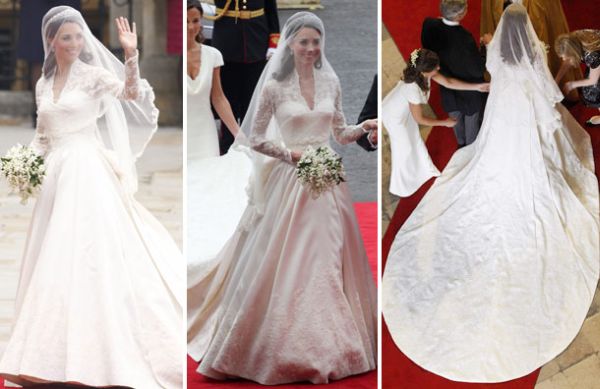 Kate Middleton, Prince William and their nuptials were the hottest buzz among the press and media form all globe round. More than their much anticipated royal marriage; it was the Kate's weeding dress that became the trending topic over web. The Duchess of Cambridge wore an elegant custom gown by Alexander McQueen's creative director Sarah Burton. This beautiful wedding gown featured a V-neckline; along with a long sleeved lacy overlay and finally, a two meter long train. Her wedding dress can be considered as the most brilliant work of hand embroidery. This is one of the most beautiful dresses worn in any Celebrity weddings
2. Kate Moss wedding dress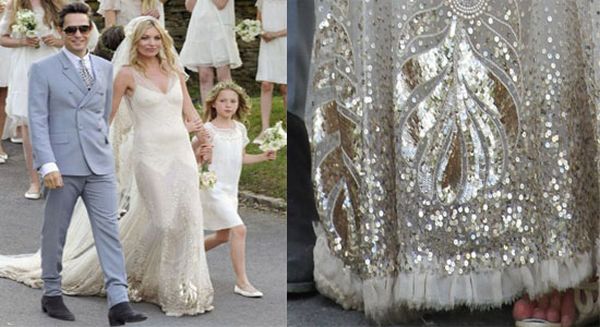 On her most auspicious day; Kate Moss wore a 1920s inspired John Galliano custom made wedding gown. Her wedding dress featured an embroidered hemline with exquisite gold leaf and beadings. The Vintage style inspiration and design is the main highlight of this wedding dress. The dress was equally trendy and appealing. To complete her look, she wore a blue insole, a floor length veil and cute Manolo Bllahnik heels.
3. Zara Phillips wedding dress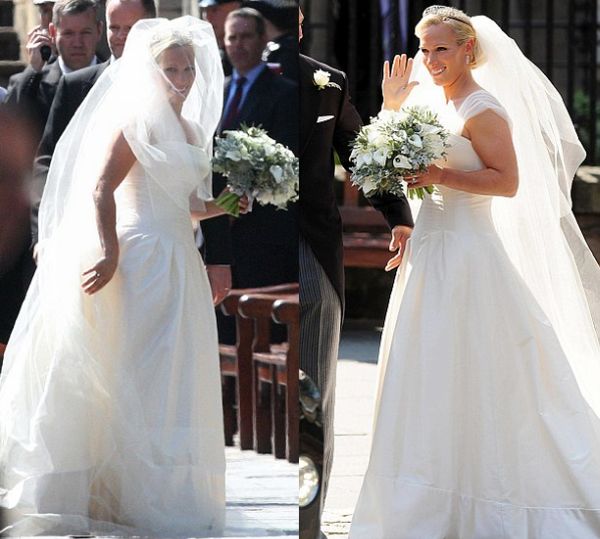 We all were expecting something traditional from Zara Phillips and she didn't disappoint us. The groom wore a full-skirted gown; that featured dramatic pleats on its waistline and lace corseted bodice fr0m underneath. The use of ivory duchess silk and softly furnished faille were the main elements of the wedding dress. Zara completed her look with a cathedral length veil and a Greek key patterned tiara.
4. Kim Kardashian wedding dress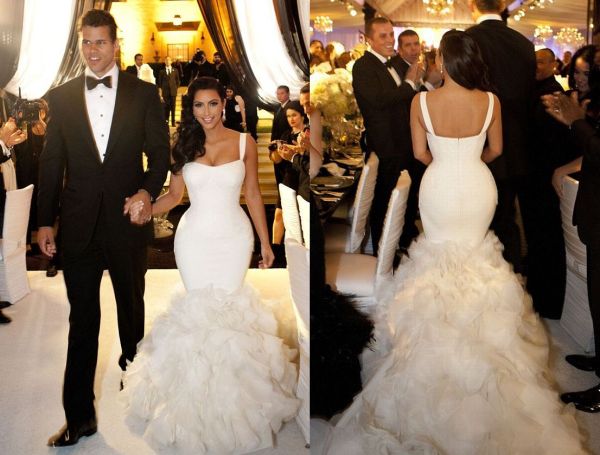 Even though their relationship didn't last long; but that didn't stopped us from including Kim in our list. Kim Kardashian chose a white Vera Wang gown for her wedding. This was followed by two other evening dresses for the reception; also designed by Vera Wang. Her dress was looking fantastic and complementary with her hubby Kris Humphries's tuxedo.
5. Reese Witherspoon wedding dress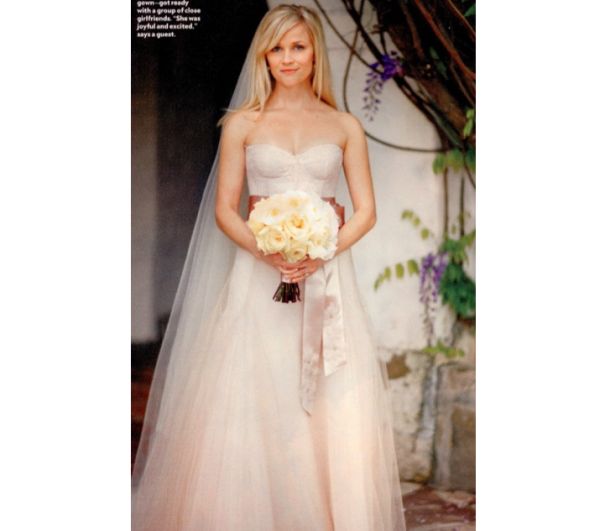 For her second marriage to talent agent Jim Toth; Reese Witherspoon opted for a pink strapless dress by Monique Lhuillier. This custom-made dress was designed with a corset bodice and full length A-line lace skirt. To complete her wedding silhouette; she wore a Classic Macy Satin's platform sandals.
6. America Ferrera wedding dress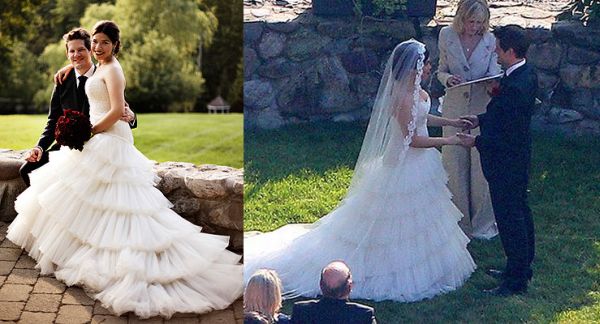 America Ferrera said, "I do" to Ryan Williams in June 2011 wearing a drop-waisted wedding gown form Amsale's Christos collection. Her strapless ivory dress featured a long pleated skirt and a lace corset bodice. Her skirt was made from tulle and twilled lace. She also wore a floor length lace veil with her hair pulled back and Fred Leighton beautiful earrings.
7. Dylan Lauren wedding dress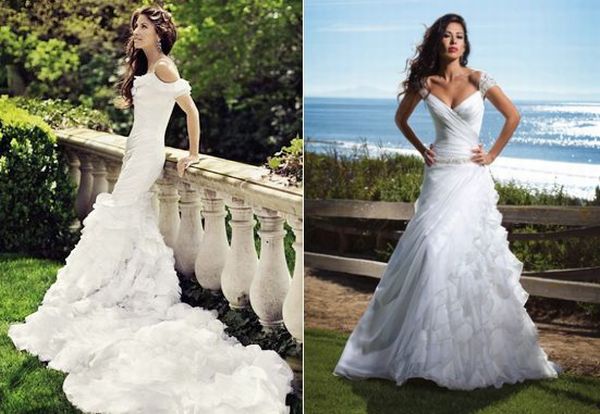 Dylan Lauren wore a unique, custom made silk tulle wedding dress at her wedding ceremony. The dress she chose was an off-shoulder dress designed by her father himself. Her dress featured a tiered train and a plunging V neckline. She styled her hair curly with soft sideways. Her overall wedding look was casual with a little share of elegance.
8. Sara Rue wedding dress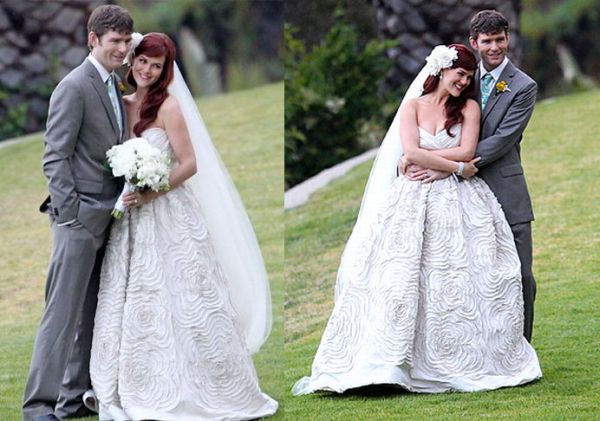 For her elegant wedding at Pacific Palisades; the bride Sara Rue chose an Amsale gown with a dramatic A-line skirt and a softly plunged V neckline. Her coffee colored dress was accessorized with a blue shaded toenail polish that read" I heart Kevin". Aww…Very sweet, isn't it?
9. Molly Sims wedding dress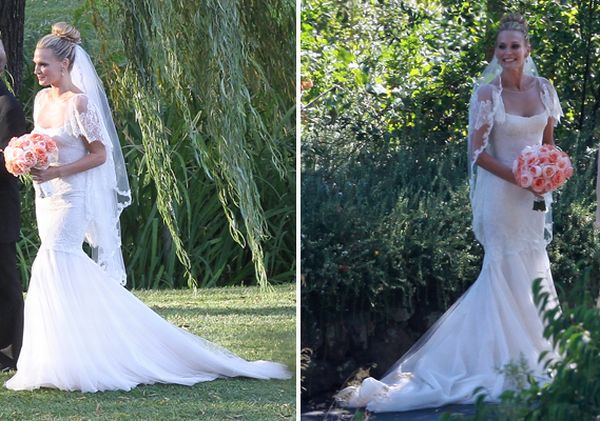 Molly Sims and Scott Stuber were married at a winery in Calistoga, CA; where the bride wore an exquisite Marchesa gown. Her pretty wedding gown featured a mermaid skirt with an illusion neckline. She accessorized her wedding look with jewelries by Lorraine Schwartz and a waist length wedding veil.
10. Candice Crawford wedding dress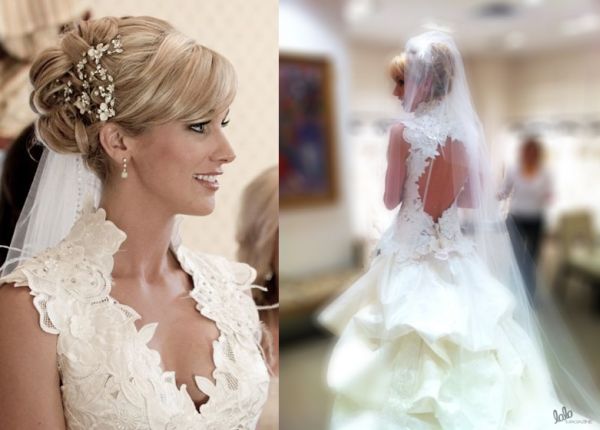 Candice Crawford tied knots with Tony Romo; wearing a St. Pucchi dress with a plunging neckline, high collar and an A-line full skirt. Her wedding dress featured a fitted bodice and a floor length train. Giving her wedding dress more demure touch; Candice accessorized it with a glamorous headband and high heels.
Most expensive Celebrity weddings of all times
Everyone wants to make their marriage a memorable event and goes to any extent in order to make it a perfect day. The Hollywood celebrities are one step ahead. They make it an occasion to splurge their wealth and engage in unnecessary expenditure. Their budget goes up to $3 million on an average. They book the most expensive suits or have it in exotic locations,; the gowns are designed for the bride and make the whole event very memorable for the guests. Here is a list of top 10 most expensive Celebrity weddings.
Liza Minnelli and David Gest
Wedding Cost:$3.5 million
This is one of the most extravagant Celebrity weddings. It was held at Marble Collegiate Church in New York. The best man and the maid of honor were Micheal Jackson and Elizabeth Taylor. The 500 guests inites also included Mia Farrow, Lauren Bacall and Diana Ross. It had a wedding cake that was 12-tiered; and the entertainment for the night was Tony Bennett. The reception was backed by a 16-piece orchestra. As a thank you gift, every guest got a satin candy body. Each box was embossed with the words – Liza and David 4 ever. This wedding was close to$3.5 million. 
Heather Mills and Paul McCartney
Wedding Cost:$3 million
This wedding was held at St. Salvador's Church at Monagham in 2002. When the bride ascended the alter; the song "Heather" was in the background. Paul penned this especially for his bride. The guests were around 300 members and included Eric Clapton, Elton John and Ringo Starr. The theme for the reception was Indian; and all the dancers were in authentic Indian dresses and the feast was strictly vegetarian. There were fireworks that filled the night sky. The estimated cost was around $3 million.
Elizabeth Hurley and Arun Nayar
Wedding Cost:$2.5 million
This is the most expensive marriage of an Indian businessman. Elizabeth Hurley and Arun Nayar married in 2007 over a period of 8 days engaging in all extravaganza. The 300 guests invited were present for the first ceremony at the medieval Sudeley Castle at Gloucestershire. The guests list also included designer Valentino and Elton John. The bride wore a traditional chiffon gown by designer Donatella Versace. There was another traditional ceremony that was held at Umaid Bhawan Palace in Jodhpur India. Here, the maharani suit costs upto $10000 every night. The estimated cost was $2.5 million.
Katie Holmes and Tom Cruise
Wedding Cost:$2 million
Katie Holmes and Tom Cruise got married at the 15th century Odescalchi castle, outside Rome in 2006. The guests list included many superstars like David Beckham and his wife Victoria, Jennifer Lopez, Will Smith and his wife Jada Pinkett. The bride wore a gown by Giorgio Armani which was off-shoulder and ivory in color. The 5-tire cake had beautiful maripan roses made from white chocolate. The cost of this wedding was approximately $2 million.
Elizabeth Taylor and Larry Fortensky
Wedding Cost:$2 million
Elizabeth got married to a construction worker, Larry Fortensky who is 20 years younger to her in October 1991. Although it was her eighth marriage; the  cost was around $2 million. This event was at Micheal Jackson's Neverland ranch (2700 acre). The bride wore a Valentino yellow gown. Micheal Jackson gave away the bride; while the best man of the groom was Liz's hair dresser, Jose Eber. The guest list was small, only 150 members and included former first lady, Nancy Reagan, Eddie Murphy and Liza Minneli.
Christina Aguilera and Jordan Bratman
Wedding Cost:$2 million
Pop star Christina Aguilera married Jordon Bratman; the music executive at Napa valley in 2005. It was at the Staglin Family's vineyard. The couple spent their night on a cottage at Auberge du Soleil spending $3500 a night; where the suite had a fire place and an outdoor hot tub. Christina wore a Christian Lacroix for the ceremony; and then wore satin mini dress for the reception. There were close to 150 guests including Sharon Stone. The reception was in a tent, which was a winter theme wedding. So as decorations; it had white roses, dangling crystals and silver drapes. This overall cost of this wedding was approximately $2 million. 
David Furnish and Elton John
Wedding Cost:$1.5 million
The famous film maker David Furnish married the pop legend Elton John in 2005. This wedding took place just after Britin legalized the civil unions . The wedding was at the same place where Prince Charles married Camilla Parker Bowles, the Windsor's Guildhall and hundreds of paparazzi witnessed the wedding. There were around 600 guests for the reception which was at John's Windsor country mansion. The guests had an entertaining evening by drinking vintage pink champagne while listening to John serenade's "Your Song". The cost estimated for the wedding was $1.5 million.
Catherine Zeta-Jones and Michael Douglas
Wedding Cost:$1.5 million
Catherine Zeta-Jones and Michael Douglas got married at the end of 2000. Their wedding was at the New York's finest Plaza Hotel. They were around 200 guests. In order to avoid gate crashers;  all of them including Micheal Caine, Jack Nicholson and Sean Connary had to present their invitations, which were embedded with a hologram. Zeta-Jones wore a Christian Lacroix gown; with a tiara and antique Chantilly lace to compliment the dress. For the entertainment; the performance was by Bonnie Tyler and Mick Hucknall. The estimated cost of the wedding was $1.5 million.
Tiger Woods and Elin Nordegren
Wedding Cost:$1.5 million
Golf champion Tiger Woods married Elin Nordegren in October 2004. Their wedding was a very secret ceremony in Barbados at the Sandy Lane Resort. They rented the entire hotel; along with that, the islands only helicopter charter company provided their services to ensure privacy. They had around 120 guests; including Charles Barkely and Micheal Jordan. Hootie and Blowfish were part of the reception entertainment. There was a huge firework display in the night and the married couple spent their night on Woods' yacht. The wedding cost was close to around $1.5 million.
Nichole Mitchell and Eddie Murphy
Wedding Cost:$1.5 million
Eddie Murphy married the model Nichole Mitchell in March of 1993 at the famous Plaza Hotel in front of 500 guests that included Prince, Demi Moore and Bruce Willis. The Grand Ballroom at the Plaza was re-carpeted in white and filled with a lot of flowers. The bride wore an elegant off shoulder white gown. The dinner was at the Palm Court before moving back into the Grand Ballroom. In the meantime, a team concerted this place into a disco. After the ceremony, Murphy donated all those flowers to a hospital in the area. The wedding cost was approximately around $1.5 million. In short, one of the beautiful Celebrity weddings that you would ever see.